UDATE: April 30th, 10:30 AM -- On Friday, April 27th the missing Cuban stars confirmed to Reuters that they are seeking political asylum in the United States. After HuffPost broke the news last Sunday that the two Cuban film stars fled en route to the Tribeca premiere of "Una Noche", the movie won awards for best cinematography and new director honors in the Narrative competition. Javier Nuñez Florian, one of the stars who is seeking asylum in the U.S., shared the award for best actor with his co-star Dariel Arrechada.

The Tribeca Film Festival premiere of "Una Noche," a film about three Cuban teens trying to escape the Communist island nation for a better life in the U.S., was marred by the disappearance of two of the film's lead stars -- who went missing as soon as their plane from Cuba touched down in Miami.
Anailin de la Rua de la Torre and Javier Nunez Florian, the 20-year-old Cuban-born actors, were flown from Cuba to the United States on Wednesday and were supposed to make their way to New York on Friday in order to promote the film. But instead, the pair stayed in Miami, according to 20-year-old Dariel Arrechada, the third star of the film who traveled with them.
"I'm here alone in New York, " Arrechada said.
The Cuban actor also told The Huffington Post that he and his colleagues are unable to reach the two actors, and do not know of the pair's current whereabouts. But Arrechada, who said his visa will expire "in a few days," insisted he will be returning to Cuba after the Tribeca festival wraps up.
"Well, at the very least, I will go back to Cuba," Arrechada said, explaining that he "has [his] reasons."
"I have my family there, my friends, my girlfriend," he said. "Here, I don't know anyone. Here, I don't know the way of life. I also don't know English very well," he said in Spanish.
This is the first time any of the Cuban-born actors have been to the U.S., the director of the film, Lucy Mulloy, tweeted in late March.
Mulloy told The Huffington Post that she's disappointed and surprised by the actors' decision, but understands it.
"I really was thinking that they were going to come here and enjoy the festival, and I thought they would love to participate in it," Mulloy said. "They made a decision, I guess."
Mulloy, who wrote the film after visiting Cuba and meeting "so many people [who] had connections to stories about people who had left," said she's also concerned about the well-being of her actors. "I just hope that they're safe and well," she said.
But the movie stars' apparent choice to flee Cuba is not unique to the island's history. In 2008, the number of Cubans trying to escape to United States was at its highest point in more than decade, according to a report by The Economist. In the 2007 fiscal year, nearly 8,000 Cubans sought to flee to the United States and more than 3,000 were intercepted at sea, according to the same report.
Many Cubans have recently resorted to coming the U.S. by way of Mexico, while others travel in speed boats, paying up to $10,000 a head for the trip.
And it's not only movie stars who have defected. Cuba has a history of losing its Olympic athletes and baseball players when they are sent abroad to represent their country. At the 1993 Central American Games in Puerto Rico, 40 athletes from the Cuban delegation never made it back to their homeland.
Arrechada said he doesn't judge people who flee Cuba.
"That's their choice, you know?" he said of his co-stars. "That's their way of thinking. No one is forced to stay. And no one is forced to go back. If you want to stay in the United States, I think, well, stay. If you want to go back, go back. Not all of us have to stay and not all of us have to go back. It's about what you want to do with your life," he said.
But choosing to leave Cuba is not so simple for the thousands who have lost their lives escaping the island nation, which is still classified as a totalitarian communist state by the U.S. government. Historically, political dissidents have been imprisoned for making statements that contradict the communist government, and to date, the average Cuban's salary hovers around just $20 a month.
Asked if he thinks his co-stars will go back to Cuba, Arrechada said, "Well, to be sincere, I think they're going to stay."
Before "Una Noche" premiered at Tribeca, Mulloy was already developing a sequel to the film. But she said things are now more complicated.
"Yeah, it's kind of heartbreaking," Mulloy said. She added that the two actors were "absolutely" part of her plan to make a second film.
"I guess we'll see what happens. Maybe we can work something out. I'm not sure yet. It's such fresh news to us," she added.
Mulloy said she didn't foresee events unfolding as they did.
"It is surprising," she said. "I mean, they had all of their family there and it's surprising. But things can be difficult in Cuba. There's an embargo and so there's a lot of challenges for people living in Cuba."
SLIDESHOW: A Timeline of Fidel Castro's Life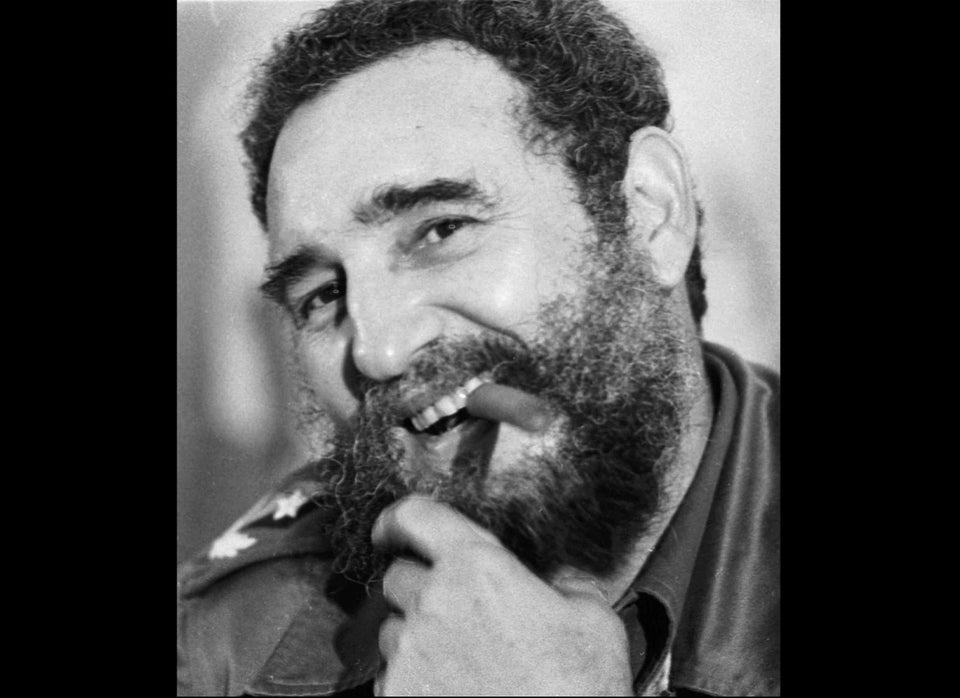 Fidel Castro Facts
Popular in the Community