In 2000, at age 13, José Luis Zelaya immigrated to the United States from Honduras by himself. He was trying to escape an abusive father and reunite with his mother and sister. Traveling overland for 45 days, Zelaya crossed illegally into Texas, where he was detained for two months before being released to his mother. Today, Zelaya is a doctoral student in urban education at Texas A&M University. He now benefits from the Obama administration's 2012 Deferred Action for Childhood Arrivals policy, which allows him to live and work in the United States without being deported.
With more than 70,000 unaccompanied minors, most of them from Central America, expected to arrive this year at the U.S.-Mexico border, the United States faces a unique humanitarian crisis. As Central Americans travel through Mexico, they are often preyed upon by criminal gangs, extorted by corrupt law enforcement officials and abused by the human smugglers who serve as guides for many migrants. (The smugglers are known in Spanish as "coyotes.")
To help Americans understand what these young immigrants from El Salvador, Guatemala and Honduras experience as they try to reunite with their families, Zelaya told The Huffington Post his story. While HuffPost was unable to verify the details of Zelaya's account, they are consistent with the testimonials of many other people in similar situations.
I'm from San Pedro Sula, Honduras -- specifically Barrio Cabañas, which is one of the most dangerous neighborhoods in one of the most dangerous cities in the world.
We lived right next to a creek. This creek was really dirty -- a lot of dead animals, dead people in bags. In that river, people would wash their clothes. Kids would go fishing there. Really nasty things. A lot of chickens in the streets. A lot of shootings. A lot of killings. A lot of violence. Very poor and no opportunities whatsoever. A sad place to be.
I had a younger brother who passed away in my mother's arms because we didn't have money to take him to the hospital. He died due to an asthma attack and I actually remember seeing that. There's this image that I have of him, just losing his life. It was normal. That happened to a lot of people. And I have a younger sister who also had an asthma attack, but thankfully we were able to take her to the hospital and she was OK. I also have an older brother from my dad, so he's my stepbrother.
My mother came to the United States with my sister first. There were multiple times that the three of us tried escaping from my dad, but my dad would always either keep me or keep my sister. But mother always tried to keep my sister because she was afraid of what my dad could to do her, or just felt that she would not be able to protect her because she was so young. So I spent a lot of time with my dad. And my dad would never allow my mom, sister and I to be together.
So this one time we tried escaping. He caught my mom and just beat her really, really bad. Man, it was so bad. She was taken to the hospital, and at the hospital they didn't do anything. I mean, it's very dangerous to be in the hospital, in fact. There's a lot of military in the hospital, there's a lot of gangs, a lot of robbing, killing, no medicine, no water, no attention. So mom just went back to the streets and started working. And that was the normal thing to do. You see a lot of children just in the streets, doing glue, doing drugs, digging into trashcans and society can't do anything. Because that person is earning like $2 a day on average, yet gas is $4 a gallon. It's very unequal.
My mother left when I was 11. I knew she was going to leave. She went to go visit her uncle who lived in this mountain. We went over there -- I still remember we had to climb this very muddy mountain to get to this man's house. He gave her a plan and part of the plan was that my mom would go with my sister first, just the two. And they would say that they were going to go to Guatemala -- because we used to go to Guatemala to try to make money. So we migrated a lot. But back then, I didn't realize that we were doing that. Now that I'm a Ph.D. student and I read about it, I understand it. But for us it was just natural. We would go to other places because we wanted better opportunities.
So the plan was that my mom would come with my sister first, and then she would come for me, or bring me -- I don't know what she was going to do. So she came first with my younger sister and I stayed behind for about two years.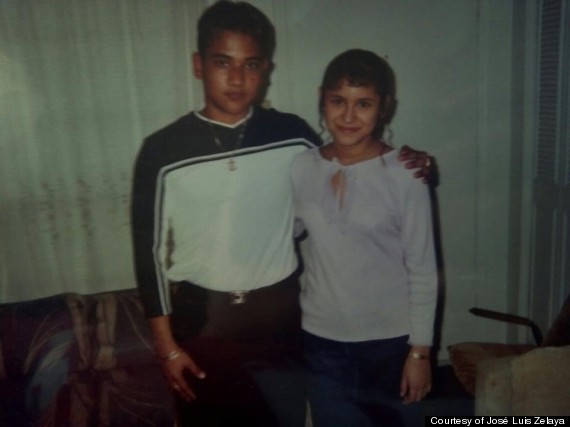 José Luis Zelaya (left) poses for a picture with his cousin in 2001, one year after arriving in the United States.
Before I finally left, I was shot twice [by gang members in a drive-by shooting] while out playing soccer. And I could no longer live with a man who was so violent. I wanted to come to the U.S. because my mother was here. I honestly was not coming here for any other reason but to reunify with my mother and my sister.
The journey was horrible. It started in Guatemala in this very nasty, dirty place -- it smelled like urine. I'm not trying to be disgusting or anything, but this place had a lot of feces, a lot of poop all over it. And children were there. This place also served as a place of prostitution and it had a lot of migrant children there. But we didn't think about those things. It's just there. And that's the way it started for me. My grandmother literally kidnapped me from my father. She helped me get to Guatemala, and there she gave me to the coyote. That's where the story began.
We met them at a massive church in the town of Esquipulas. In Guatemala, the conditions were also very bad. They took me to the hotel, then we went to Guatemala City. That was just a bus ride -- normal. When we got to Guatemala City everything was OK, but they told us to communicate through whistling. Different kinds of whistling meant different things. Because a lot of people in Mexico hear your accent and can determine that you're from Central America. And there are people in Mexico who, if they find out that you're migrating from Central America, will beat you, rape you, rob you, kidnap you, turn you in to gangs, prostitute you.
And they do that to children -- I witnessed that. I witnessed how on the journey a lot of older men just took advantage of children who were coming to this country. I came alone. I was nobody's child, I was just a kid, alone. So they could do whatever they want to me. But I was careful, I was smart. I just wanted to be with my mom and my sister.
But I witnessed a lot of things. This one girl was about 10 years old and one night she just woke up screaming "Stop!" And they just shouted, "If anyone says a thing, you're next!" And everybody had to stay quiet. We were in a room sleeping like sardines. There were times that we were robbed by the Mexican military. They would just stop the cars and take some people and they were gone.
There was this one time that we walked a lot. We walked for a few days. We slept during the day because [Mexican immigration authorities] could see us, so we walked during the night. There were a lot of things like snakes, scorpions, little water. We had a flashlight but we couldn't turn it on because there were helicopters and they would find us. So a lot of times I remember the coyote would get mad or get lost and they would beat somebody and leave them behind -- take their money and they would just be left behind, and that was it.
One time a coyote dropped me off at this one house and we slept there for a few days, in Veracruz [Mexico]. There were so many people in there. It was so hot, oh my goodness. We were eating snakes and iguanas that these people were catching in the rivers. We were not allowed to go anywhere. No one was allowed to talk to anybody. And then a truck comes up at night and they pick you up and we started the journey. And they gave us one bottle of water. That was it.
And you walked. You walked for hours. You'd lose your toenails. Your feet just start breaking apart. You start getting hungry. You start hallucinating. Just crazy things go through your mind. But for me, I just wanted to be with my mom. That's what kept me going. I just wanted to see my sister again. I just wanted to be happy.
My mother says it cost $7,600 [to buy passage with the coyotes]. You're talking about the year 2000 and you're talking about a lady that made very little. She raised the money through a combination of selling tamales, cleaning homes and babysitting. And also living in a one-bedroom apartment where 13 other people lived. Before that, she lived in an immigrant shelter. Even on her birthday, my mom wasn't able to do anything. The only thing she did was go to McDonald's and buy a $1 burger, because she wanted to save the money to send for me.
With me, personally, I was OK, because my mom was paying. There were even times that the coyotes treated me OK. They gave me some pesos, and I went to go buy a pair of shoes and some candy. They just told me to come back and I did.
But then there were other times. One time they put me inside of this work truck, and there were a lot of people in that truck -- I'm talking like hundreds of people, a lot of children and a lot of mothers. Some of the mothers were breastfeeding their children. And there was a lot of crying, but whoever cries gets slapped. Other times we were actually escorted by the military. A lot of [the coyotes] had deals with them, which is crazy.
It's just insane to look back, but with me there were only certain times that I experienced some crazy things. They didn't hurt me much. There were times that they slapped me in my face because I would speak with my Honduran accent and I was not allowed to speak. So sometimes they'd slap me in my face and tell me not to do it again.
There were times that they would punch me in the face. Last year, I actually had a nose reconstruction because I couldn't breathe, so I had to go to the emergency room. They also had to remove my tonsils. I had a lot of problems inside my nose, so that forced my tonsils to work more and they became inflamed. I would start choking at night. And also back in Honduras, there were times that my dad would punch me real hard. He would just knock me out. You would hear this "pshhhhew" inside your mind and you'd be done. And he keeps hitting me and it's like I can't take it, man, get off me, you know? So I don't know, it could've been a combination of a lot of things.
I also have had four knee surgeries because a lot of the walking has done a lot of damage to my knees. It's just crazy what they made us go through. I remember that journey and every day I live with this, I remember these things. For the last four days I have not been able to sleep just because I've been looking at these pictures of these children.
When we finally got to the border, I remember we were at this one house, we were there for like three days. There were rooms for moms and babies. There were rooms for just men. And then the truck would come at a certain time, and everyone would be waiting, everyone hoping that they're next. But only certain people would be taken out.
They put me with this person, and said that she was supposed to be my sister. And I was supposed to memorize all of that person's information so that whenever immigration arrested us, we would be like [brother and sister] and they would allow us to stay. But they didn't help us at all, they just left us by ourselves. We didn't know what was going on. We're not thinking we're breaking the law, we're just doing what they're telling us to do. We would do anything to be with our families. We're children. Like, we are children trying to find our parents.
So they dropped us off at the Rio Grande in South Texas at night and we swam across. The river was really cold. There was a group of people, but I was supposed to stay with that one girl. And the coyote was also there. So we cross. But they were like, "When you get to the other side, everybody just disperse." And now I was on my own. Everybody was gone and I went to sleep because I was tired. I got up the next morning and kept walking until an immigration officer came and detained me. For the first time I felt what it was to have A/C because I was inside of a car.
They placed me in a detention center down in the Rio Grande Valley. But it was not like it is now. They didn't mistreat us. They were nice. But there were also a lot of things they prevented us from doing. They didn't allow us to share our stories to anybody. We were not allowed to share our stories with the staff. We were not allowed to share our stories with each other. We had this little stick that we needed to be holding in order to speak.
You wake up at 6 in the morning, you shower and you have breakfast. And you're happy you're eating breakfast, you're happy you're showering. People call me José Luis now, but back then I was "number seven." Everyone referred to me as "number seven," that was my name. That actually became my soccer jersey for high school and college, so it was very meaningful for me.
I was there for about two months. When I first got there, I was really scared because everyone was telling me I was going to be deported back to Honduras and that was one thing that I really didn't want -- I did not want to go back to my dad. My dad once grabbed a machete and tried to cut my brother's hand off. My brother has 17 stitches on his hand, from when my dad did that while he was drunk.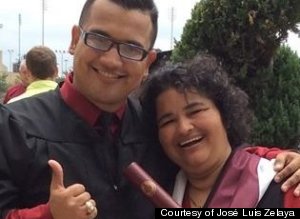 José Luis Zelaya with his mother on graduation day when he received his master's in education in May.
But at the detention center they reunited me with my mother. They allowed me to see her. And I was not mistreated, but psychologically and emotionally, I was very distraught. I hadn't been allowed to speak to anybody. And my mom wasn't there, and that was the main thing. I didn't come here to eat or shower or be in a nice place, I came to be with my mom and my sister, regardless of the conditions. Because the conditions didn't matter, there's nothing worse than Honduras.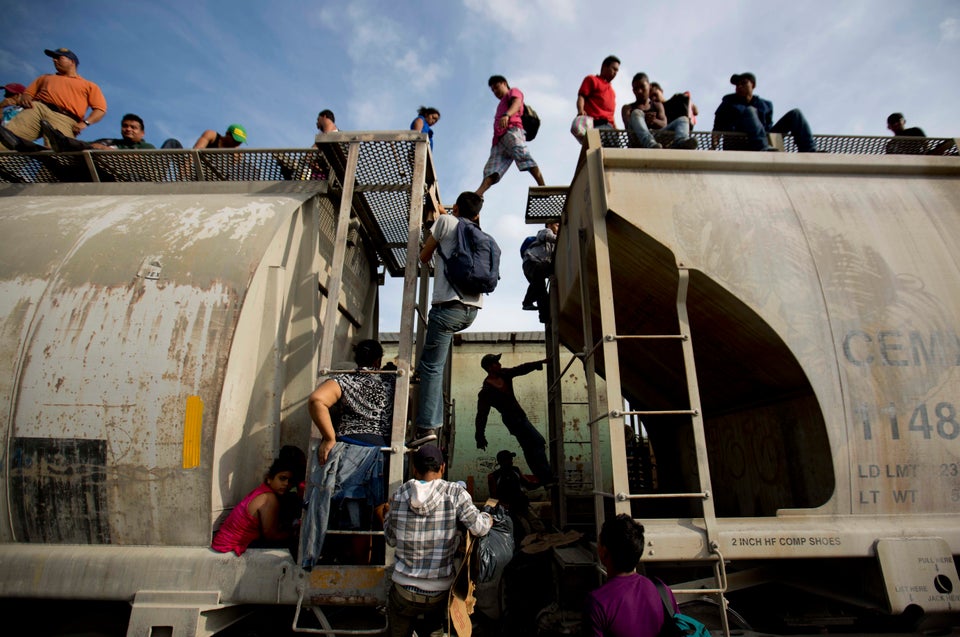 Why Latin Americans Really Come To The U.S.
Popular in the Community