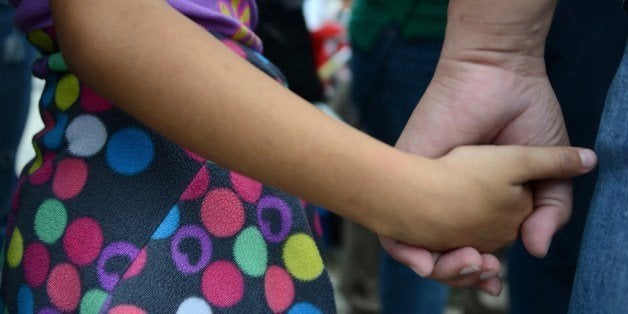 WASHINGTON -- Wendy Young has witnessed many immigration court hearings where young children go up against a judge alone. There's one that sticks out in her memory.
A few years ago, she was observing an immigration court in Baltimore when a 5-year-old girl was called up to the judge. The little girl was wearing a red Sunday dress and tiny Ugg boots, with her hair pulled back in pigtails. The child was carrying a baby doll, and when she sat down before the judge she could barely see over the table -- much less make a case for why she shouldn't be deported.
"I've been working on this issue for 24 years, and I was tearing up," said Young, president of the group Kids In Need of Defense, which helps minors get legal representation in immigration proceedings. "It's just so patently unfair to put these kids through this process unless they have some help."
With tens of thousands of unaccompanied minors having crossed the U.S.-Mexico border illegally this year, immigration courts are likely to see many more children like that little girl, all of them facing a complicated process without any legal help. Since October 2013, border agents have apprehended more than 66,000 children and teenagers traveling without their parents, most of them from the Central American countries of Honduras, El Salvador and Guatemala. Many of them are escaping violence, threats, poverty and abuse in their native countries. Some suffer through more as they make the long trek to the United States, often to reunite with family members already here. While many migrants are teenagers, others are as young as toddlers.
These minors don't get any guarantee of legal counsel in immigration proceedings -- indeed, no one does. Since immigration is a civil matter, there's no right to counsel, even for children. That means that some minors are sure to be deported even if they have a legitimate need for relief, simply because they won't be able to make the case on their own.
While an estimated 40 percent of minors who go into Health and Human Services custody are eligible for immigration relief, they are more likely to get relief if they receive legal counsel. Before this summer, about half of unaccompanied minors went without attorneys. Given the current influx, Young said it's likely the proportion of children and teenagers going through deportations alone could climb as high as 90 percent.
Enter Kids In Need of Defense. Known as KIND, the group is attempting to get legal representation for more unaccompanied minors by connecting them with pro bono attorneys who can offer their services. The organization was established in 2008 -- before the rapid increase in unaccompanied minors entering the country illegally -- by Microsoft and Angelina Jolie, the actress and special envoy for the United Nations High Commissioner for Refugees. Jolie's prior work with refugees had been mostly focused on events in other countries, but even as early as 2008, when the flow of unaccompanied minors across the border was much smaller, it was clear the U.S. wasn't immune from such crises. Out of that need, KIND was established to help connect pro bono attorneys with children who needed help.
KIND now has about 35 staff members, eight offices and more than 200 partnerships with major law firms, corporations and law schools. It has trained more than 8,000 attorneys to do pro bono work. But that's still not enough to provide legal counsel to every unaccompanied minor.
"For every child that we are able to help, how many are we not able to help?" said Young. "And what are they going to do?"
Given how affecting these children's plights are, it may seem remarkable that one of their last lines of protection comes from a group associated with and co-founded by a Hollywood A-lister. But that's only because the political system at large has failed to act.
Attorney General Eric Holder said last year in a Senate Judiciary Committee hearing that it was "inexcusable" that children and teenagers "have immigration decisions made on their behalf, against them, whatever and they're not represented by counsel."
"That's simply not who we are as a nation," he said then.
But events have since overtaken rhetoric. And as unaccompanied minors began showing up at the border in greater and greater numbers, the Justice Department was forced to defend its practice of putting them before immigration judges without an attorney.
Currently, the government is engaged in a lawsuit after civil rights groups alleged that failing to provide counsel for these minors was a violation of the Constitution. The Justice Department argued that should the groups succeed in their case, it would effectively prevent the deportation of anyone under the age of 18. The judge in the case has not yet issued a ruling.
"The government cannot stop the removal proceedings of every immigrant youth in the United States," Deputy Assistant Attorney General Leon Fresco argued in court last week. "That would create a magnet effect that the United States is not prepared to handle."
Part of the problem is the lack of federal funding to deal with the border crisis. Congress failed to provide any such funding before departing for the August recess. President Barack Obama requested $3.7 billion to address the crisis, and was quickly rebuffed by the Republican-led House of Representatives. The Senate failed to approve Democrats' proposal for $2.7 billion.
Both of those plans included funding to increase legal representation for unaccompanied minors. The White House requested $15 million for direct legal representation, and Senate Democrats upped the figure to $50 million.
Separately, Democrats have pushed for legislation that would require the government to provide legal representation to children and to people with mental disabilities. But that legislation hasn't received a vote and isn't likely to during the brief window between now and November's midterm elections.
Now, the administration and outside groups are making efforts to expand legal representation for minors without the legislative branch's assistance. The progressive advocacy outfit MoveOn has raised more than $100,000 for KIND, while the Justice Department launched a program with AmeriCorps in June to provide grants for about 100 lawyers and paralegals who will work with unaccompanied minors. Vice President Joe Biden has met with groups to discuss legal representation concerns. Department of Homeland Security Secretary Jeh Johnson and Juan Osuna, director of the Executive Office for Immigration Review at the Department of Justice, urged attorneys at the American Bar Association meeting in August to provide pro bono services.
KIND has lately drawn increased interest from corporations and legal firms. Greenberg Traurig, a law firm with locations around the world, has been involved with KIND for a few years but is upping its pro bono work with the group. The firm doesn't take a stance on whether unaccompanied minors should, as a rule, be granted relief, but attorneys there said they are invested in the principle of due process.
"Some of [the unaccompanied minors] are eligible and they should have attorneys that can help them navigate the system, and the ones who aren't eligible obviously should still have attorneys to help them navigate the system," said Caroline Heller, who leads the pro bono work in Greenberg Traurig's New York office. "Ultimately, a court is going to decide whether they should stay or not. But that doesn't mean they're not entitled to due process."
As groups like KIND struggle to get counsel for as many children and teenagers as possible, many activists are growing worried about the number of immigration cases piling up.
The backlog in immigration courts is large already, and although the influx in minors entering the country illegally has slowed, it seems likely to overwhelm the system further. Under a law passed in 2008 with large bipartisan majorities, unaccompanied minors from countries other than Mexico and Canada go through a more extensive screening process before they can be deported, including the opportunity to see a judge. The White House, along with most Republicans and some Democrats, has said that 2008 law should be changed so unaccompanied minors from other countries can be deported more quickly.
With this argument facing intense opposition from a majority of Democrats, including some who lobbed criticism directly at the White House, the law remained intact as Congress left for the August recess earlier this summer. KIND was one of the groups lobbying against changing the 2008 law. For officials there and at other groups, the idea of expediting removals is troubling, since building a case for reprieve takes time, information and often outside help.
"They're going to put them through this very fast-tracked screening at the border -- we're going to jeopardize these kids' lives," Young said. "We could be sending them back to be killed."
Heading into the remaining months of this Congress, the goal for Young and others at KIND is to keep pushing back against expedited removal proceedings and to help as many minors as possible get legal counsel. The worry is that lawmakers, given that the border crisis continues to be a political issue, will try once again to change the 2008 law before the November midterms.
The little girl Young saw in a courtroom three years ago did end up getting assistance. Young said the judge, aware that a KIND staffer was in the back of the room, eventually stopped questioning the child and told her to go seek out the group's help instead.
"I wish people would take a deep breath and remember these are children," said Young. "Regardless of whether they're eligible for protection under immigration laws, they're still vulnerable just by virtue of being children, and we owe it to them and to ourselves to take the time to sort out who should stay and who should go."
Popular in the Community