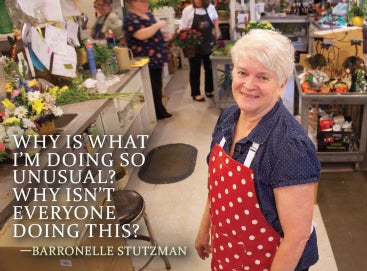 The Washington State Supreme Court unanimously ruled that Richland florist Barronelle Stutzman discriminated against a same-sex couple by not providing flowers for their wedding in the Arlene's Flowers lawsuit. The opinion came on Thursday, February 16, 2017 at 8:00 a.m.
Robert Ingersoll and Curt Freed were preparing for their wedding in 2013 when they approached florist Stutzman at Arlene's Flowers in Richland, WA, to provide bouquets for their ceremony. She declined, citing her religious beliefs prevented her from accepting their money to provide the services.
The couple and Washington State Attorney General Bob Ferguson sued Stutzman for violating Washington state's law protecting against discrimination on the basis of sexual orientation. They won the suit and Stutzman was ordered to pay a fine of $1,000. She then countersued.
The Washington State Supreme Court's opinion read, in part: "In 2012, our state legislature passed Engrossed Substitute Senate Bill 6239, which recognized equal civil marriage rights for same-sex couples. Freed proposed marriage to Ingersoll that same year. The two intended to marry on their ninth anniversary, in September 2013, and were 'excited about organizing [their] wedding.' Their plans included inviting "[a] hundred plus" guests to celebrate with them at Bella Fiori Gardens, complete with a dinner or reception, a photographer, a caterer, a wedding cake, and flowers."
The opinion continued, "By the time he and Freed became engaged, Ingersoll had been a customer at Arlene's Flowers for at least nine years, purchasing numerous floral arrangements from Stutzman and spending an estimated several thousand dollars at her shop. Stutzman is the owner and president of Arlene's Flowers. She employs approximately 10 people, depending on the season, including three floral designers, one of whom is herself. Stutzman knew that Ingersoll is gay and that he had been in a relationship with Freed for several years. The two men considered Arlene's Flowers to be '[their] florist.' Stutzman is an active member of the Southern Baptist church. It is uncontested that her sincerely held religious beliefs include a belief that marriage can exist only between one man and one woman."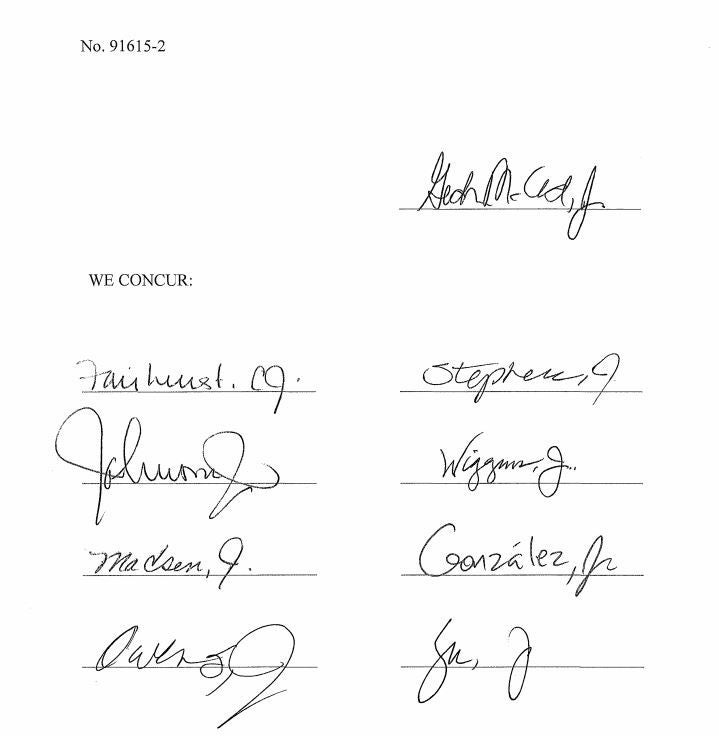 The opinion continued, "Stutzman asserts that she gave Ingersoll the name of other florists who might be willing to serve him, and that the two hugged before Ingersoll left her store. Ingersoll maintains that he walked away from that conversation 'feeling very hurt and upset emotionally'…As a result of the 'emotional toll' Stutzman's refusal took on Freed and Ingersoll, they 'lost enthusiasm for a large ceremony' as initially imagined. In fact, the two 'stopped planning for a wedding in September 2013 because [they] feared being denied service by other wedding vendors.' So they were married on July 21, 2013, in a modest ceremony at their home. There were 11 people in attendance."
The opinion concluded, "The plain language of RCW 49.60.215 prohibits Stutzman's refusal to provide same-sex wedding services to Ingersoll; such refusal constitutes discrimination on the basis of 'sexual orientation,' in violation of RCW 49.60.215. The same analysis applies to her corporation…In sum, Stutzman's refusal to provide custom floral arrangements for a same-sex wedding violated the WLAD's prohibition on discrimination in public accommodations.'"
REPRESENTED BY A HATE GROUP
"Barronelle is a 72-year-old floral artist who owns and operates Arlene's Flowers in Richland, Washington," Senior Counsel, Director of the Center for Cultural Engagement & Scholarship Jim Campbell wrote in the post. "She serves everyone in her community, regardless of their race, sex, religion, or sexual orientation. But even though she serves all people, she cannot use her artistic skills to celebrate all events. In particular, because of her beliefs about marriage, she cannot design custom floral arrangements for a same-sex wedding (although she would be happy to sell premade arrangements or raw flowers to couples planning such an event)."
Campbell continued, "So while she has been glad to serve Rob Ingersoll, a gay man and one of her all-time favorite customers, for nearly a decade (and would be happy to continue doing so today), she could not use her artistic talents for one request – to create custom arrangements designed to celebrate his nuptials."
The Alliance Defending Freedom has escalated the case to the United States Supreme Court.
"Alliance Defending Freedom will continue to stand with Barronelle by appealing this ruling against her to the U.S. Supreme Court," Campbell added. "Only one other case of anti-gay discrimination has been considered by a state's highest court. In 2013, the New Mexico Supreme Court ruled unanimously against Elane Photography, also represented by ADF, for refusing to provide photography services for a same-sex commitment ceremony. ADF appealed that case to the U.S. Supreme Court, but that court chose not to consider it, allowing the state court's decision to stand."
Campbell said the group looks now to President Trump to "make religious liberty the "first priority" of his administration."
"He has an opportunity to take a stand against the ongoing efforts to marginalize people of faith," Campbell shared. He than asked his readers to pray for Stutzman.
"In the wake of this decision, Barronelle needs your prayers. This ruling is devastating for her. Please join with us in praying for her during this difficult time," he said.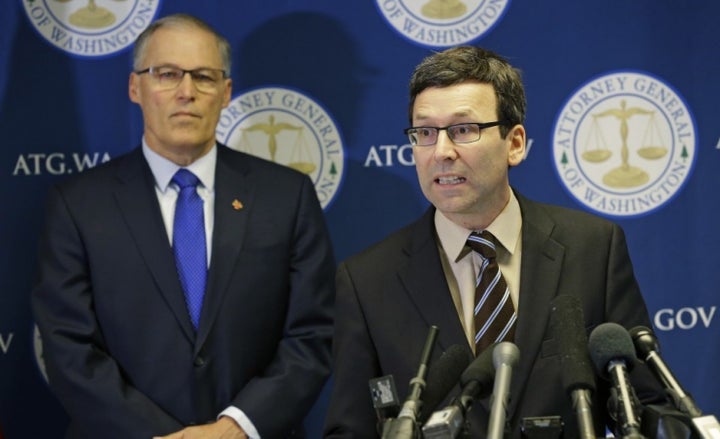 Following the decision Thursday morning, Washington State Attorney General Bob Ferguson stated, "Today, by a unanimous 9-0 vote, the Washington State Supreme Court held that it is illegal in Washington for a business to offer services to opposite-sex couples and yet refuse those same services to same-sex partners. I personally argued the Arlene's Flowers case before our Supreme Court because of its importance to our LGBTQ families in Washington. Just like it's unlawful to turn away customers based on their gender, religion, or race, no one can deny someone services because of whom they love."
Washington State Governor Jay Inslee said, "Today, the state Supreme Court ruled in favor of equality for all Washingtonians. By ruling that intolerance based on sexual orientation is unlawful, the Court affirmed that Washington state will remain a place where no one can be discriminated against because of who they love.
The progressive Pacific Northwest state was one of the first in the nation to recognize same-sex marriage via ballot and is currently leading the resistance against President Donald J. Trump in regard to immigration and the Muslim Ban. On February 5, 2017, the Washington Post referred to Washington state as the "epicenter" of the Trump resistance.
"I am proud that our state was one of the first to vote to recognize same sex marriage and that we continue to uphold the rights of all our residents," Inslee added.
Popular in the Community