Late one summer night in 2009, Lindsey Mitchell, a manager for the Monaco-based oil services firm Unaoil, parked his SUV in a dark lot outside a coffeehouse in Tripoli, Libya. A man was waiting there. He was a production manager for Waha, a subsidiary of Libya's state-owned oil company.
The Waha official handed Mitchell a thick envelope. Inside were more than 100 pages of internal Waha documents about a $45 million environmental contract to clean up oil-polluted rivers in the Libyan desert. The packet included several bids from Unaoil's competitors and detailed information about how Waha would pick a winner.
The man walked Mitchell through the documents for about a half hour ― and hinted he expected something for his trouble.
The next morning, Mitchell called Ata, Cyrus and Saman Ahsani, the father and two sons who ran Unaoil. They were pleased. That afternoon, Martin Abram, a Unaoil manager, met Mitchell at the Unaoil staffhouse to deliver an envelope full of cash.
Mitchell didn't count the money, but the envelope was stuffed thick with U.S. dollars. Around midnight, he drove to the Waha manager's home to hand over the envelope. The man thanked him and said he expected a 5-10 percent kickback ― about $2-4 million ― if Unaoil won the contract. Then they had coffee.
It's no secret that Libya's oil industry under dictator Muammar Gaddafi was rife with corruption. People assume that bribery is commonplace in many parts of the world. But it's almost unprecedented for a person who actually paid a bribe to speak about it publicly, let alone name the individual who allegedly pocketed the money. (The Huffington Post and Fairfax Media are withholding the Waha manager's name because he could not be reached for comment.)
In March, HuffPost and Fairfax Media, citing more than 100,000 leaked emails, revealed that Unaoil had repeatedly bribed government officials in corruption-prone regions to secure contracts for its multinational corporate clients. Law enforcement quickly raided Unaoil's office in Monaco and interviewed its top executives. The FBI, the United Kingdom's Serious Fraud Office, and law enforcement agencies in Australia and Iraq have opened investigations.
Waha did not respond to multiple requests for comment made through several channels.
The Ahsanis and Unaoil deny any wrongdoing. "Although there is a great deal that the Company would like to say about the subject matter of this article, there is an investigation on-going," a Unaoil spokesman told HuffPost in a statement. "Any allegations of corruption are denied. It would be inappropriate to make further comment at this juncture but the Company looks forward to speaking out on this in the fullness of time."
Until now, no one else from Unaoil has spoken out.
But Lindsey Mitchell has a story to tell. "Is it trying to get rid of it off my conscience?" he asked in a recent interview with HuffPost and Fairfax Media. Perhaps, but "it's time for someone like me, that's been there, done that, to help educate the public on what happens out there."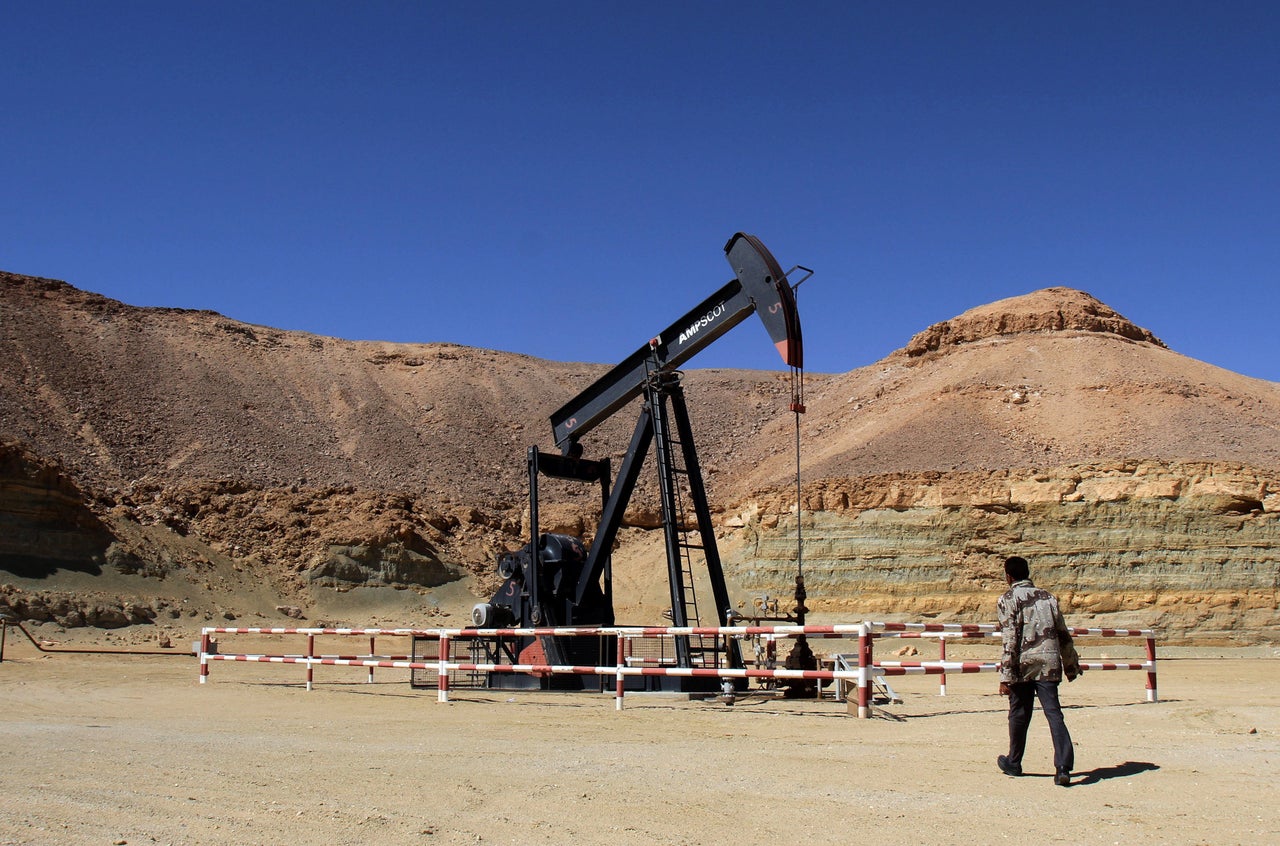 Mitchell grew up in a small rural town on the sprawling prairies of Canada. "It was like Nebraska," he said. Most people, including his father, worked in the oil industry. His dad didn't make great money, but it was enough to care for a family of six kids. They went to church at least once a week, and sometimes twice.
When he was 16, Mitchell had a falling out with his father and left home. He soon found a job on an oil rig. Some days, he would wake up at 2 or 3 a.m. and drive to four different rigs, covering over 300 miles. Eventually, he was hired by a drilling fluid engineering company, which paid for him to go to college.
Mitchell was a "holy terror" in his early 20s, he recalled. "I liked to bar fight a lot." He met his wife in a pool hall. "It was a gift," Mitchell said of their chance encounter. "The big guy upstairs was matchmaking."
But she gave him an ultimatum: focus harder on his career or forget about a future with her. They later married and had three kids. After more than a decade as a drilling fluid engineer, Mitchell started a company with one of his brothers. They eventually sold it for a profit.
By 1998, the oil business had slowed in North America. Mitchell applied for a position with an oilfield services company in Saudi Arabia. About three months into that job, he said, he caught his first glimpse of corruption in the industry.
Every couple of weeks, Mitchell and a company executive would go to the bank and meet with the manager in his office. They'd drink Turkish coffee and smoke cigarettes. One day, the visit dragged on for more than two hours. Eventually, Mitchell suggested they get moving. But he was told to wait. A man entered the office holding a cardboard box filled with cash.
Mitchell realized his colleague was preparing to meet somebody to pay a bribe. "When you're in the industry, you hear about these things," he said. "But you don't really witness it until you actually get into these countries, and you figure it out pretty quick."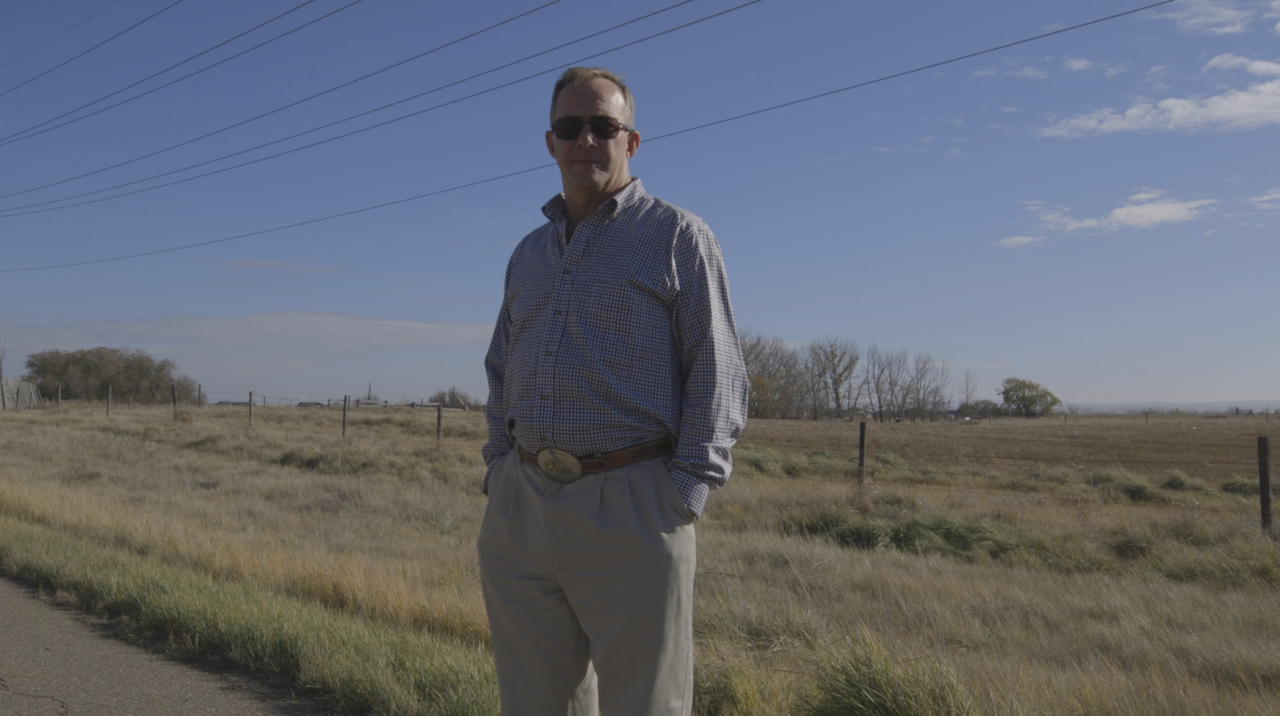 After leaving Saudi Arabia, Mitchell took a job as a field operations manager for Baker Hughes, an American company that later admitted its subsidiary paid over $4 million in bribes in connection with a project he worked on in Kazakhstan. Mitchell said he was never asked to pay any bribes while at Baker Hughes and never did.
In 2003, he moved back to Canada and started his own energy services company. He figured that venture would be his last. But after the company went public, he stepped down. About a month later, an oilfield services outfit in Jordan that was looking to expand into Libya called him.
It was 2006. The U.S. was lifting sanctions against Libya. "Things were looking like it was going to be booming," Mitchell said. He accepted the offer.
Over the next three years, he built relationships with some of the top players in the country's state-owned oil industry. Eventually, Mitchell could walk into Waha's office and meet with executives without an appointment. "Once they like you, you're in," he said.
Even as he cultivated ties with Waha executives, however, Mitchell made a point to steer clear of work that he thought might require him to pay kickbacks. At the time, he said, the people at Waha "knew I was a straight shooter."
Mitchell headed home to Canada at the end of 2008. A few months later, he received a call from Unaoil's founder, Ata Ahsani. Mitchell and his wife flew to Monaco for three days, meeting with the Ahsani family. He accepted a job managing Unaoil's business development in Libya and Kazakhstan.
When he took the job, Mitchell said, he didn't know much about Unaoil. He started to worry when he realized the company had few hard assets — equipment or vehicles, for example — in Libya. It was a middleman, winning contracts for other companies. Unaoil's main resources were its people and their relationships with government officials who made decisions about awarding contracts.
Once he understood Unaoil's business plan and met up again with Waha officials, Mitchell knew things had changed for him. "You realize that, going into this, eventually you're going to have to pay somebody to get business," he said. "It reminded me a lot like Saudi Arabia."
The Waha production manager called Mitchell in the summer of 2009 to arrange the parking lot meeting. That led to the first and only time Mitchell would pay a bribe, he said.
The morning after he received the inside information on how to win the $45 million contract, Mitchell hesitated before relaying the information to the Ahsanis. He knew that once he made the Skype call, they would tell him to handle the payoff.
"You realize that, going into this, eventually you're going to have to pay somebody to get business."
The guilt set in soon after Mitchell paid the bribe. "I thought about my children," he said. "How they would totally disrespect me. … I always preached to them about good work ethics and to be 100 percent honest in business."
If Unaoil won the Waha contract, Mitchell expected to collect as much as 2 percent of the project — nearly $1 million. But he also knew he didn't want a reputation as a guy who paid bribes to get work.
Mitchell sent his resignation letter to the Ahsanis on Aug. 31, 2009. "This has been a hard decision to make but I feel it is the right one," he wrote. "This is non-negotiable and is not open for further discussions." He wrote that his sudden departure was motivated mainly by a desire to spend more time with his family. But it was clear to Unaoil executives that something else was bothering him.
"From the tone of your email, there seem to me to be other issues that you have with us that you are not stating," Saman Ahsani emailed back. "Then there are the questions of our commitments to others," he continued. "What about [the Waha official]?"
"On the matter of [the Waha official]," Mitchell wrote, "well, I did my thing for Martin [Abram] and [another Unaoil employee] and did the introduction. I think [the other employee] should get in there and take care of building that relationship."
"I thought about my children. ... How they would totally disrespect me."
Over the next several years, the bribe weighed on Mitchell's conscience. But he wasn't particularly worried about getting caught, he said. Bribery was such a common practice in Libya and he had only taken part that one time.
Mitchell was in Iraq for work when HuffPost and Fairfax Media published the first story about Unaoil bribery in March of this year. It took him a few days to realize that the story could have consequences for him. He was initially more interested in figuring out who had leaked Unaoil's emails.
After the company's office was raided and the FBI and the Serious Fraud Office began investigating, Mitchell began to get nervous. "I had to make a conscious decision: Do I wait for them to come to me? Or do I reach out and try to make sure I'm the good guy in this?"
Still in Iraq, Mitchell drafted a long email to his wife and their adult children. "I wanted to make sure they knew that their dad didn't do anything wrong and I'm not going to be thrown in jail," he said. He told his kids about the 2009 bribe. "It was an emotional time."
"I had to make a conscious decision: Do I wait for them to come to me? Or do I reach out and try to make sure I'm the good guy in this?"
Mitchell met with the Serious Fraud Office in Vienna soon after. Next, two FBI agents, a Justice Department official and a member of the Royal Canadian Mounted Police sat down with him in a hotel room in Canada for a six-hour debriefing. U.S. law enforcement flew him to Washington, D.C., in mid-May. He turned over two Nokia mobile phones, a BlackBerry and a Mac laptop, and spent two more days outlining Unaoil's infrastructure and business practices — including the 2009 bribe. (He also told the FBI that Muhannad Alamir, one of Unaoil's former fixers in Libya, later helped the State Department recruit unarmed guards for the U.S. facility in Benghazi.)
Mitchell was struck by how much material with his name on it — email correspondence, meeting minutes, financial spreadsheets — was in the hands of law enforcement officials. The Justice Department provided him with a letter of safe passage guaranteeing that he wouldn't be arrested when he landed in Washington. But he hasn't received any assurances that they won't prosecute him.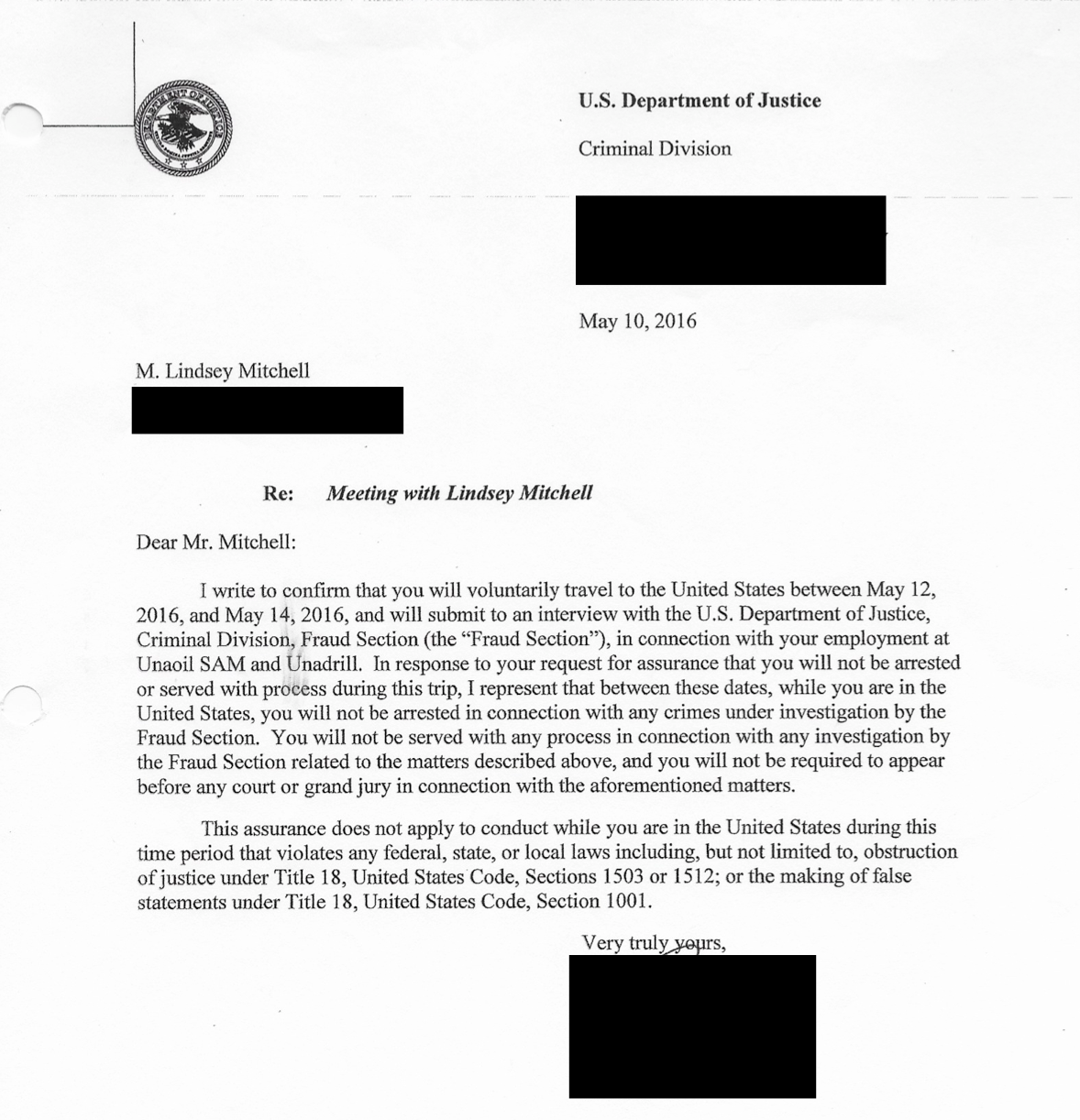 Mitchell saw Saman Ahsani earlier this year for the first time since he quit his job at Unaoil. They met at Unaoil's office in Monaco and walked to a coffee shop a couple of blocks away. The firm had been losing contracts because of the bribery allegations, Ahsani told him. "They were in survival mode," Mitchell said.
For the past several months, Mitchell has been preparing for a backlash from former business associates who might feel betrayed by his decision to go public.
"It's been a difficult ride," he said. But in some ways, it's been a relief to finally tell his story. He wants people to understand how even well-intentioned individuals can become implicated in corruption. It also feels good to clear his conscience. He's thought about his time at Unaoil a lot over the years. "Finally, I've got somebody I can talk to that gets it," he said. "To finally have someone ― even the FBI and all that ― to talk to, it's been a relief."
The Justice Department, which otherwise declined to comment, won't say when or whether prosecutors plan to file charges against anyone involved in the Unaoil scandal. And there's no guarantee that Mitchell won't be charged. But he's not too worried anymore.
"From what I was told by the FBI," he said, "they felt I was the good guy."
Nick McKenzie of Fairfax Media contributed reporting. Read his story here. A BBC program on Rolls Royce, which has also worked with Unaoil, is set to air Oct. 31.
Video produced by Christine Conetta, senior producer; Chelsea Moynehan, director of photography; and Shane Handler, cameras.
Popular in the Community