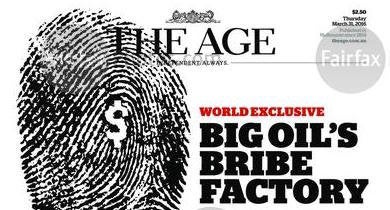 NEW YORK -- Unaoil, the Monaco-based company at the center of an international bribery scandal, threatened this week to prevent publication of an investigation into its business practices.
Before the articles were published, attorneys representing Unaoil and its owners, the Ahnsani family, requested that Fairfax Media -- which owns major Australian outlets like The Age newspaper -- turn over all copies of confidential information or data possessed by its journalists, Nick McKenzie and Richard Baker.
"We also request that Fairfax desist from publishing any material concerning our clients until such time that our clients have been able to verify that their confidential data is not being used to make scandalous and defamatory allegations," Rebekah Giles, an attorney in the Sydney office of law firm Kennedys, wrote in a March 29 letter.
Giles wrote that the firm's clients reserved the right to seek "urgent interlocutory relief" -- in other words, an injunction to possibly prevent publication. That threat now seems moot, since Fairfax Media published the results of its investigation online Wednesday and in in its print edition on Thursday.
Giles did not respond to a request for comment.
In a separate article on Wednesday, McKenzie described the bribery investigation's unusual genesis. It began after he received a letter from a source, who asked that he place an advertisement in a French newspaper using the code name "Monte Christo."
McKenzie and the source communicated back and forth for several months and finally met in Europe. The award-winning journalist described being introduced later to additional sources and eventually receiving large chunks of information, including tens of thousands of Unaoil emails.
"The sources of this story never asked for money," McKenzie wrote. "What they wanted was for some of the wealthiest and most powerful figures in governments and companies across the globe to be exposed for acting corruptly, and with impunity, for years."
Popular in the Community