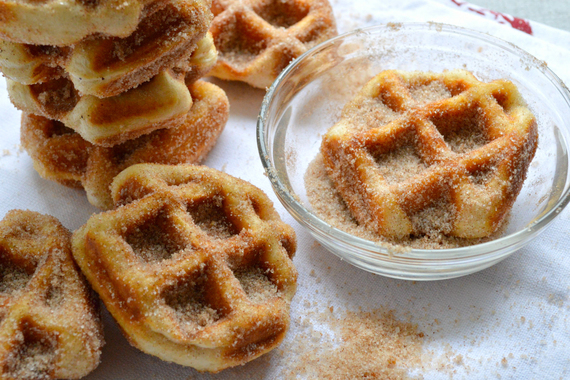 This recipe is almost embarrassing. But it was too amazing not to share. Because WHO doesn't have 5 minutes?! I have 5 minutes to spare almost every morning. I am totally willing to forfeit my cereal time. Or the few minutes it takes to put on mascara. That's what sunglasses are for, yes? Yes. Everyone needs to just take 5 minutes in the morning to make 5 Minute Cinnamon Sugar Waffle Bites and we will all have happier days.
I have lots of recipes with long ingredient lists. They are great! Make no mistake about that. Like these Breakfast Burgers for instance. Or this Apple Walnut Danish. Those recipes are 100% worth the ingredients and the efforts.
This recipe though? Is 100% awesome and the fact that it only takes 5 minutes and 4 ingredients to make these Cinnamon Sugar Waffle Bites kind of makes it that much more delicious.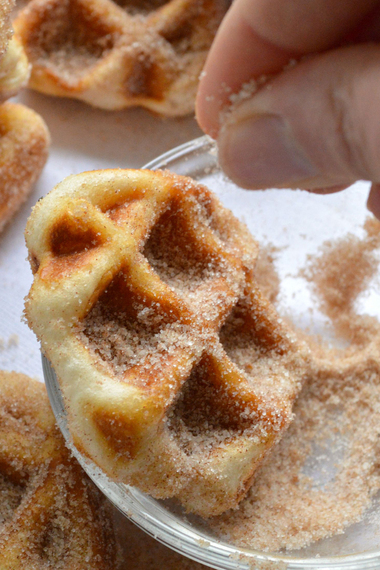 You WILL need a waffle iron. You could probably use a panini press, but that would make them panini bites and not waffle bites.
All you're going to do here is take refrigerated biscuit dough and place one biscuit onto each quarter of your waffle iron. The biscuit dough cooks fast! Faster than waffle batter, and faster than biscuits cook in the oven. I set my waffle iron to 4 (about medium) and my waffle bites were done in just 3 minutes!
Once you pull them out of the waffle iron, you will brush the waffle bites with melted butter and toss them in cinnamon sugar. Cinnamon sugar is fabulous on so many baked goodies! These Pumpkin Donut Mini Muffins are one of my favorite things to cover in cinnamon sugar. Until I made these waffle bites, I mean.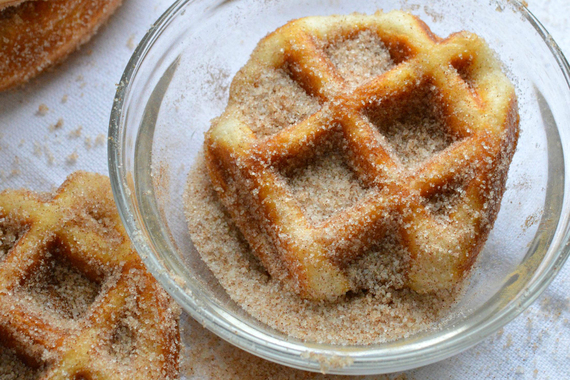 These are great on-the-go, awesome for sleepovers, fun for snacks. I also considered making an ice cream sundae on top of one so… yeah. We should probably get on that.
Oh and hey! If you wanna try a more traditional waffle recipe, this Yeast Waffle Recipe is excellent.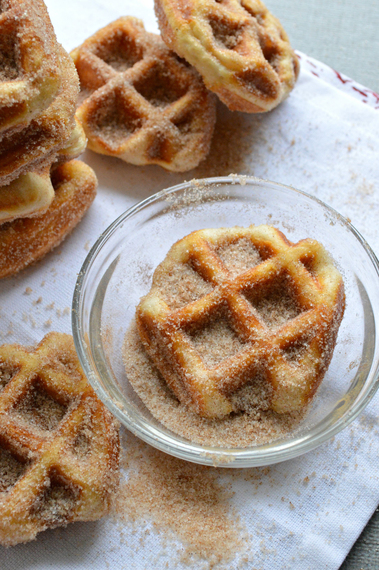 Heather, the author behind the blog
, really really really loves waffles. She's our newest
fanatic, and we're so glad!