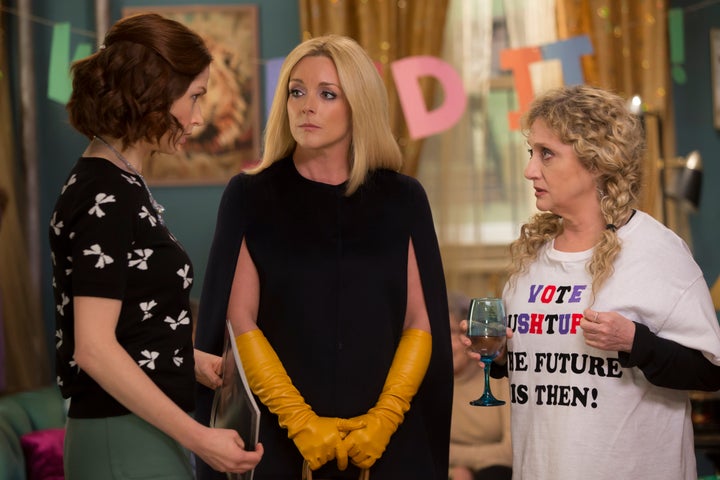 After the first two seasons of the Netflix original series were marred by unforced errors in its portrayals of race and social issues, Season 3 is distinguished by a more cautious, thoughtful approach. Though certain narrative choices from earlier seasons continue to cause trouble, the new season opens with several episodes that at least try to steer the renegade plot lines into calmer waters.
The show, created by Tina Fey and starring Ellie Kemper, drew praise after its first season dropped for its daffy, surreal comedy and dark premise; but many reviews singled out two characters (Dong, a Vietnamese immigrant who hewed to several Asian stereotypes, and Jacqueline Voorhees, a wealthy blonde socialite played by Jane Krakowski, who is revealed to be Native American) for critique. In the second season, released in 2016, the show not only doubled down on its problematic Native American plot line, it openly lashed out at critics in an episode that viciously satirized online social justice crusaders. Once again, "Kimmy Schmidt" faced criticism for its willful hostility toward viewers of color and its ungracious response to critique.
The first six episodes of Season 3 avoid veiled barbs at critics and even sneak in some on-point commentary about white privilege and cultural appropriation. Mostly, it stays safely in the realm of goofy, cartoonish comedy ― at which it excels. As the season opens, Kimmy tries to get a divorce from her now-imprisoned abductor, the Reverend Richard Wayne Gary Wayne (Jon Hamm) and looks at colleges (Famous Ray's Original College, Roy Cohn Community College). Titus (Tituss Burgess) has washed up on the beach several months before he was expected back from his tour as an entertainer on a cruise ship, and he definitely did not eat any beloved celebrity performers while at sea. Once back, his relationship with his construction-worker boyfriend, Mikey (Mike Carlsen), immediately looks rocky. Lillian (Carol Kane) ditches her creepy boyfriend Robert Durst (Fred Armisen) and runs for city council in hopes of preventing any improvements in her neighborhood. Jacqueline and her new boyfriend Russ Snyder (David Cross), a human rights lawyer who unhappily belongs to the Snyder family that owns the Washington Redskins, continue their secret plan to oust the mascot in favor of one that isn't wildly offensive to Native Americans.
Having returned home from a less-than-triumphant cruise tour, Titus initially balks at telling his supportive boyfriend that he's returned home no more successful than when he left. When he finally goes to reconnect with Mikey, he becomes first suspicious, then infuriated, upon seeing that his boyfriend has invited another man over. Sound like a good opportunity to have Titus spoof "Lemonade"? Fear not, the show takes full advantage ― and while the move feels a little forced and, at this point, dated, it's delightfully executed.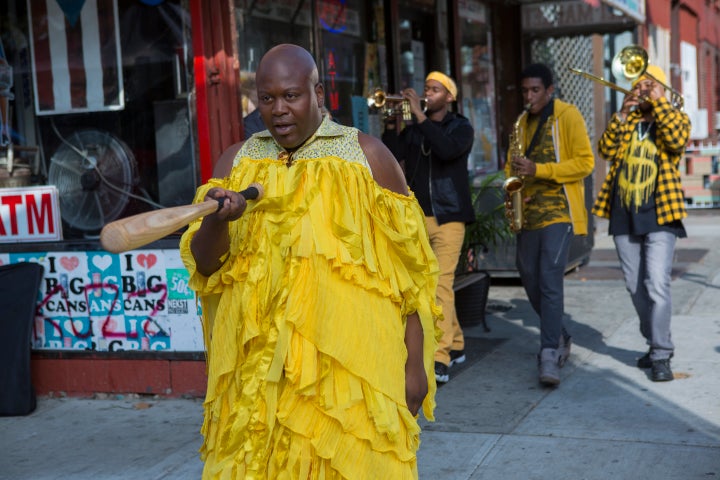 More importantly, the conflict gives Titus and Mikey space to examine whether the relationship is really right for them, while honoring what Titus, who was Mikey's first boyfriend, has done for him by encouraging him to get in touch with his sexuality.
Kimmy's thread, as she waffles over granting a divorce to the man who stole her freedom, explores the psychological costs of trauma with surprising nuance. Should she withhold the divorce to punish her kidnapper and cult leader, who wants to end their (apparently legal) marriage in order to wed a professor he met in prison, or should she sign the papers to finally sever ties with him? Both outcomes are tempting, but she can't quite figure out which will be healthier for her. When his fiancée Wendy (Laura Dern) shows up with divorce papers, Kimmy faces another impossible choice: Let this naive, lonely woman have what she wants, or protect her from it by refusing, again, to sign.
The show has played up Kimmy's outsider status by having her connect romantically with men of color ― first Dong, and now a fellow student named Perry (Daveed Diggs). Her optimism and ongoing lack of familiarity with popular culture and social issues actually makes her a great comedic foil for these dynamics; she's so little versed in college admissions that an offer from a prestigious school barely fazes her, even though she's clearly not qualified. She's a cartoonish yet recognizable version of the standard white person blissfully unaware of her own privilege because she doesn't know what it's like to lack it. To people of color she encounters, the lucky breaks she's given in preference to them are infuriating but ultimately just another in a long line of disappointments. Like Dong and Perry, she feels alienated from the dominant culture; unlike them, she's eagerly embraced by the white power structure. The college setting provides grist for an anti-outrage culture plot, but the show mostly acknowledges the real injustices that lie beneath social justice activism while tweaking the smug but well-meaning foibles of white, middle-class students whose wokeness is mostly performed.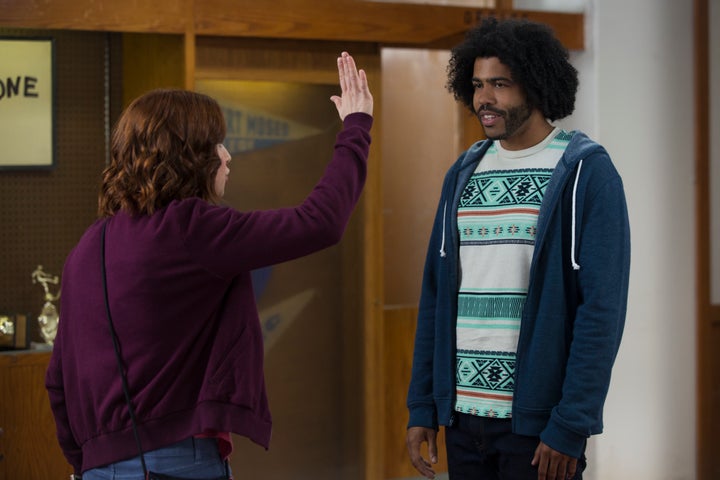 Tina Fey's shows have always had a conservative streak when it comes to money and gentrification ― think of Carrie Fisher's "30 Rock" cameo as an aging comedy writer, Rosemary, who lives in a neighborhood so rough it's deemed "Little Chechnya." Fey's Liz Lemon is so frightened by the prospect of such a home that she begs Jack (Alec Baldwin) to hire her again. Lillian, the counterculturalist landlady, is the Rosemary of "Kimmy Schmidt." She relishes the crime and urban blight of their neighborhood, East Dogmouth, because it's authentic ― and affordable ― even though the water is so brown it's hard to believe anyone could be alive after drinking a glass of it. "I'm tired of you rich pricks coming in here, telling us what we need!" she castigates a local businessman. He scoffs: "I'm just trying to turn a condemned chicken slaughterhouse into a grocery store." Lillian's populism has been given a Trumpian makeover this season, peppered with references to "deplorables" and vague anti-governmentalism, but she also represents the tangible grievances of marginalized groups displaced by gentrification as cities invest in sprucing up rundown areas. This has been largely played as ridiculous, but if Lillian's campaign continues through the season, one might hope that show teases out the complicated reality of gentrification.
The most nettlesome plotline remains Jacqueline's quest to reclaim her Lakota heritage. The first six episodes feature her plot, with Russ, to undermine his family and gain the power to change the Redskins name. At a family event, he accuses his family of not accepting her because they've discovered she's Sioux. It turns out to be a fatal miscalculation: They're thrilled to have a white, blond woman in their midst who can provide moral cover for their use of "Redskins" as a mascot. Jacqueline finds herself used as a prop by the Snyders, when all she'd hoped to do was ruin them. The twist is a neat commentary on the actual strategy of the team, which relies on tenuously identified Native American supporters to counter waves of outrage from Native activists.
One still might wonder, though, where those activists are. The counter-movement of Russ, a white savior, and Jacqueline, a white-appearing savior, doesn't link up with any of the well-established activist groups working to take down the Redskins. After last season, Native writer Cutcha Risling Baldy told HuffPost she wished that this plot would incorporate Native actors, or even real Native activists, into Jacqueline's social circle and the fight against the Washington football team, giving ownership of the narrative to Native Americans rather than a fairly limited cast of white writers and actors. So far, at least, that hasn't happened.
Still, "Kimmy Schmidt" finally appears to be listening to its critics, with a will for improvement rather than anger. That shift may bode well for the series to come.
Related
Popular in the Community