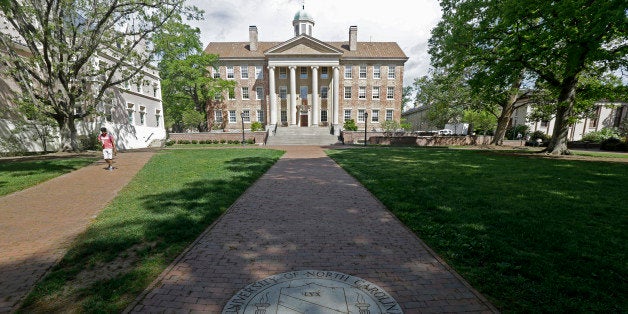 Students at the University of North Carolina at Chapel Hill have used a controversial speech at the school to launch a broader conversation about feeling unsafe on campus.
The UNC College Republicans invited conservative writer David Horowitz to speak at the school on April 13. In his speech, Horowitz said the Muslim Students Association and Students for Justice in Palestine are associated with terrorist organizations, reports the campus newspaper, the Daily Tar Heel.
Horowitz added that SJP and the MSA -- along with the Muslim Brotherhood, Hamas, Fatah, Iran and Hezbollah -- intend to "kill the Jews, to push them into the sea."
"These accusations are harmful not only to members of these organizations but also to our community as a whole," student body president Houston Summers wrote in a letter to the editor.
After Horowitz's speech, some UNC students began an online campaign called #NotSafeUNC to show how they have felt discriminated against on and around campus. The campaign is not just for Arab and Muslim students, but for any student who identifies as a marginalized person.
Horowitz's speech came two months after members of a Muslim family -- Deah Barakat, 23, Yusor Abu-Salha, 21, and Razan Abu-Salha, 19 -- were killed in Chapel Hill by Craig Hicks, who will face a death penalty trial. The killings caused a strong reaction among Muslim and Arab students nationwide, who saw them as an indication that they may not be safe, even when on or near a campus.
The speech also comes during a school year that, nationwide, has seen increased attention to marginalization and microaggressions -- for example, though the proliferation of the #BlackLivesMatter movement on college campuses.
Farris Barakat, brother of Deah Barakat, responded to #NotSafeUNC by tweeting that his brother died because "freedom of speech has been used to defame Muslims through lies. Speak up."
"In no way did the UNC College Republicans intend to cause feelings of fear for any student," the College Republicans said in a statement. "Being uncomfortable with something that's said does not equate with being unsafe, and we intended to do nothing more than cause academic discomfort by inviting David Horowitz to UNC."
The statement also listed five former MSA affiliates who were connected to terrorism since the early 1980s.
"Let it be published, that UNC Muslim Students Association (UNC MSA) is not a terrorist group, nor is it affiliated with or funded by any terrorist groups," the MSA said in its own statement. "It is absurd that we even need to make this statement."
Following Horowitz's comments, UNC College Republicans' chairman, Frank Pray, suggested that the school's MSA and SJP be reformed, according to the Daily Tar Heel. Pray did not respond to The Huffington Post's request for comment.
In response, SJP leaders wrote, "Pray's call for MSA and SJP to be 'reformed' in light of Horowitz's unsubstantiated assertions is paternalistic and groundless."
"[Controversial speakers] create a hostile learning environment for Muslim and Arab-American students, and that's what they're designed to do," Ibrahim Hooper, spokesman for the Council on American-Islamic Relations, told HuffPost. "They're designed to demonize Muslim and Arab students."
Students who have participated in the #NotSafeUNC campaign are facing backlash on Twitter from people arguing their points, calling them weak, and generally trolling.
Hooper said CAIR supports the students' campaign.
"We support anyone, anywhere, who challenges bigotry and intolerance," he said. "It seems wherever Mr. Horowitz goes, bigotry and intolerance follows."
See examples of #NotSafeUNC tweets below, and read more at @NotSafeUNC:
Popular in the Community