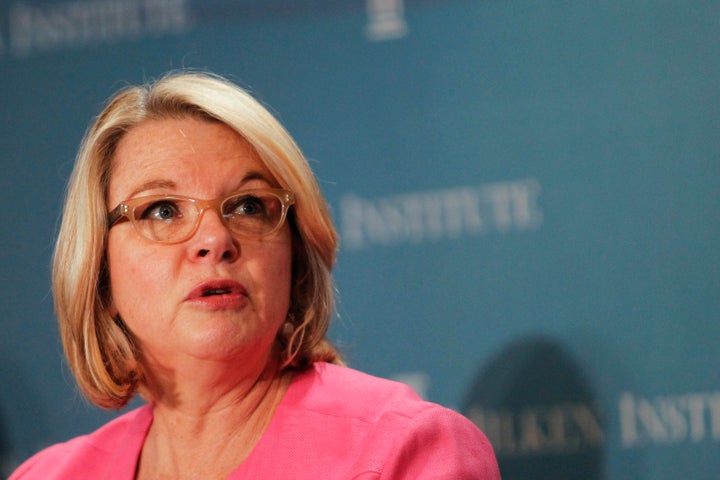 Margaret Spellings, president of the University of North Carolina, sent a memo on April 5 advising campuses to follow HB2, or the Public Facilities Privacy and Security Act. The new law requires public schools and universities to limit usage of multi-occupancy bathrooms and locker rooms by biological sex. So a trans student who was born male, but now identifies as a woman, would have to use the men's rooms, and vice-versa. The American Civil Liberties Union filed a lawsuit against the state and UNC on behalf of a student and two employees of the UNC system, claiming the law violates federal civil rights laws.
Yet in Spellings' memo, she seemed to suggest the university system has no idea whether it will punish trans students who defy the law, and use the bathroom or locker room that matches the gender they identify with. Indeed, in a separate note from UNC-Chapel Hill Chancellor Carol Folt and other campus administrators, they noted that they have no guidance on how to enforce rules about bathrooms and changing facilities.
In an FAQ section of her memo, Spellings wrote:
Does the Act address enforcement of the bathroom and changing facility provisions? Answer: The Act does not contain provisions concerning enforcement of the bathroom and changing facility requirements.
In Folt's April 8 campus-wide email, referring to new restrictions on bathrooms and locker rooms, she wrote:
We have been asked how the University intends to "enforce" this provision of the law. As noted in the memorandum, the law does not contain any provisions concerning enforcement.
Folt added that the university is in a "complicated and uncertain legal environment" under HB2, and administrators do not agree with the new law. Her email was co-signed by Provost James W. Dean, Jr., Vice Chancellor for Student Affairs Winston Crisp and Vice Chancellor for Workforce Strategy, Equity and Engagement Felicia A. Washington.
The Huffington Post asked officials with the UNC system on Friday whether they were advising campuses to punish trans students who use a bathroom that HB2 forbids them using, or if there was any plan for enforcement.
UNC spokeswoman Joni Worthington responded that the law "confers no authority for the University or any other public agency to undertake enforcement actions." The UNC system is advising campuses "to take appropriate steps to inform students and employees about the location of bathrooms designated as gender-neutral, but there are no plans to monitor bathroom use," Worthington added.
The only bathrooms that are allowed to be gender-neutral on UNC campuses are single-occupancy ones.
But there's nothing in North Carolina's new law about what the state or authorities should do if someone uses what the legislature has declared is the "wrong" bathroom for them. Several police departments told Mother Jones they have no idea how they're going to enforce the bill's bathroom provisions, except to say they might end up having to respond to complaints, if they arise.
"It is absurd," Shane Windmeyer, head of LGBTQ student rights group Campus Pride, told HuffPost. "Basically the state of North Carolina passed a law that has no enforcement, strikes fear and threatens safety for trans and LGBQ people, and has negatively impacted the state economy. It makes no sense. The political motivations are highly suspect and lawmakers need to be held responsible."
Even without formal enforcement mechanisms in place, officials with the Human Rights Campaign, an LGBTQ advocacy group, told HuffPost it worries that schools may still suspend or expel trans students who use the bathroom they feel most comfortable with, and police could arrest people for charges like disorderly conduct or criminal trespass.
Chapel Hill officials said they will continue to share concerns they have with the new North Carolina law with the UNC system administration, and some of the consequences the flagship university is facing, noting in their April 8 email "the impacts to Carolina go well beyond the personal toll."
"There are implications to us," the UNC-Chapel administrators said, "ranging from conferences that will no longer send delegates to North Carolina and our campus; concerns and a pause among some prospective students, faculty, researchers and staff; current and prospective donors who are signaling a reconsideration of their gifts; grants and relationships with businesses that are now in jeopardy; and more."
Popular in the Community