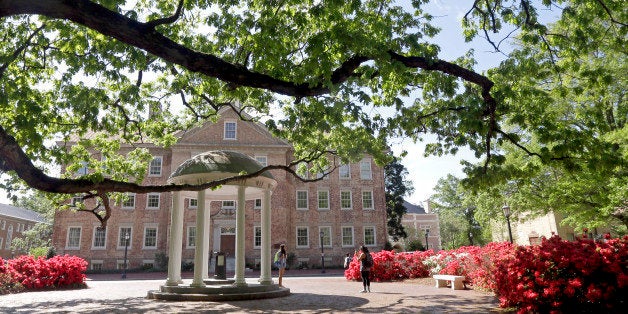 The board of trustees of the University of North Carolina at Chapel Hill announced Thursday that the university's Saunders Hall, named for a 19th-century Ku Klux Klan leader, will be renamed Carolina Hall. The decision follows years of activism by students pushing for a name change.
Along with the renaming, the trustees said in a news release that they plan to put a 16-year freeze on naming other buildings and to develop new education initiatives. These may include an updated website and an improved campus tour that includes a comprehensive history of the school alongside the broader history of slavery and civil rights.
"These efforts to curate the campus and teach the past with greater context will present future generations with a more accurate, complete and accessible understanding of Carolina's history," said Dr. Lowry Caudill, chairman of the board of trustees.
A plaque will be placed in Carolina Hall that reads, "We honor and remember all those who have suffered injustices at the hands of those who would deny them life, liberty and the pursuit of happiness."
William Saunders was an alum of the UNC class of 1854 and served as North Carolina's Secretary of State from 1879 to 1891. He "became known as the chief organizer of the Ku Klux Klan in North Carolina and Chapel Hill" around 1869, according to the university.
When the building was named for Saunders in 1920, the trustees cited his leadership in the KKK as one of his credentials. In their announcement Thursday, the current trustees said their predecessors were wrong to have used that as a qualification for naming.
A university spokesperson told The Huffington Post that the naming freeze is being put in place so the new education initiatives can be more fully processed through four cycles of students who can recognize the school's history -- including its darker parts.
This freeze means that buildings like the Aycock Residence, which some students have called to be renamed, will not be changed for at least 16 years. The building is named for Charles Aycock, who was involved in the white supremacy movement around the turn of the 20th century. At Duke University and East Carolina University, buildings named after Aycock have been renamed in the last year.
Calling all HuffPost superfans!
Sign up for membership to become a founding member and help shape HuffPost's next chapter