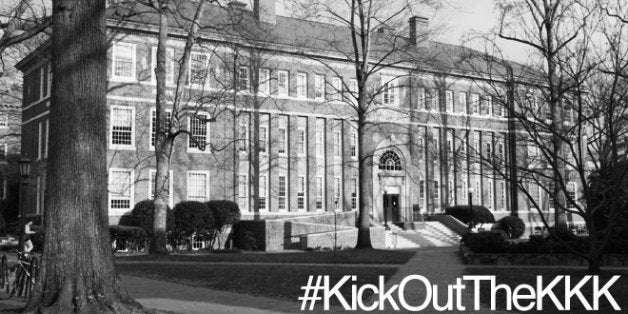 Students at the University of North Carolina-Chapel Hill want the school's trustees to rename Saunders Hall, a building on campus currently titled in honor of a former Ku Klux Klan leader.
UNC-Chapel Hill, considered the nation's oldest public university, named the building for William L. Saunders in 1922, and is one among several named buildings that students say are association with controversial figures.
Saunders was a UNC alum and a colonel in the Confederate Army during the Civil War.
But as the university readily admits on its website, Saunders "became known as the chief organizer of the Ku Klux Klan in North Carolina and Chapel Hill," and led a "terror campaign" intended to upend Reconstruction in the 1860's, according to the Daily Tar Heel.
A few years later, in 1874, Saunders became a UNC trustee.
Some students think there should at least be a plaque on buildings like Saunders, Aycock Residence and Hamilton halls, and the Silent Sam memorial that acknowledges the sordid portions of the lives some of the people the infrastructures are named for.
"I want people to know about how their English building was funded by a person who terrorized black people because he just didn't like them," Mariah Monsanto, a UNC senior, told the Daily Tar Heel.
Students are gathering signatures on a petition to change the name of the building and will present it to the Board of Trustees at their meeting in May. They held a rally on campus last week as well, also demanding a plaque be placed on the building to "remind us of UNC's white supremacist history."
In a statement from Dr. Lowry Caudill, chair of the University's Board of Trustees, provided to The Huffington Post, the school said it remains open to discussing changes with the students.
"We encourage them to share their research and thoughts with us," Caudill said. "I know Vice-Chair Alston Gardner has had conversations with students on this topic and we look forward to hearing from them. It's important to note that the University has a policy on renaming campus facilities, which would be our guideline in any such conversation."
If the benefactor's or honoree's reputation changes substantially so that the continued use of that name may compromise the public trust, dishonor the University's standards, or otherwise be contrary to the best interests of the University, the naming may be revoked. However, caution must be taken when, with the passage of time, the standards and achievements deemed to justify a naming action may change and observers of a later age may deem those who conferred a naming honor at an earlier age to have erred. Namings should not be altered simply because later observers would have made different judgments.
Students don't appear to think there's room for much caution in this case, declaring in a Facebook post for their rally the honor for Saunders is an "ongoing presence of white supremacy embedded in our campus geography."
Clarification: Language has been added to clarify the context in which Monsanto's quote was originally offered, and to reflect that she was not specifically referencing Saunders Hall."
Calling all HuffPost superfans!
Sign up for membership to become a founding member and help shape HuffPost's next chapter