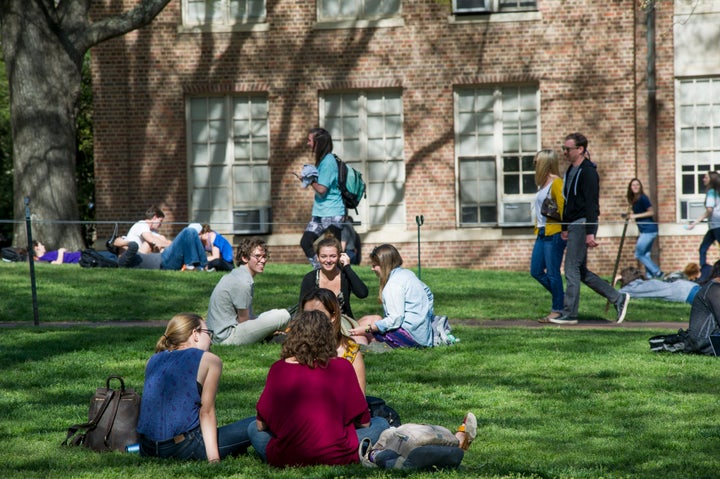 A student at the University of North Carolina at Chapel Hill accused the university and local prosecutors in a statement of failing to act against a campus football player who she says raped her this past Valentine's Day.
At a news conference Tuesday, Delaney Robinson, a sophomore, said she "did everything a rape victim is supposed to do," including immediately seeking treatment at a hospital, taking a rape kit and cooperating with law enforcement.
"But six months later the University has done nothing," Robinson said.
Her lawyer, Denise Branch, said in a statement that the university and the local district attorney have thus far refused to press rape charges against the accused, Allen Artis, a linebacker on the school's football team.
"For more than six months we have asked the University and the Orange County District Attorney's office to hold Delaney's rapist accountable for his actions," Branch said. "At every turn we have been met with discouragement and delay."
"I'm taking this public stand not for me," Robinson said, "but for the other students on campus who are not protected, despite what the University tells us. I love this University. It's my home. I plan on graduating. But I expect the University to fulfill its promises to me and to all students."
After the Orange County District Attorney declined to press any criminal charges against Artis, Robinson chose to exercise her right under state law to self-swear arrest warrants against Artis on the lesser charges of misdemeanor assault on a female and misdemeanor sexual battery, according to Branch. The office of the Orange County district attorney has issued those warrants.
The rape kit Robinson underwent showed "vaginal injuries consistent with blunt force trauma and bruising consistent with a physical assault," Branch said.
Branch added that the Orange County District Attorney's office declined to prosecute the case as rape because Robinson had not been drunk to the point of unconsciousness when it occurred.
Artis did not immediately respond to a request for comment on the accusations.
Jim Woodall, the district attorney of Orange County, said the UNC Chapel Hill Department for Public Safety is "still actively investigating the case." In late July or early August, Woodall estimates, the department shared its judgment with his office that the case did not have enough evidence for criminal charges. "My office said we don't disagree with them," Woodall said.
He noted that there are some outstanding lab results relevant to the case.
The UNC Chapel Hill did not immediately respond to an email request for comment on the accusations, but put out a statement Tuesday afternoon.
"While the University is aware of allegations made today by attorney Denise Branch regarding a student, under federal privacy law we are prohibited from responding to those allegations," Joel Curan, UNC Chapel Hill vice chancellor for communications and public affairs, said in a statement. "The University of North Carolina at Chapel Hill is deeply committed to the safety and well-being of our students and takes all allegations about sexual violence or sexual misconduct extremely seriously."
Robinson's account of how campus police, also known as the Department for Public Safety, treated her rape describes the kind of victim blaming that remains all too common for sexual assault survivors.
UNC Chapel Hill police peppered her with questions about her clothing, behavior and sexual history, according to Robinson.
"I was treated like a suspect," she said.
By contrast, campus cops spoke to Artis with a "tone of camaraderie," according to a recording of the conversation Robinson was privy to. 
"They told him, 'don't sweat it, just keep on living your life and playing football,'" Robinson said.
Robinson's charges against UNC and local law enforcement are the latest in a series of high-profile cases of campus sexual assault that have cast serious doubt on universities' handling of rape allegations, particularly when the allegations are against an athlete.
On Sept. 6, C.C. Carreras, a young woman attending the University of Richmond, described in an essay for HuffPost how the university failed to pursue sexual assault charges against a campus athlete she accuses of raping her. Whitney Ralston, a classmate and friend of hers, followed suit with similar claims of university indifference in a Friday essay.
Earlier this month, ex-Stanford swimmer Brock Turner was released early from jail after serving three months of a six-month sentence for a sexual assault he committed on campus. Turner's lenient sentence drew national outrage.
Robinson's accusations also could have serious implications for UNC Chapel Hill in particular.
The university announced a new sexual misconduct policy in August 2014 aimed at improving the its response to assault charges. The reforms came after five women filed complaints against the university with the federal government for violating Title IX, the law to ensure gender equity in educational programs that receive any kind of assistance from the federal government.
Branch, Robinson's attorney, suggested Tuesday that her client's experience was evidence that the new policy has failed.
"Delaney feels betrayed by the university she chose," Branch said. "The very university that promised to protect her and that lauded a new and improved Title IX process that was completely revamped to better protect students."
BEFORE YOU GO
PHOTO GALLERY
40 Powerful Images Of Surviving Sexual Assault