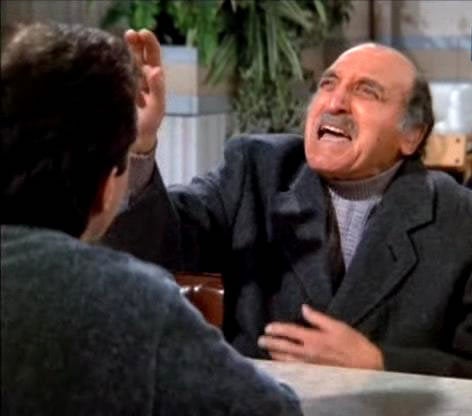 He was his TV uncle, and Jerry Seinfeld remembered him like an old friend.
Len Lesser, who played character Uncle Leo in 15 episodes of "Seinfeld," passed away on Wednesday, leaving fans and friends to reminisce over his iconic role.
"Len was one of our favorites. We always loved having him on the show. I'll never forget when Uncle Leo was in prison and tattooed 'Jerry Hello' on his knuckles. He was a very sweet guy."
Jason Alexander had even more kind words of tribute to Lesser, tweeting:
Thanks to all of you for your kind remarks re: Len Lessor [sic]. Tonight was the opening of Gigi at my beloved Reprise Theater Company and I've only returned at this late hour to hear the news.

Len was a tremendous guy. He was a smart actor/comedian who knew exactly what he was doing in the creation of Uncle Leo. I enjoyed many wonderful conversations with Len who was so openly grateful to be part of our show and so humble about his stunning contribution to it. I am so happy to have known him and my sympathies go to his family. But his was a fun life and he leaves many fans behind and many who will be enjoying his work for years to come.

"Hellooo" Uncle Leo. And goodbye. Sleep well. Much love.

Jason
Lesser also had a recurring role on "Everybody Loves Raymond," a late part in a long television career that included spots on "The Monkees," "The Munsters," "The Rockford Files," and more.
Popular in the Community