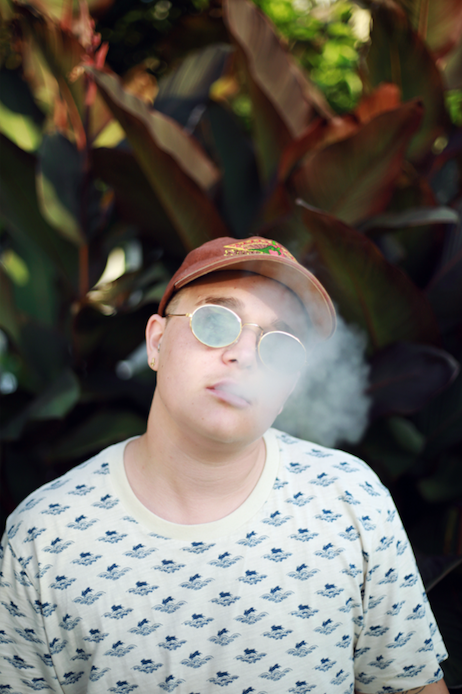 The first time I played the "Winning It Or Losing It" beat for John (AKA MC John Debt, who collaborated on the album), we both laughed at it and then decided to write to it anyways. The theme is about questioning and surveying your life from your own point of view, which is a constant theme throughout the album. Overall I relate [my new album], Can't Stay The Same, to a super special time in my life when I got to deeply connect with John for the first time even though we had already known each other for years. We were going thru similar things in our personal lives and connected thru the shared experiences of change, growth, birth, death, and the general cycle of life. John taught me how to let go and get loose with my art; something that I hadn't done since high school. It seemed as if 10 years of living in New York City and being apart of the constant rat race had made me a bit rigid creatively. He taught me how to tap into my subconscious brain and get absolutely messy.
The first time we listened to this song in particular, we thought it was absolutely horrible and hilarious at the same time. We had thrown in so many ad-libs and vocal tracks into the mix that it sounded like a bipolar serial killer had written the album. I think that I actually wanted to make something that I wanted people to fucking hate because this year in particular has been such a practice of doing the exact opposite of the norm. One thing I've struggled with in my life has always been caring deeply about what others think of me. And for this year, the first year of my medical gender transition from female to male, it was absolutely necessary to let go of ALL those ideas or else I knew that I would be miserable again. It was about time to start making art and living for me again. It was a personal movement of deep empowerment.
After cleaning up "Winning It Or Losing It" with some editing and amazing mixing done by Chris Shurtleff in Brooklyn, we began to cherish it and hold it closely in our hearts. We finished Can't Stay The Same in early March 2017, right before my top surgery and right before John moved to Berlin. He had been living in Brooklyn, homeless and going thru a really bad break up that also coincided with a confusion of new love. He could no longer afford to live and work as an artist in New York City. At that point I had just started HRT (Hormone Replacement Therapy), was getting ready for top surgery in one week, and trying to settle into a whole new world inside of a different gender. We both had a lot to write and express at that time and this project was such an emotional release for both of us. Finding my new place in the world and how I relate to others is actually a lot more confusing than it sounds and I don't think anything could have prepared me for the psychological discoveries that I have found in the ways that I interact with the world and it's beings at large.
I still to this day listen to this album whenever I am scared and need to be brave. Time after time it continues to give me confidence to move forward and be loud and proud no matter what. I listened to these songs right before my surgery, I listened to them whenever I had to get blood work done, I listened to them whenever I had anxiety on the subway train. And for some reason it always calms me down immediately because I relate it to the real me and associate it with an experience of personal rejuvenation.
Because John was settling into his new life in Berlin and we were living in different countries hundreds of miles away from each other we had to get creative visually for the album cover and music video visuals. The album cover is one of John's paintings that we chose because it represents one of his lyrics from the song, "Leave So Soon", where he states, 'John Debt's alone in a tiny room'.
The "Winning It Or Losing It" video was shot in Bushwick Brooklyn by me and my assistant Marika Wolff. The two main characters in the video, Robert Aoli as "John Debt", and Sienna Corrigan, who plays me, Uncle Meg, are exaggerated representations of past characters John and I have played in some past chapter in the story of our lives. We wanted these characters to represent explorations in gender expression. Sienna plays me as a child; cutting her long hair off into a more masculine look and getting kidnapped in her Harlem Globetrotters Jersey by two goofs (RIP Darlie, played by James McGann & Madison Berg).
Look for the wide release of Can't Stay The Same on December 1, 2017 and catch Uncle Meg live on November 9th at Joe's Pub as part of Champagne Jerry's Clubhouse™
Popular in the Community