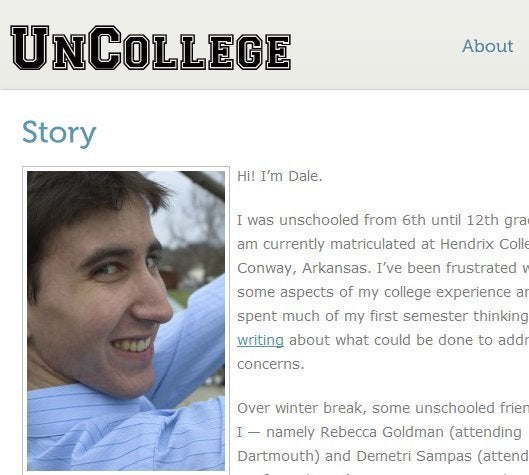 Dale Stephens thinks there's no reason why home-schooling can't extend to college.
The young entrepreneur, currently a freshman at Hendrix College, is developing a community of self-directed learners he calls UnCollege -- a site offering support and guidance for students who would prefer a non-conventional learning experience to study at a traditional college, reports the Chronicle of Higher Education.
Stephens was home-schooled and believes that his independent experience taught him more than formal courses. He told the Chronicle: "I don't feel that I've learned things that I couldn't have learned on my own." Stephens also questioned the worth of a traditional degree -- on his site, he writes, "With 70.1% of high school graduates going to college, a college degree no longer guarantees success. School no longer requires analytical thinking or independent thought. In a traditional college setting the joy of learning is easily lost."
UnCollege, which is slated to enroll its first class in fall 2011, still contains traces of a more traditional institution. Although it will not grant degrees, UnCollege costs $100 per month to attend and has a few required assignments, including edicts to "write about why you're participating in UnCollege," "find a mentor," and "live abroad for three months." UnStudents are encouraged to complete at least fifteen projects in three different "learning domains" -- introspection, experience and application -- before a non-official graduation.

Boston University professor Hillel Levine, who is among Stephens's personal mentors, said that he is intrigued -- if not entirely convinced -- by Stephens's mission. He told the Chronicle that colleges should take experiential learning more seriously, adding "the problem is real, but I'm not sure [Stephens has] come up with the solution."
Check out UnCollege and Uncollege's Facebook page to learn more, and let us know what you think in the comments section below.

Calling all HuffPost superfans!
Sign up for membership to become a founding member and help shape HuffPost's next chapter