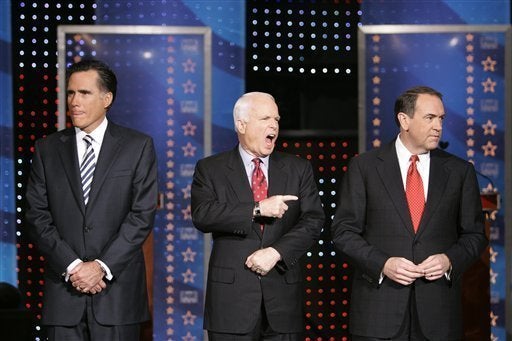 My editor reminds me that some time should be spent caring about the Michigan primary, so, okay. Michigan. Mitt Romney finally got a "gold medal" in a state primary that actually matters to people, and all he had to do to get the win was make a bunch of crazy promises to singlehandedly revive the entire auto industry. We look forward to Mitt telling Floridians his plan to save the manatee and promising Californians that he will end plate tectonics. The final result was a nine-point win over John McCain, but because everyone in the media loves McCain and wants to be his Facebook friend, this drubbing is being characterized as an "edging."
Meanwhile, Hillary Clinton gained the support of zero delegates after winning the Michigan Democratic primary, which doesn't count. The big story of the evening, though, is that Clinton, who ran about as close to unopposed as you can get (by which we mean she ran against Dodd, Kucinich, and Gravel) still only managed to get 55% of the vote. The Silver Medal went to a heretofore unknown and unaccounted for political force, Uncommitted.
Uncommitted pulled in a robust 40% of the vote thanks to the 236,723 Michiganders who came out to support the idea that people should be given more time to make up their minds. And, mind you, this is only a measurement of the Uncommitted heterodoxy. Serious, orthodox connoisseurs of Uncommitment showed their strength by staying at home, not voting at all, and probably questioning the lack of a lack of commitment on the part of so many Uncommitted voters who made a commitment to voting for Uncommitted.
On the GOP side, by the way, Uncommitted only finished a single percentage point behind Rudy Giuliani. But don't worry, Rudy! Your amazing strategy of paying people no money to win no primaries is still succeeding gloriously!
All kidding aside, it seems like a perfectly appropriate time for Uncommitted to take a turn in the national spotlight. After all, Uncommitted has been a major force in the primary season so far. In New Hampshire, everyone in the media touted a huge lead for Barack Obama, based on polling data that really showed strong, extant support for Uncommitted. When those voters finally got committed, they made up a surge of support for Hillary Clinton, and Obama's lead evaporated.
Whether by accident or design, the last minute commitment of those New Hampshire voters struck a blow for the Uncommitted everywhere. By forestalling what looked to be an Obama coronation, Democratic voters bought back some time to continue evaluating the field. And this makes perfect sense: while the press paints the Democratic race as a bitter contest between a pair of "eithers" and a dark horse "or," it's much more likely that the average Democratic voter finds deeply appealing aspects in all the remaining candidates, and isn't nearly ready for the end of the horse race to be over.
But will the media tap into Uncommitted fever? Signs point to no, I'm afraid. Just yesterday, the Los Angeles Times assessed the still-to-come California primary with the pretty-definitive-sounding headline, "In California, it's Clinton and McCain." But why didn't the Times lead with their poll's most significant finding?
The L.A. Times/CNN/Politico poll, conducted by Opinion Research Corp., showed that the race remains extremely fluid, even as voters in the state are casting mail-in ballots. Six in 10 Republican primary voters said they might change candidates in the next three weeks. Among Democrats, four in 10 said they could still change their minds.
In other words, the voters have [not] spoken. Uncommitted for President!
Calling all HuffPost superfans!
Sign up for membership to become a founding member and help shape HuffPost's next chapter