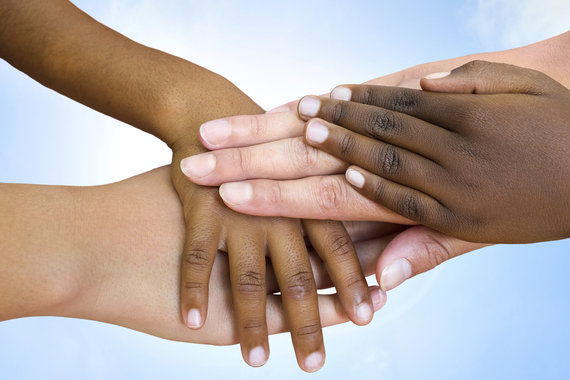 Growing up in the U.S., I was taught "you can't judge a book by its cover". In fact, this is easier said than done. We are a world of people who, even subconsciously, judge and label other people by their skin color, socio-economic background, sexual orientation, looks, gender, past deeds, and so on.

I don't consider myself to be judgmental. I've lived all over the world and have friends from all backgrounds. However, I still sometimes find myself labeling, or judging, people. Then I start talking to them, and lo and behold: they're totally unlike the person I'd stereotyped them to be.
I'm thankful every time this happens, because (hopefully) it means that I've received yet one more affirmation to refrain from judging a book by its cover. It also means that, inside me, another judgmental wall-- based on mere habit and built from societal conditioning--has been toppled.
We may not realize that our persona is created through our upbringing and friends. As a teenager, I was raised to dress a certain way. I'm sure I was labeled "preppy", because I always wore Jack Rogers sandals, cable-knit sweaters and Lily Pulitzer dresses. When I was around 17 years old, I disengaged myself from that persona and altered my appearance by wearing old blue jeans and long skirts. Anyone looking at me would have labeled me a hippie.
The truth is, I was labeling myself--creating a new image based on the trends around me.
When I learned Transcendental Meditation (TM) at the age of 18, I experienced a place of silence within me that was beyond all conditioning. It was just me, my truest self, stripped of all external images and trappings. Outside of meditation in my daily activities, I started to feel at home with who I really was. I became less swayed by what other people thought of me, and this growing independence brought me a feeling of real inner freedom.
Although on occasion I still find myself judging people according to stereotypes, I see more and more beyond superficial values and enjoy discovering who they are inside. We limit ourselves--and the richness that can come from our interactions--when we brand others. Everyone has a gold mine inside, and it's a real joy to discover that treasure. Most people are good. Of course, there are bad apples in the world. They often have had difficulties in their life that caused stress to cover up the goodness deep inside them. Those who have a way to reduce or eliminate stress, for example through a mental technique like TM, have an advantage in dealing with challenging situations.
Anyone who has been released from prison is cast for life as potentially dangerous, no matter how much they may have changed. Fortunately, Shaka is an author and criminal justice activist who, against all odds, has been able to remold his life in an extremely positive way.
At the end of Oprah's interview with Shaka, there is a short SuperSoul video of a song by Prince Ea. His lyrics challenge the judgments attached to the color of our skin and envision what it would be like for people to be seen as who they really are.
The multiple layers of conditioning have been structured in all of us since birth, so how can we possibly remove them? The first step is to "uncondition" our mind by experiencing a state that is beyond conditioning. This is the silent, transcendental level of our consciousness. As mentioned above, the technique that I have personally found to be most profound and direct to experience this state of transcendence is Transcendental Meditation. To meditate means to think; to transcend means to go beyond the thinking level of our mind and experience the state of pure silence, or Being, beyond all thought. The more we experience this unconditional state of Being, the more lifelong conditioning simply melts away.
In the current extremely charged political climate where Americans fear terrorists, Afro-Americans fear police, and Mexicans fear being unjustly deported, it is crucial to take a closer look at the potential mistakes that stereotyping can cause. The beauty of our world lies in its mosaic of differences--its diverse cultures and backgrounds. Once we discover within ourselves the common ground of unity among all diversity and start to live it in our daily lives, we will have come a long way towards realizing the ultimate truth of humanity. We can go far beyond the concepts that bind and limit us to see who we truly are.
Related