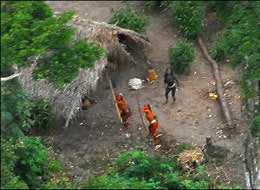 The BBC reported last night that an uncontacted tribe had been discovered on the border between Brazil and Peru.
According to the Guardian, there are around 100 uncontacted tribes in the world. "Survival International estimates more than half are in the Brazilian and Peruvian Amazon."
The National Indian Foundation, a government agency in Brazil, took these photos and published them Thursday. According to CNN, "it tracks "uncontacted tribes" -- indigenous groups that are thought to have had no contact with outsiders -- and seeks to protect them from encroachment.
They and their relatives apparently live in six communal shelters known as malocas, according to the government, which has tracked at least four uncontacted groups in the region for the last 20 years.

The photos were taken during 20 hours of flights conducted between April 28 and May 2.