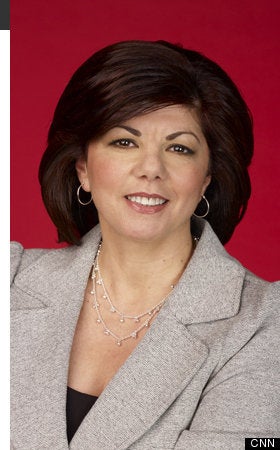 She has no regrets, she looks forward to capitalizing on the many opportunities the Middle East has to offer, and she continues to vigorously promote social media, although it led to her ouster from CNN.
"I'm using a very unique approach to the business," said Octavia Nasr of her Bridges Media Consulting firm through which she aims to make a difference in the lives of people in the Middle East, the U.S., Asia and Eastern Europe, thanks to her extensive experience in those regions.
Someone called her an entrepreneur, and she's proving it by promoting digital and social media across continents, notably through young people.
She has the passion, the drive, the contacts, and knows how to engage an audience.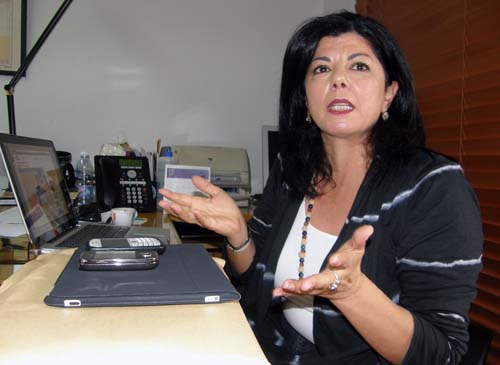 Octavia Nasr, social media pioneer at CNN (Abu-Fadil)
Her followers are legend and it's no wonder.
As a visionary she saw communication was no longer a one-way street and understood the power of social media long before it became fashionable.
So she writes strategies for media organizations but insists one has to be genuine and transparent.
"I was one of the first to use social media in reporting," said Nasr, whose work on the CNN World Report -- a show featuring contributions from reporters worldwide -- morphed into the network's citizen journalism show I-Report.
But on July 7, 2010 Octavia Nasr, a 20-year veteran of the first all-news network, posted a tweet heard around the world by reacting sympathetically to the death of Mohammad Hussein Fadlallah, the Shiite cleric considered Hezbollah's spiritual leader.
"Sad to hear of the passing of Sayyed Mohammad Hussein Fadlallah..One of Hezbollah's giants I respect a lot.."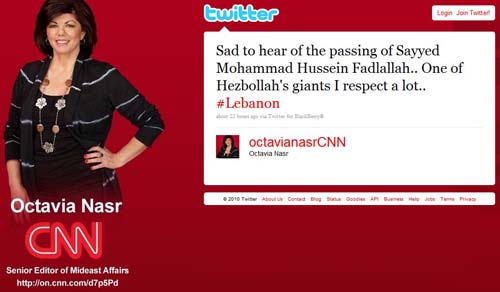 Screen shot of tweet heard around the world
She insists the tweet was a professional reflection, not a personal sentiment, and taken out of context -- an obvious danger when limited to 140 characters.
"People on the outside didn't understand that," she said. "My job was to clarify little known nuances off and on the air. They didn't bother to check. They interpreted it their own way."
The danger is when one allows interpretation to drive events, she added. The bias becomes that of the viewer, or the reader.
In her previous job at the Lebanese Broadcasting Corporation, founded by a Christian militia during Lebanon's civil war, Nasr (a Christian) had interviewed Fadlallah and was impressed with his views on women's rights and rejection of honor killings.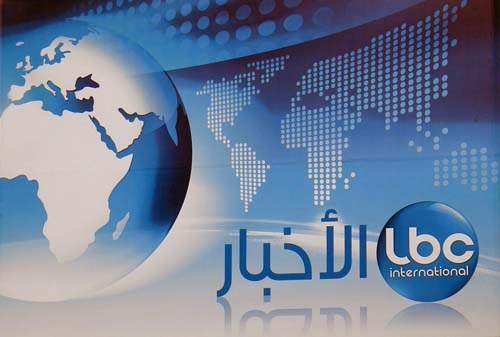 Lebanese Broadcasting Corporation news logo (Abu-Fadil)
She indicated in her CNN blog she did not support his political views and followed the brouhaha with an apology.
It didn't take long for CNN to pull the tweet, and for it to disappear from any cache.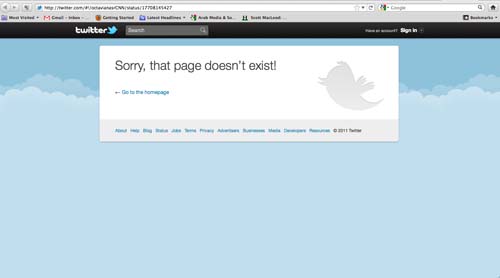 Octavia Nasr tweet does not exist
Interestingly, Britain's ambassador to Lebanon Frances Mary Guy also mourned Fadlallah's passing in her blog.
"The world needs more men like him, willing to reach out across faiths," she wrote.
Guy's blogpost was yanked by the Foreign and Commonwealth Office and she got a diplomatic slap on the wrist, but remained as the ever-kinetic envoy of her country in Lebanon.
Not so for Nasr, who was "fired" for what detractors considered comments favorable to a man, and organization, classified as "terrorist" by the United States.
Parisa Khosravi, CNN's senior vice president of international newsgathering, told CNN staff in an email that despite the mea culpa, "we believe that her (Nasr's) credibility in her position as senior editor for Middle Eastern affairs has been compromised going forward."
But Business Insider said CNN wouldn't admit it fired Nasr because her tweet outraged people.
"It is not clear, however, that Nasr's Tweet violated CNN's social media policy," wrote Joe Pompeo.
He said a CNN spokesperson had declined to provide details on the network's policy regarding the use of social media or whether Nasr had crossed any red lines.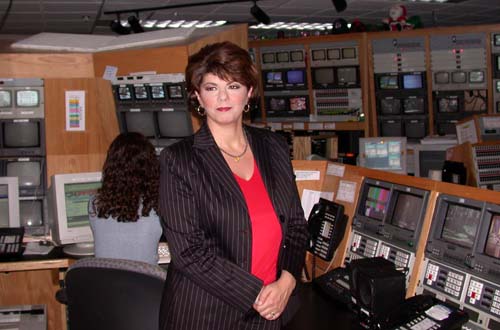 Octavia Nasr at CNN (Abu-Fadil)
"Meanwhile, we suspect Nasr was fired because the sentiment she expressed in the Tweet was grossly offensive to many of CNN's constituents," Pompeo said. "In other words, the termination has nothing to do with social media, editorial standards, or, for that matter credibility. It's too bad the network can't just say that."
Asked whether she had constraints on what she could tweet, she replied: "I didn't have lines to draw. I practiced what I preached. I didn't take sides."
For Scott McConnell, Nasr's firing was "yet another shameful capitulation to the (Israel) lobby" and would go down as one of the most craven and shameful capitulations in the history of American broadcast journalism.
A Facebook hate group gleefully posted this message: "According to reports Octavia Nasr has been fired. We win another round."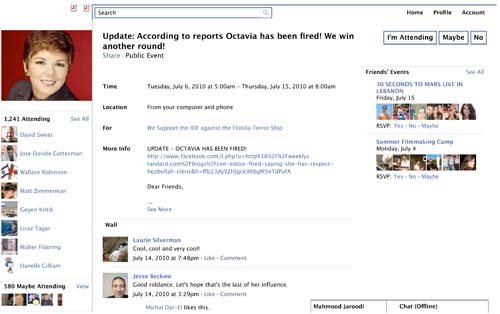 Facebook hate group scores point
The Simon Wiesenthal Center denounced Nasr for her remarks and called on CNN to formally repudiate them.
But Israel's Ynet Magazine reacted to Nasr's predicament thusly: "Fired CNN editor not extremist."
It said Nasr, the recipient of several prestigious journalism awards, including the Edward R. Murrow Award for Continuing Coverage of the 2006 war in Lebanon, was apparently the victim of CNN's efforts to remain balanced at all costs.
It quoted an Israeli who monitors CNN's coverage of the Middle East as saying, "She's not an extremist, and her tweet does not reflect her life story."
Meanwhile, the Columbia Journalism Review's Clint Hendler described it as "CNN's Gutless Firing," noting that instead of letting Nasr go about her job helping the network try to explain the Middle East, which she knew so well, "they chose to throw her overboard," justifying it as compromised credibility.
This is how Salon's Glenn Greenwald explained it:
"Look at how our discourse is completely distorted and dumbed-down by the same cartoonish neocon orthodoxies that have also destroyed our foreign policy. In our standard political discussions, the simplistic and false notion -- obviously accepted by CNN -- drives the discussion: Fadlallah is an Evil Hezbollah Terrorist!!, and Nasr probably is as well given the "respect" she expressed for him during his death. Thus: CNN got caught employing an Israel-hating Terrorist-lover, and once she revealed herself, she had to be fired immediately!!!!"
The New York Times' Thomas Friedman didn't pull any punches in his column: "What signal are we sending young people? Trim your sails, be politically correct, don't say anything that will get you flamed by one constituency or another."
Britain's The Telegraph headlined: "Free speech in Barack Obama's America: Whatever you say, say nothing."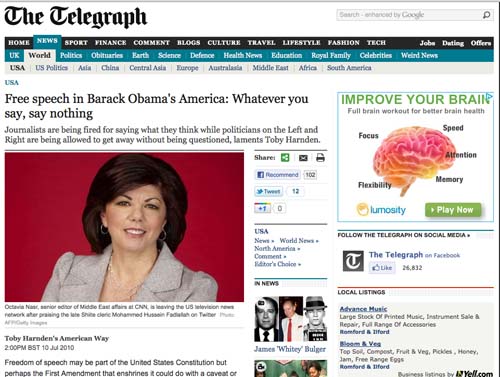 Screen shot of The Telegraph
Nasr's former colleague Daryn Kagan blogged about the incident wondering what her former employer thought it had accomplished "by pulling such a quick professional execution," and noting that to let her go was a huge loss to CNN.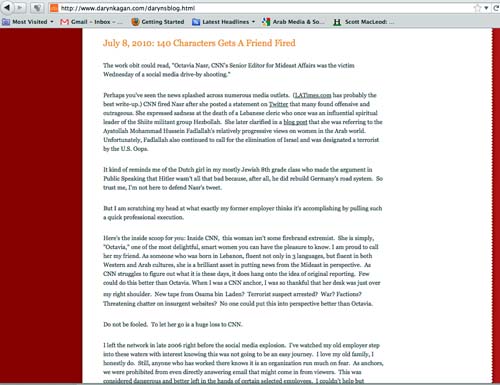 Screen shot of Daryn Kagan's blog
Ironically, TIME magazine -- of TIME-Warner-CNN fame -- in its complete list for the "Person of the Year 2010" issue chose Ayatollah Fadlallah in its "Fond Farewells" section with its own tribute.
So how has all that affected Nasr's view of journalism today?
"Reporters shouldn't be focusing on agendas," she insisted. "I don't call activists journalists."
As a reporter and editor who dealt extensively with conflicts around the world, she's learned countless lessons, has remained grounded, and is true to herself.
Her biography was prominently published on the CNN site along with other anchors and reporters.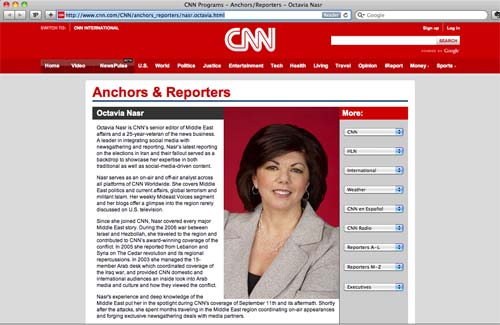 Screen shot of Nasr's CNN bio
But after the Twitter flap, Soviet-style, she became a non-person on the network's blogosphere.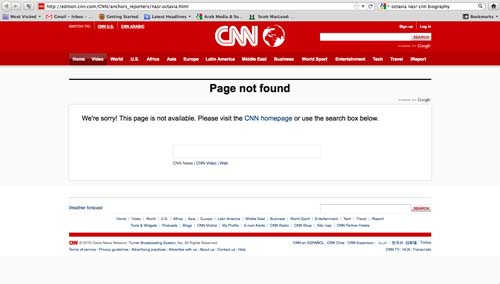 Screen shot of Nasr's non-biography on the CNN site
"I know the dynamics of how these things happen," she reflected. "It's the business."
Nasr realizes journalists have paid a high price though history for what they've reported, but doesn't dwell on the negatives.

"At least I had a 20-year run. It was wonderful," she said.

Popular in the Community