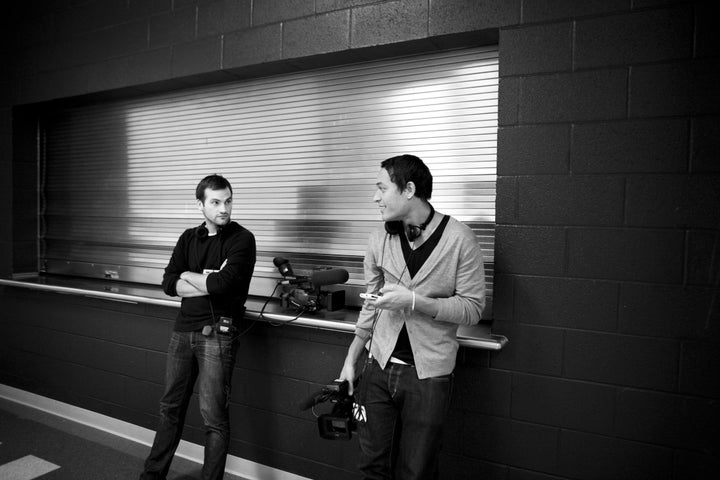 When two unknown LA filmmakers pack up and move to Memphis to make a documentary about a struggling high school football team, it doesn't exactly scream Academy Award.
And yet, "Undefeated" has been hailed not only one of the best sports documentaries of all time, but one of the best sports films - ever. Directors Dan Lindsay, 33, and TJ Martin, 32, followed a story with their gut, and after showing some edited footage around Hollywood, were able to secure financing for the film before they even shot it.
Over two years later, their hard work (which included a broken hand, computers screen-deep in water, a school board potentially shutting them down, and over 500 hours of footage to edit), has most certainly paid off. "Undefeated" won the Oscar for Best Documentary in February and the next day, Lindsay and Martin had approximately 1,500 new emails in their inboxes, each.
The duo met while making a documentary about the world series of beer pong, and what was meant to be a two-month edit, turned into a nine-month blossoming relationship. When they screened "Undefeated" at South by Southwest in 2011, industry monarch Harvey Weinstein immediately scooped it up. Sean "P. Diddy" Combs came on as executive producer and what was once a tiny football documentary, became the toast of the town at the 2012 Academy Awards.
The Huffington Post sat down with the two filmmakers at a coffee shop in Los Feliz to talk sleep deprivation, the expletive that got their acceptance speech cut short and why Brad Pitt is probably laughing at them.
This interview has been edited for length.
Check out behind-the-scenes photos and the Q&A in the slides below:
Related
Popular in the Community