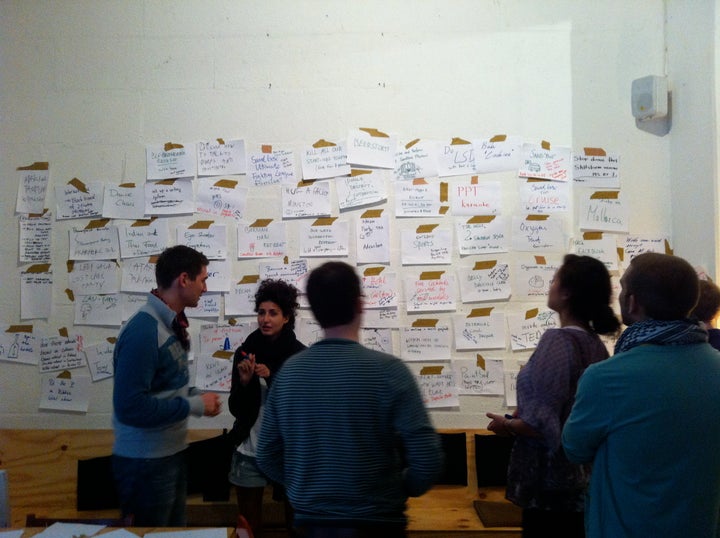 They move across the globe, tethered to nothing but the glow of a MacBook Pro, a weathered smart phone, a steaming latte (or the local equivalent of), a dozen SIM cards lost in a leather-strapped shoulder bag, a loaded passport, and a hunger for change in their eyes.
They wake up in Zurich, go to sleep in Malawi -- and pile together an investor presentation in the solace atmosphere found only while cruising 30,000 feet above Ethiopia. Switching time zones and hemisphere is nothing more than the resetting of a watch, the extra shot of espresso, the settling on an old friends couch.

They are geographically loose yet an extremely tight-knit group of individuals, held together by the fabric of social networking, constant couch surfing, and a slew of global networks, associations, fellowships, institutes, and incubators. They do meet face to face -- only occasionally -- passing through airports, brief dinners in foreign cities, and global conferences.
Who the hell are they, and what exactly do they want?
They are the Sandboxers, part of a leading network that holds some of the most inspiring innovators and entrepreneurs of our generation -- all under 30 -- and they are here to shape your future. This weekend more than 150 of them are converging in Lisbon, Portugal, for the first ever Sandbox Global Summit -- and you can bet the world will be a different place by Monday.
You probably know a few of them. They are already founders and CEOs of startups, like brothers Mike and David Radparvar of HOLSTEE, innovation agents at global brands like Steve Daniels of IBM, who also founded the A Better World by Design conference and Makeshift, and social media gurus like Eric Kuhn, former head of social media for CNN.
Roving documentary filmmakers like Sebastian Lindstrom and Alicia Sully of the What Took You So Long Foundation, Ph.D. students and social impact lecturers like Sandbox Co-Founder Christian Busch, TED Fellows, and robotic geniuses like Marita Cheng, founder of Robogals Global, are just the beginning of the list. This year, five Sandboxers were featured in Forbes' "30 Under 30" list.
Sandbox Network, a constantly growing community with over 600 young leaders spread across 44 different countries, has been described by some as "an awesome global network of super-connectors," and embodies a new generation of socially minded individuals who are positively shaping their communities, countries, and world. With 23 connected hubs around the world -- London, San Francisco, Nairobi, Bangalore, Beijing, Zurich and beyond -- they identify exceptional people with an already impressive impact at a very young age, and essentially help incubate, accelerate, and power their bold visions.
The Sandbox Global Summit will be a 72-hour experience bringing many of them together for the first time in a series of intimate interactions and participant-hosted sessions. Special guests, like Logan McClure, Head of the TED Fellows Program, Susan Kish, Senior Executive at Bloomberg to even Portugal's Minister for the Economy, Alvaro Santos Pereira, will be there to keep ideas and inspiration flowing.
So, why does any of this matter to you? Well, for starters, they are the ones reinventing tomorrow -- and they are only just beginning their careers. Whereas once fate or circumstance brought entrepreneurs together to build companies and collaborations, Sandbox does this by its very nature.
Looking at the diversity of attendees, The Summit is shaping up to be like a mini Davos, TED, and Burning Man blended into one: a highly charged atmosphere of work and play for a unique mix of couch surfing, industry disrupting, and influential change makers.
World, take notice. The 'Boxers are coming...
Popular in the Community