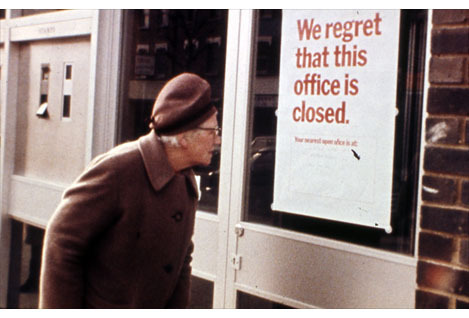 Here's Donald Trump's tremendous plan for managing the federal government's workforce if he's elected president:
What could go wrong, right?
Donald Trump may be running as the non-establishment candidate, but here he's taking a page directly from the GOP's playbook.
Attacking the size of government is part and parcel for most conservative lawmakers, even though the federal government employs fewer people today than it did in the mid-1960s. The GOP's 2012 budget plan, drafted by House Speaker Paul Ryan when he was chairman of the Budget Committee, called for a 10 percent cut in federal workers.
You don't need a crystal ball to determine what impact a hiring freeze would have on federal agencies and their ability to serve taxpayers. All you have to do is visit any Social Security office.
The Social Security Administration has been under a hiring freeze for most of this decade, thanks to across-the-board budget cuts that have slashed the agency's operating budget by 10 percent - even as demand for Social Security services has reached record highs.
Unable to hire new workers or replace those who leave, Social Security is struggling with long wait times to answer customer calls and even longer waits to schedule in-person appointments. Beneficiaries now wait four months on average to start getting their benefit payments, creating an undue hardship for retirees and their families.
Clearly more hiring freezes are not the solution - unless the goal is to make the federal government so ineffective that the only alternative is to contract everything out.
Suppressing workers' rights is another popular touchstone for conservative lawmakers, who wrongly claim that federal employees can't be fired. More than 77,000 federal workers have been fired since 2000 - and that doesn't include the many who quit to avoid being fired.
Here, Donald Trump is being advised by former House Speaker Newt Gingrich, who forced a government shutdown in the 1990s after a perceived slight by President Clinton aboard Air Force One. When you've been labeled a crybaby for throwing such a costly and damaging fit, it's no surprise that your management advice consists of firing those who don't agree with you.
The government's hiring rules are designed to prevent employees from being hired or fired over party politics and favoritism. These rules don't prevent the government from firing bad employees; on the contrary, they make sure punishments against bad employees are justified and good employees aren't punished wrongly or unfairly. They also protect employees who speak out against waste, fraud, and abuse - whistleblowers who would never come forward if they could be fired at a moment's notice.
While firing workers makes for an interesting reality show, it should never become the way we run our country.
So what else would a Trump administration mean for the working people who keep our government running every day? If we look at Trump's history of how he's run his own businesses, here's what we could expect:
1. Not paying our bills. From as far back as the 1980s to the present, Donald Trump has a well-documented history of failing to pay small business, waiters, dishwashers, plumbers and other contractors who have worked on Trump projects.
2. Favoring foreign workers over American hires. Despite claiming to want to bring jobs back to the U.S., Donald Trump routinely hires foreign guest workers for jobs that Americans could do - at least 1,256 positions during the past 15 years, according to a CNN review of Department of Labor records.
3. Fighting union organizing efforts. The Culinary Workers Union's effort to organize 500 maids, bartenders and bellhops at the Trump International Hotel in Las Vegas has been aggressively fought at every turn by hotel management - similar to another battle several years earlier in which Trump defeated an effort by Unite Here Local 1 to organize employees at Trump's new hotel in Chicago.
The VA nurses, TSA screeners, Army mechanics, and EPA scientists who ensure our health, safety, and security deserve a leader who will support their jobs and value their service - not a boss who will slash their jobs and take away their rights.
J. David Cox Sr. is national president of the American Federation of Government Employees, which represents 670,000 federal and D.C. government employees nationwide
REAL LIFE. REAL NEWS. REAL VOICES.
Help us tell more of the stories that matter from voices that too often remain unheard.