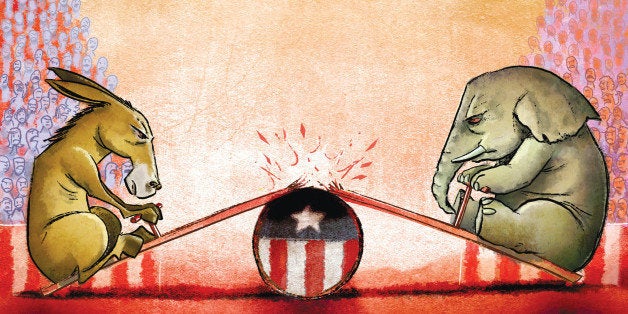 As the country gets ready to pick a new president in 2016, we felt it would be interesting to look at the recent economic performance of the Democratic and Republican parties when they controlled the White House. While there were many ways to cut this data, we chose the last two residents of each party and looked at five categories: GDP growth, net job creation, unemployment rate, budget deficits and performance of the Dow Jones.
The contrast between the performance of the economy under recent Democratic and Republican presidents is stark. Democratic presidents dramatically outperformed their GOP counterpart in all five categories. Some examples:
Job Creation - Both President Obama and Clinton witnessed an average rate of job growth over 1 million each year. Neither President Bush was able to come close to that number, coming in at 630,000 and 135,000 per year, respectively. The two Democratic presidents oversaw an annual job growth 2.1 million per year. The two Republicans had a combined annual rate of 300,000, or one-seventh the total of the two Democrats. The latest data released shows that the economy created 2.9 million jobs in 2014, which is at a comparable job growth rate to an average year in 1990s.
Unemployment Rate - The two Democratic presidents saw on average more than a 3 percentage point drop in the unemployment rate during their presidencies. The two Republicans saw on average more than a 2 percentage-point increase. Each Republican president left office with the country in recession.
Deficits - Both Presidents Obama and Clinton witnessed significant declines in the annual budget deficit on their watch. Both President H.W. and W. Bush saw increases of the annual budget deficit on their watch. The second President Bush came to office with a $100 billion annual surplus. He left office with a $1.4 trillion annual deficit, one of the most dramatic turnarounds of America's finances in any period in US history.
Stock Market - Under the two Democratic presidents, the stock market soared. The Dow Jones has more than doubled in the Obama era and now is at record highs. Under Bill Clinton it grew four fold. Under the first President Bush the market had a small increase. The Dow was lower when the second President Bush left office than when he arrived.
As we look to 2016 it is important to note that the last two Republican presidents led the nation into recession and larger annual budget deficits. Both Democratic presidents had to lead the nation out of recession and saw strong job growth, declining deficits and soaring stock markets on their watch.
There is indeed a stark contrast between the performances of the two parties on the economy over the past generation. This contrast will be particularly significant in 2016 if the presidential contest is between Hillary Clinton and Jeb Bush.
Popular in the Community