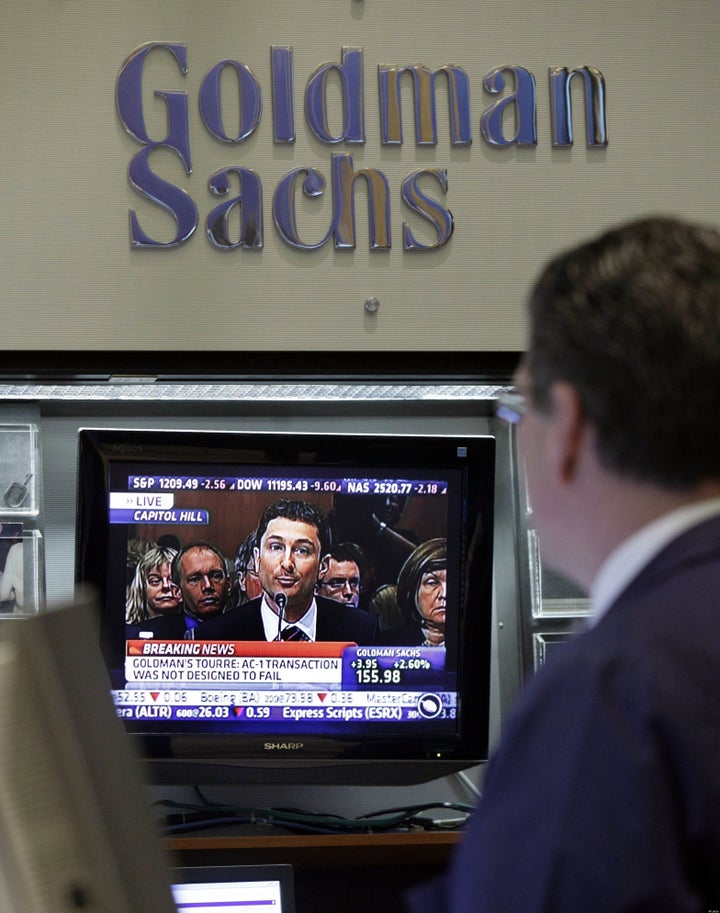 Wall Street giant Goldman Sachs generated at least 18 percent of its revenues last year through trading and investing for its own benefit, according to a regulatory filing made Tuesday detailing the first nine months, flatly contradicting the firm's previous claims that such speculative activity made up a much smaller slice of its business.
In recent months, as Goldman has fended off widespread accusations that it has become the leading example of the gambling culture permeating Wall Street -- placing bets for its own profit rather than engaging in old-fashioned banking services -- the company has insisted that trading made up no more than one-tenth of its revenues.
During a conference call last year, the firm's chief financial officer, David Viniar, described the company's private trades as comprising "10-ish type of percent" of its total revenues.
But the company's disclosures filed Tuesday with the Securities and Exchange Commission revealed that trading and investing comprises almost twice that percentage.
Goldman made its filing as part of a voluntary reworking of its previous accounting methods, an initiative aimed at mollifying critics who have charged the firm with profiting at the expense of its own customers. But the details of the latest federal filing merely add fuel to the charges that the company has become increasingly dependent upon trading revenues -- while now enjoying taxpayer protection in its new incarnation as a bank.
In 2010, Goldman's trading activity was particularly lucrative: Through September, investments on its own behalf were responsible for nearly 30 percent of its earnings, according to the SEC filing.
The firm has struggled to convince lawmakers and regulators that it deals transparently with clients. Members of Congress have charged that Goldman acted against the interests of at least one client in a high-profile case that resulted in a $550 million settlement with the SEC last year: Goldman allegedly concealed the fact that a basket of mortgage-linked securities was designed to fail in order to allow another client to profit by betting against them. Then, it sold the same investments to other clients--mostly European banks--without disclosing their provenance, according to the lawsuit.
A survey commissioned by Goldman in which it surveyed its own clients reveals the extent of the damage to its brand. The survey, released Tuesday along with the SEC filing, polled more than 200 of Goldman's clients. "In some circumstances," the resulting report declares, "the firm weighs its interests and short-term incentives too heavily."
Recently, as the firm pitched customers on buying shares in privately-held Facebook, it reportedly didn't disclose that one of its fund managers rejected the deal for his own clients. Tuesday's report recommends the firm strengthen client relationships.
"Clients raised concerns about whether the firm has remained true to its traditional values," it noted.
Last year, Congress passed a sweeping financial industry regulatory reform bill which included a provision urged by former Federal Reserve Chairman Paul Volcker that requires the drafting of new rules limiting how much money banks can commit to trades and investments for their own benefit. Those regulations have yet to take shape, and key terms have not been defined.
Because of that, Goldman remains free to define what constitutes a trade for its own benefit -- commonly known as a "proprietary trade" -- as it sees fit.
"It's whatever they're defining as prop trading," said Brad Hintz, a top investment banking analyst at Sanford C. Bernstein. "And remember, the definitions are what's in the eye of the beholder."
That ambiguity prompted experts to question the details in Goldman's latest filing. Goldman declined to say how it defines proprietary trading in its new accounting framework, though in Tuesday's report the firm said it had "substantially" cut back last year.
Experts said it was impossible to assess whether Goldman is indeed more focused on real banking or speculative trading without a clear definition.
"It depends on how you define prop trading," said another analyst, David Fanger of Moody's. "There is no clearly-defined prop trading."
*************************
Related
Popular in the Community