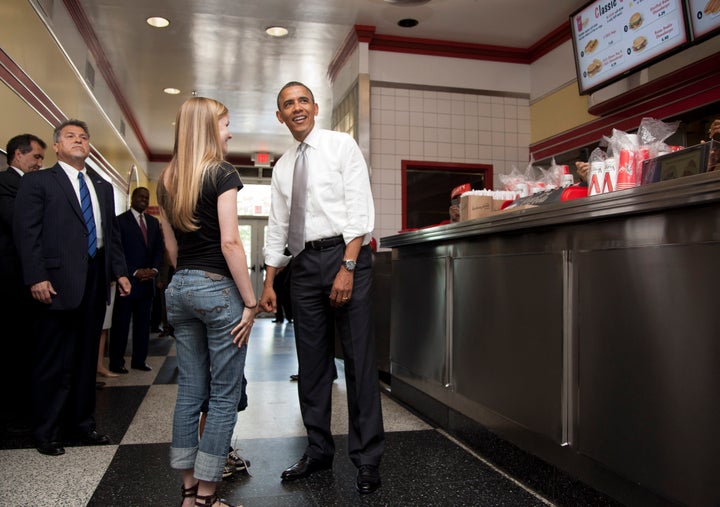 The fiscal cliff is quickly approaching and unlike what Americans were hearing for the previous four years, it looks as though Congress and the president are willing to compromise on a deal.
Coming off of a 2012 election win and still carrying some momentum from a progressive turnout, Obama claims to have a mandate on economic issues.
In an afternoon press conference last Wednesday, the president told reporters and Republicans that he would be "open to compromise and new ideas," but would not be open to a deal that would only be based on eliminating deductions and loopholes for the rich, according to TheHill.com.
He also said he would not be pressured to extend the Bush tax cuts like he did in his first term. He said, "What I'm not going to do is to extend further tax cuts for folks who don't need it, which would cost close to a trillion dollars, and it's very difficult to see how you make up that trillion dollars, if we're serious about deficit reductions, just by closing loopholes and deductions."
That Tuesday, Obama spoke to progressive and labor leaders, assuring them that he would remain strong and push to increase taxes on the rich. He told them he wants tax rates to go back to pre-George W. Bush levels according to The Huffington Post.
He told the group, "I am not going to budge. I said in 2010 that I'm going to do this once, and I meant it."
Just by letting the Bush tax cuts expire on those who make $250,000 or more, the United States would raise $1.6 trillion in new revenue. According to White House press secretary Jay Carney, Obama plans to create a balanced approach in this coming fiscal cliff compromise, which includes "savings" to discretionary and entitlements programs such as healthcare.
Similarly, if a deal is not reached, which is unlikely, there would be a 9.4 percent cut to most defense programs, 8.2 percent cuts to education and science programs and a 7.6 percent cut to most domestic mandatory spending programs, according to Politico.com, so it's no wonder why the word "compromise" has been used now more than ever.
The deadline for a compromise is just weeks away.
The House Republicans however are not as confident as they were after their elections in 2010, according to TheHill.com. With the 2012 Election still fresh and some Republicans in the party unsure if House Speaker John Boehner (R-Ohio) will remain firm on keeping tax rates the same or lower for the rich, fiscal cliff negotiations are something they are worried about. Boehner said his party is at odds with the president when it comes to tax rate hikes for the wealthy, but is willing to work with the President on tax hikes as long as spending cuts and changes to entitlement programs are in order.
With the Senate now seen as a "liberal lion's den" as Politico.com referred to it, the president has a little more pull than he did in 2010. Chris Murphy (D-Conn.) said in an interview "I've never been shy in talking about my belief in universal health care or a fair Tax Code." Though this new cast of outspoken and unabashed liberals have no fear being seen as such, they do understand that they still need to compromise as the House is still a Republican stronghold.
Liberal favorite Elizabeth Warren (D-Mass.) told the cast of "Morning Joe" after the election, "People who voted for Senator Brown, I think a lot of them were saying: 'You got to be willing to reach across the aisle.' And I want them to know I heard them loud and clear, and it's what I want to do. ... I want to go to Washington because I want to help get something done."
REAL LIFE. REAL NEWS. REAL VOICES.
Help us tell more of the stories that matter from voices that too often remain unheard.