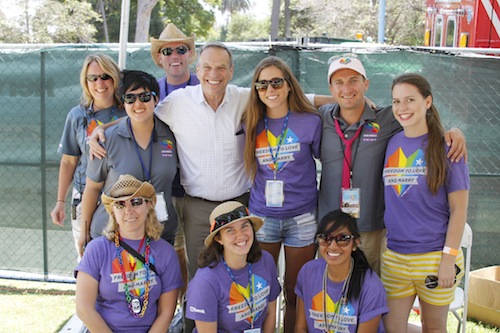 Although at least one local San Diego television news broadcast erroneously reported that San Diego Mayor Bob Filner showed up at Balboa Park with an entourage of staff and advisers in tow, the scandal-embroiled mayor came to Pride unannounced, escorted only by Nicole Murray Ramirez, co-founder of San Diego LGBT Pride. The two made a circuit walking around the festival, all the while receiving greetings and warm wishes from attendees of all ages, genders and (presumably) sexual orientations.
"I thought he'd get at least some negative feedback," said Ramirez. "But every single person, men and women, young and old, said 'you have my support.'" According to Ramirez, one celebrant told the mayor he voted for Filner and, given the chance, would do so again.
Filner has been accused by a leading voice in San Diego politics, former City Councilwoman Donna Frye, of sexual harassment against unnamed women.
PHOTO GALLERY
In surprise showing at Pride festival, embattled San Diego Mayor Bob Filner makes first public appearance since mulitiple sexual harassment charges levied
REAL LIFE. REAL NEWS. REAL VOICES.
Help us tell more of the stories that matter from voices that too often remain unheard.