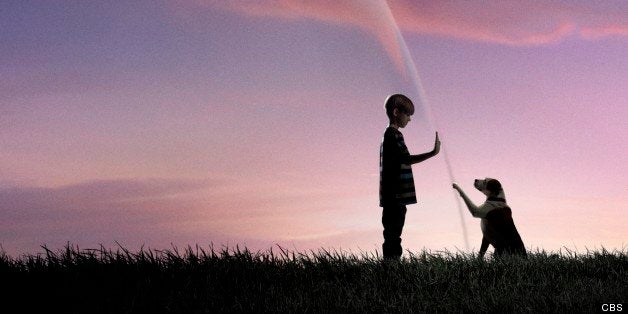 What is "Under the Dome"? After reporters were treated to an early look at the first episode of CBS' new summer TV series -- adapted from the bestselling Stephen King novel of the same name -- executive producers Neal Baer and Brian K. Vaughan (who wrote the first episode) attempted to answer that question and many more.
Luckily, the premiere speaks for itself, offering a gripping, handsomely-produced hour laden with mystery, a slew of creative (and disgusting) special effects, and a number of intriguingly ambiguous characters, lead by "Breaking Bad's" Dean Norris, "Pan Am's" Mike Vogel and "Twilight's" Rachelle Lefevre.
The show revolves around the fictional town of Chester's Mill, and explores what happens to its inhabitants after an impenetrable dome of unknown origin cuts them off from the rest of the world.
Baer described the series as "the new 'Twin Peaks,' in a way. You know how everyone was stuck in that little place but you really got into the characters, and mysteries were unfolding? I felt like that's what resonated [here]. This is very different from that show, but it takes that element and the roots of CBS with 'Twilight Zone' and puts it together in a new, fresh way."
Read on for more from the producers, including their strategies for solving mysteries, how dark the show will get and the major differences between the series and the book.
Stephen + Steven = Gold
Both EPs agreed that one of the show's main strengths is having Stephen King and Steven Spielberg on board as producers. "Steven Spielberg sees the best in humanity and Stephen King has always seen the worst, but there are a lot of similarities, in that they're both aggressive humanists; that they just love people so much, and throwing them in extraordinary situations and seeing what happens," Vaughan explained.
Since the show is based on his novel, King is said to be very hands-on, without being precious. "Stephen King sees everything from all the shows," Baer said. "We're on Episode 10, and he's been really wonderful to us, supporting us; giving us notes; letting us take it to different places but really embracing many of his original characters ... It's been a fantastic collaboration with him."
"He's given us plenty of creative freedom but we also love having him involved," Vaughan agreed. "He said, 'If this comes back for a second season, can I write [an episode] next season?' I said, 'We should be so lucky -- you can write 13 of 'em if you want to!' He's been super involved, but Stephen's first love has always been writing novels so I think he's very grateful to get to write this book and feel like his baby is being taken care of. He said, 'To quote Elvis, it's your baby -- you rock it now.' And I think he likes the way we've been rocking it."
If You Think You Know How It Ends, Think Again
If you've read the book, you're probably assuming that you have a good idea about how the story ultimately concludes, but Vaughan admitted that they had no interest in recreating the novel's plot verbatim.
"[The book] takes place over a relatively short amount of time, but when we first started talking with Stephen, he said, 'when I came up with this idea, I envisioned a town potentially being trapped for years at a time, and that's something that you guys could get to do that I didn't.' And that might necessitate a different ending," he said. "So we pitched Stephen a far-out, big swing idea for it -- if we're lucky enough for this to go several years -- a different ending, and he was really excited by it and so generous, to say 'I wish I'd thought of that, that's killer.' He's been so supportive, and I think he knows that the book is its own thing and it would be boring to translate the book exactly to the screen -- he wants to see something new that hopefully still has the theme and the heart of the book in it."
Baer agreed, "We're on Day 10 now, so we've already passed where the book goes and we think that this can go much beyond a week's worth of time, because we're just beginning to explore all of the ramifications of being caught under a dome ... how the citizens of Chester's Mill deal with it on a personal basis and on a sustainability basis."
We're Staying Under The Dome
Don't expect too many glimpses of the world outside the dome -- the producers want to keep the viewers trapped along with the characters.
"It's not post-apocalyptic, this is the first day after this life-altering tragedy, and we really didn't want to leave these people for a moment. We want to see each step -- how is society going to change as Chester's Mill is cut off from the rest of the United States?" Vaughan said. "We wanted to challenge ourselves and set it in this one location and find all the different things we can do under there."
Lessons Learned From "Lost"
The show has one overarching mystery -- where did the dome come from? -- but plenty of smaller subplots and questions waiting to be answered, and the producers promised that there would be pay-offs in the first season.
"You'll get lots of answers from things in the pilot, and some new questions will be coming up. I think we've done a pretty good job not stringing everyone along. We've made a conscious decision that if we present a mystery, we will solve it for you before we start introducing new ones," Vaughan promised. "We will learn a great deal about the dome by the end of the season, but maybe not all of the answers. Having worked on 'Lost' a little bit, I realized that if your show is only about one central mystery … I think there have been a lot of shows after 'Lost' that have been about that, but I think 'Lost' succeeded because people cared about these characters so deeply. The mythology is an added bonus, but it's about revealing character, so I'm not too concerned that people will tune out if they're not getting the biggest answer [yet], as long as they love the people that we're putting up on screen."
Dark Days Ahead
Fans of King's work know that the writer isn't afraid to go to some dark and twisted places, but the rules are a little different on broadcast network TV. Or are they?
"This was originally developed for cable first, but when it came to CBS that was one of my concerns: 'It is a Stephen King story, it's dark, it's edgy, it's adult -- can we still do that?'" Vaughan admitted. 'And [CBS president] Nina Tassler was so excited like, 'yeah, we really do want to do something different and we're not going to cede the summer to cable, we want to challenge them!' So I think the script changed so little between coming to cable and coming to CBS. They've been really supportive about letting us do something that's different and dark."
"It gets pretty dark, they're in trouble -- big trouble," Baer confirmed. "Human nature rears its beautiful and ugly head in the course of the season. People do things they probably wouldn't have done if they weren't under so much pressure, and they do things they may not have thought they were capable of in a positive way, as well."
The Times They Are a-Changin'
Along with potentially reworking the ending, Vaughan and the other writers haven't shied away from making some other (slight) alterations to the novel. This mostly relates to the show's characters, some of whom have been cut out or given reduced roles for the sake of timing or clarity, and some of whom are completely new or composites of other characters to deepen connections between the inhabitants of Chester's Mill.
Two completely new characters are a lesbian couple played by Samantha Mathis and Aisha Hinds, who were added to offer a little more diversity and realism to the town.
"King was really encouraging when he heard the idea of a Los Angeles entertainment lawyer and a shrink being stuck in small-town Chester's Mill and they've been really fun characters," Vaughan said. "There are tourist characters in King's book but the book is set in Maine which is pretty homogenous, so I think we made a conscious decision of 'let's not be so specific, it's Anytown, USA' so we can get a little more diversity in the cast and a little more diversity in the climate and what kind of town this is."
Less Is More
Despite some reports that "Under the Dome" is a miniseries, it was always conceived as an ongoing series, with a 13-episode first season much like the cable model. Vaughan declared that 13 episodes is "heaven," because it allows them to make every episode the best it can be.
"I'm sure if the show's successful, maybe CBS will say 'how about 22?' but right now, 13 allows us to do 'all killer, no filler,' to really get to work on making each episode perfect," he said. "With 22, some might get away from you, it's the nature of the beast, but so far we're really proud of every episode."
"We really tried to make it like the pilot [every week]," Baer agreed, praising the broadcast networks' newfound willingness to explore cable methods of greenlighting series, as demonstrated at the networks' recent upfronts presentations with limited episode orders for series such as CBS' "Hostages" and Fox's "Rake."
"I think 13 is really doable," he continued. "And I did 25 [episodes per season] of 'SVU' … it's just insanity. I love being able to focus on this one episode and not have to worry about 3 at once … There's going to be various approaches with seven episodes on broadcast networks and various combinations of things and miniseries coming back, it's a great time to be experimenting. The sky's the limit."
"Especially during the summer when you don't have to take any breaks, you just get to do 13 in a row," Vaughan pointed out. "I think as an audience member that's what I love, it's fun to get to do that one dense chapter a week."
Appearances Can Be Deceiving
Although King's book had plenty of well-defined characters with questionable motives, the show seems even more concerned with exploring the moral ambiguities of its central players. Just because you recognize a name, the producers caution you not to assume that you already know a character.
"They're complicated -- the people you think are bad may not be so bad, and the ones you think are good may not be so good," Baer teased. "Don't believe everything you see at the beginning."
Spectacular SFX
The premiere episode has plenty of impressive visual effects, but once the dome's down, does that mean the end of the action? Completely the opposite, Vaughan promised: "Jack Bender had the same concern -- we can't go from 60 to zero and have a big explosive pilot and then it becomes a nighttime soap with the second episode, so I think you'll see with the second, it's almost bigger than the first ... It's explosive, quite literally."
"Under the Dome" premieres Monday, June 24 at 10 p.m. ET on CBS.
Will you watch "Under the Dome"?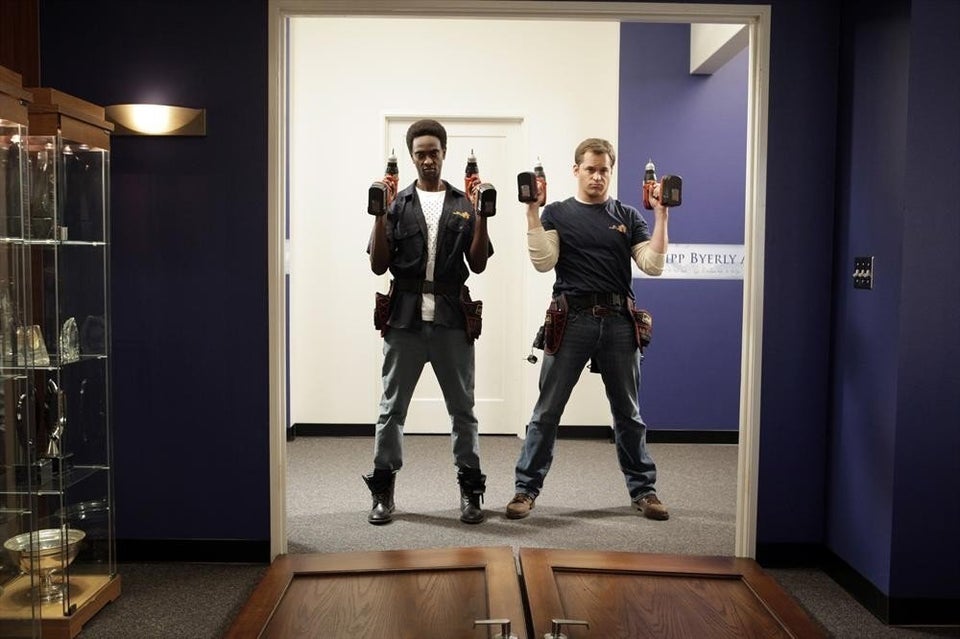 Summer TV Guide
Popular in the Community