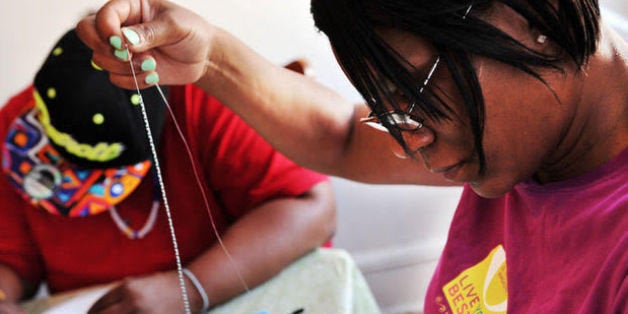 On a recent weeknight at the Most Excellent Halfway House in Jersey City, 15 women came together to meticulously bead bracelets. While beading, Cassie discussed her new job at Supercuts where she is exploring money-saving tactics, Tanya showed pictures of her children that she is trying to regain custody of, and Dominique shared her love for managing the beading operation and her newfound pursuit of a career in business management. To Nichole, this time of day is particularly special -- she finds the beading meditative. She said the quietness and tactile qualities of beading allow her to block out the pull of the streets. In fact, for all of the women, crafting jewelry is a great contrast to the rest of their lives and to the loud aggression of Martin Luther King Blvd just outside their front door.
All 15 of these women have recently been released from Hudson County Jail. To them, the ordinary act of beading is actually quite extraordinary. Beading is a chance for them to reinvent themselves, to go from being invisible to visible, and to be integrated into society once again.
They are all a part of Same Sky America's mission is to bridge a gap that our society entirely neglects. We aim to "employ the unemployable," and provide a positive work environment for those who are most left behind. The U.S. incarcerates over 200,000 women, which is more than any other country in the world. 85 percent of female ex-offenders have children to support, but when they are released from prison they face significant fines, constant court dates, and above all a societal stigma that blocks them from getting a job.
Same Sky America gives a real, credible alternative from being trapped in the loop between jail and the streets. And the best part is, it's working. The recidivism rate for Same Sky artisans is zero, whereas the country's average is 75 percent. We find the secret to our success is not just a paying job, but also a flexible work environment that facilitates and encourages individual growth. Finding wellness in the workplace through mutual trust and confidence are the key ingredients to empowering women in need of a second chance.
Unfortunately, these women are often considered eternal criminals (recall the felony checkbox on most-all job applications). But at Same Sky, they record their own hours, they work with expensive materials, and most importantly, they're trusted with the company's reputation. We seek to give the women responsibility, and the confidence that comes with people trusting and believing in them. Above all, the women now trust themselves. They are gaining the confidence to go back to school for their GEDS, to apply for bank loans, and to fight for custody of their children. Their supervisor, Reverend Gloria Walton, who runs The Most Excellent Halfway House, has helped to implement a model allowing the women to work on a flexible schedule that allows them time for school, court appearances and job hunting.
But that is just one piece of the puzzle-over a holiday weekend at the Newport Mall, the Same Sky women saw former Governor Jim McGreevey wearing their jewelry, alongside Fox news journalist Tamara Lane, as well as Park Avenue business women, all wearing the work they've done. Bankers from JPMorgan, including Grace Sterritt and Rachel Breindel, as well as Dionne Lloyd from Wells Fargo came to the mall to teach financial literacy and entrepreneurship to the Same Sky women. Andrea Fornarola, from Elements Fitness, came to give the women a fitness class and wellness tips right in the middle of the mall. The women helped each other break out from their shells; they dropped their inhibitions and got into full motion, dancing and embracing it.
Not only have they become empowered, they have also been humbled by feeling connected to the Same Sky Rwanda women --which is a similar business model for the women genocide survivors in Rwanda. The Same Sky America women feel they are working toward something greater than themselves, they said never in my life did we think we'd be able to help those who have struggled more than us. The women have become philanthropists in their own way -- proving you don't need to be a millionaire to work on something greater than yourself -- you just need to find wellness in the workplace.
This is the type of positive work environment that these women need and deserve. With each day, we are seeing their lives transform -- going from invisible to visible. Nichole now works for a food service company and raves about her work; all of her charges have been dropped. Tanya works at UPS and has rekindled a relationship with her estranged children. Dominique is pursuing a Business degree, her ambition grows each time we see her. The women embody the Same Sky dream to give second chances by employing to empower.
This post is part of an editorial series produced by The Huffington Post as part of our monthlong "Work Well" initiative, which focuses on thriving in the workplace. The goal of the series -- which will feature blogs, reported features, videos, and more -- is to present creative solutions you can use to take care of yourself as you take care of business. The effort is also part of The Huffington Post's "What's Working" solutions-oriented journalism initiative. To see all the content in the "Work Well" series, visit here.
Calling all HuffPost superfans!
Sign up for membership to become a founding member and help shape HuffPost's next chapter