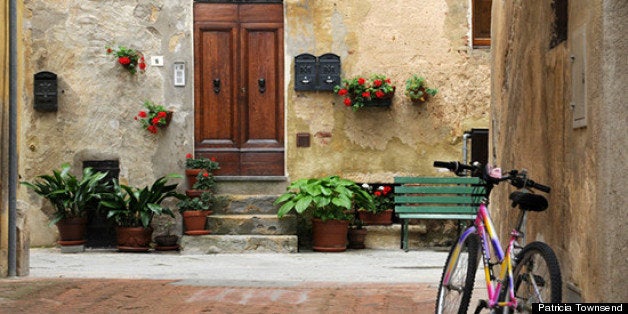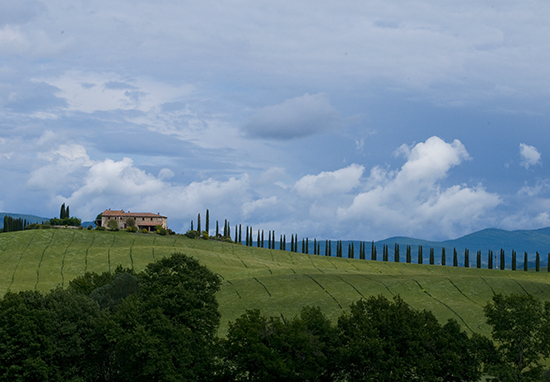 Let me confess up front, I'm a committed Anglophile. I love castles, cathedrals, and country cottages. So virtually all my international travels -- with the exception of short visits to Paris and Helsinki when my husband had business there -- have focused on Great Britain.
And although I took advantage of an opportunity to visit Ireland several summers ago, it wasn't exactly a giant leap for me... although I discovered that the Emerald Isle definitely has a charm and beauty all its own.
More recently I decided it was time to broaden my cultural horizons. So a friend and I packed our bags, left our husbands, dogs, and -- in her case -- teenage sons, at home and headed to Italy.
Rather than try to cram lots of sites and sights into nine short days, we decided to limit ourselves to "just" Tuscany. Rome, Venice, Milan and the Amalfi coast would have to wait for other trips.
Why Tuscany? Well, first, there's the stunning countryside characterized by vineyards, groves of olive trees, and hillsides punctuated by tall, narrow cypress trees; think Diane Lane in Under the Tuscan Sun.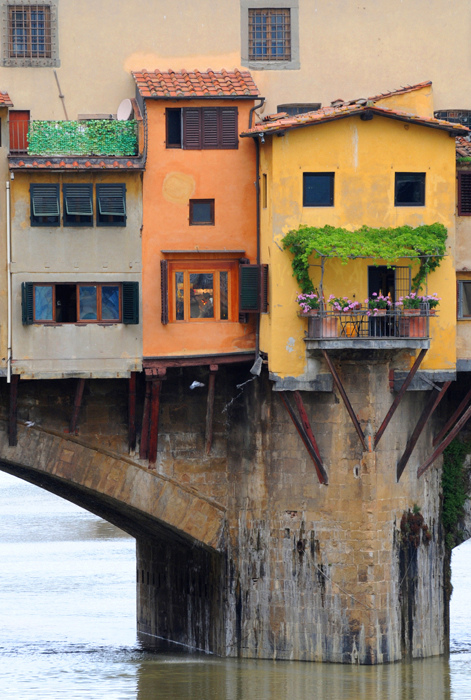 Then there's the art. Florence, in particular, is an art lover's paradise, with museums, cathedrals, and public buildings designed by -- or chock full of works by -- Leonardo, Michelangelo, Titian, Lippi, and other "names" studied by college students the world over.
And of course there's the food and wine. Photos in Gourmet and Bon Appetit fueled images of meals from which memories are made.
But I'll admit I was just the slightest bit apprehensive. After all, I don't speak Italian (although I did make a point of learning some phrases and cultural practices in order to improve communications and avoid giving offense). Plus, we'd heard about amorous Italian men pinching the bottoms of female tourists. And, upon hearing that we were renting a car, many people had responded with an incredulous, "You're driving in Italy? Are you crazy?"
So what did we find? A place of beauty and contrasts that fulfilled both our expectations and, to a lesser extent, our fears.
The countryside--with its famous hill towns--was indeed stunning...although the famous Tuscan sun remained hidden behind clouds for the first couple of days. And Florence was full of amazing art, both inside and out, with incredible sights around every corner.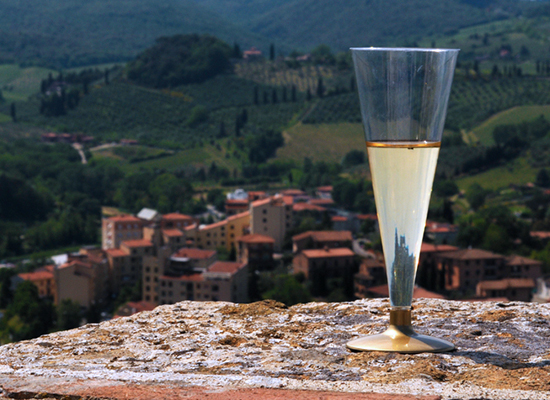 With regard to food, let me just say, "pasta," "gelato," "tiramisu," "cappuccino," and "burrata mozzarella"! And the wine was just as good, especially the vernaccia di San Gimignano, a refreshing white wine made with grapes grown in the San Gimignano area. My taste buds were happy every day. In fact, the only mediocre meal we had was a slice of pizza at a touristy dive near the Ponte Vecchio.
Language -- specifically, our inability to speak more than the most basic of Italian -- turned out not to be the obstacle we feared it would be. Most Italians we met spoke at least some English... and some of them spoke it quite fluently. And bilingual or not, almost everyone was friendly and tried to be helpful.
We were never pinched or hassled in any way... although a leather shop salesman did ask my friend if she had a lover. When she explained that she had a husband in the U.S., he suggested she could also have a lover in Italy.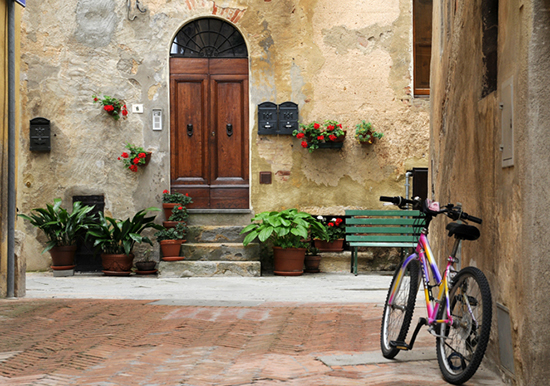 And we did find the stereotype of aggressive Italian drivers to be fairly accurate. Seriously, a car that was just a speck in our rear-view mirror one moment could be in our trunk the next! We found the best way to minimize our stress was to stay in the right lane on major highways and to pull off to the side when possible to allow faster drivers to pass. Eventually, we also decided not to worry what other drivers thought of us, sticking to the speed limits and not worrying if drivers behind us were annoyed.
The only type of on-road experience that seriously scared us was when cars or, more often, motorcycles, would pass us on roads with one lane each way... even when another vehicle was approaching from the other direction. The drivers seemed to trust that we and the oncoming truck or car would each move slightly to the right, in effect creating an informal third lane in between. We uttered a few expletives when that happened...and treated ourselves to some well-deserved wine when we got safely to our destination.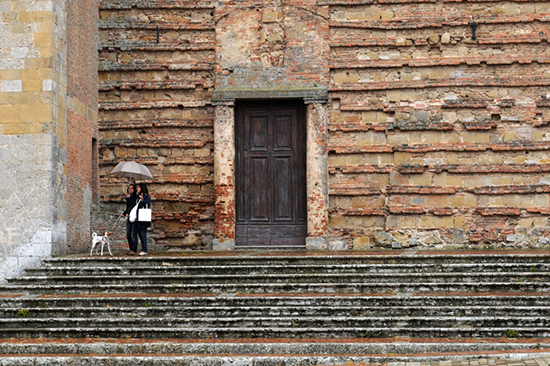 In addition to the fear, food, and visual feasts, it was the people we met that I'll remember most:
The leather salesman who warned us about competitors who would "squeeze you like a lemon!" by trying to sell us overpriced merchandise...while trying to convince my friend to buy a1500 leather jacket.
The older female British ex-pat or tourist who accosted us on the sidewalk, demanding, "Why must you Americans always be shouting?" And repeating vehemently, as we stood there in stupefied silence, "You're always shouting," before striding away.
The charming--and handsome--Florence hotel manager who explained that it was the fault of police that speeding is a way of life in Italy because if the police gave more tickets, people would drive more slowly.
The lovely English couple on holiday with whom we exchanged travel experiences and impressions of various destinations while enjoying a glass of wine on the hotel terrace.
The woman from London on a business trip we met on a guided walking tour and with whom we shared a cappuccino in an outdoor café.
The nice Americans we met in a café because they overheard us talking about dogs and proudly shared photos of their dog.
The off-duty taxi driver, who helped us find our hotel when we got hopelessly lost in Florence.
The gardener at hotel Villa Cicolina, who, no words required, made a point of showing me some of the beauties of the property when he noticed me taking photographs one morning.
And, of course, the people with canine companions in tow...a fact that will come as no surprise to those who know me.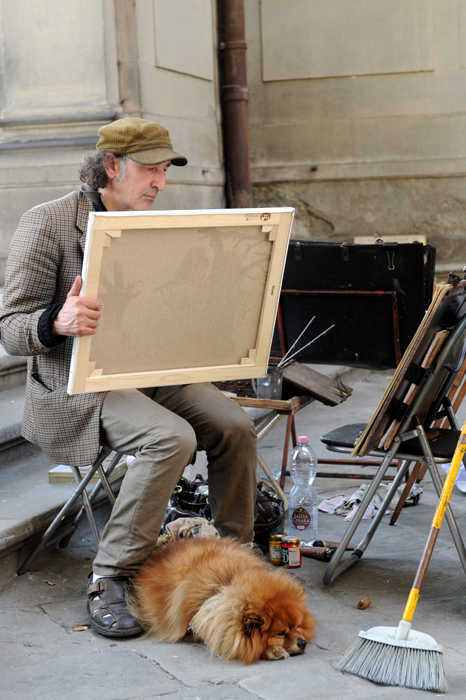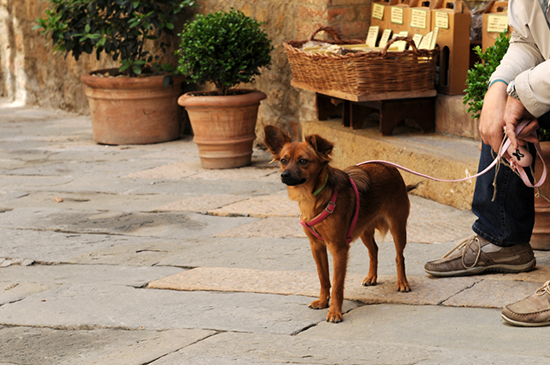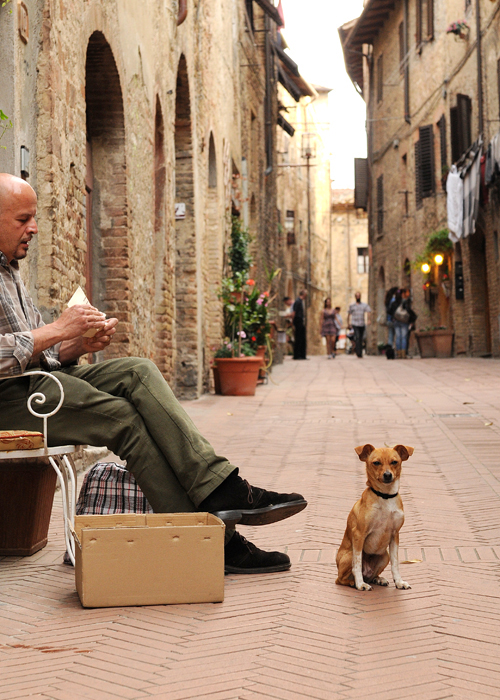 All in all, an extraordinary trip that filled all my senses! I hope to return to Tuscany one day, but if I don't, I have wonderful memories to last a lifetime.