The Trump administration is increasingly hauling asylum-seekers into criminal courts and slapping them with convictions for illegally crossing the border, instead of sending them to immigration judges to hear their claims, according to a new report from the nonprofit group Human Rights First.
While most people who enter the United States illegally are processed by civil immigration courts, crossing the border without authorization is a crime under federal law. The first offense is a misdemeanor, carrying a sentence of up to six months in jail. Getting caught again can lead to felony "illegal re-entry" charges, with sentences of up to 20 years, depending on the person's criminal record. In practice, most people serve much shorter terms and are then deported.
Those prosecutions aren't supposed to apply to asylum-seekers. When someone declares a fear of returning to their home country, those words are supposed to trigger a referral to an asylum officer to establish whether the claim is legitimate ― even if the person crosses illegally into the United States. Those claims are heard by the civil immigration system, not the criminal courts.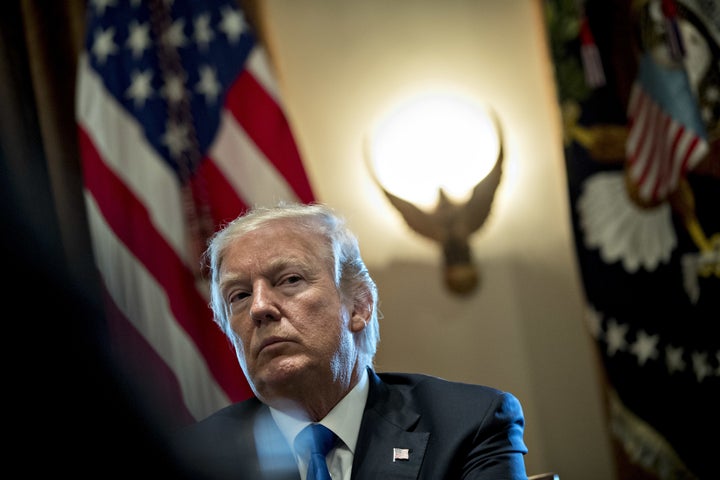 Those rules haven't changed since Donald Trump was elected president, a spokesman for Customs and Border Protection told HuffPost in an email.
"Every individual encountered who is a candidate for removal is asked if they have a fear of returning to their country," the spokesman said. "CBP officers do not determine or evaluate the validity of the fear expressed."
Last year, agents referred nearly 55,000 immigrants who said they feared returning to their home countries to U.S. Citizenship and Immigration Services, according to CBP. That figure includes people arrested by Border Patrol as well as people who tried to cross through legal ports of entry.
But Human Rights First says the agency routinely violates that policy in practice. In a survey of 39 defense lawyers who handle such cases carried out by the group, 48 percent said asylum-seekers made up about half of their clients. All of the respondents said they had represented at least one asylum-seeker prosecuted for illegal entry or re-entry.
Some lawyers said they had received Border Patrol arrest reports with the words "Credible Fear Claim" stamped on them. A "credible fear" interview is one of the first steps toward applying for asylum.
"This administration has been painting asylum-seekers and really all immigrants as criminals," Olga Byrne, one of the report's authors, told HuffPost. "And by referring people for prosecution ― including people who previously had no contact with the criminal justice system ― the administration is essentially creating the kinds of statistics they want to put out to the public, that immigrants are criminals."
The HRF report ― which was based on observation of more than 700 prosecutions across eight federal courts from April 2017 to this month ― cites dozens of cases of people crossing into the U.S. to ask for humanitarian protection, only to find themselves in a group hearing facing expedited criminal charges instead.
One woman from Honduras said she fled death threats and asked for asylum, according to the report. A Mexican man said he feared returning to his home country because his sexual orientation exposed him to violence. A Venezuelan couple who said they faced threats from the government in their home country were charged with illegal entry and separated from their 15-year-old daughter in the process.
Since the advent of a 2005 program called "Operation Streamline," immigration prosecutions have grown to swallow up a massive share of the federal criminal docket. Immigration prosecutions consistently accounted for about half of the federal criminal docket during the Obama administration.
The number of people prosecuted on illegal entry and re-entry charges has declined steadily since 2013, however. Last fiscal year, which began in October and included Trump's first eight months in office, federal immigration prosecutions fell 14 percent compared to the year before, according to data compiled by the Transactional Records Access Clearinghouse at Syracuse University.
Those numbers are dropping because illegal crossings themselves have plummeted to the lowest levels seen since the 1970s. A greater share of those who do cross into the United States are people who say they are fleeing the violence-plagued Central American countries of El Salvador, Honduras and Guatemala.
Before Trump took office, it was not unknown for people to face prosecution for immigration violations. HuffPost observed at least three cases in October 2016 for a report about such prosecutions.
But the authors of the HRF report contend that the phenomenon is becoming more common under the Trump administration, which has criticized the asylum system and urged prosecutors to prioritize immigration prosecutions, even as illegal crossings drop.
In April, Attorney General Jeff Sessions issued guidance to all 94 U.S. attorneys asking them to prosecute illegal re-entry charges more aggressively. (Anyone with a deportation on his or her record can be charged with illegal re-entry, even if the arrest occurs outside the U.S.-Mexico border region.)
Within three months, prosecutors in Tucson, Arizona, had already begun charging dozens of first-time crossers per day with illegal entry misdemeanors ― a practice the court had not seen in years. Prior to Sessions' directive, prosecutors in the Tucson area had usually only filed criminal charges against people who had been caught crossing illegally in the past.
Sessions has also criticized U.S. asylum laws, claiming that Central American migrants game the system.
The Trump administration is facing a lawsuit in federal court over allegations that CBP agents have systematically barred asylum-seeking migrants from crossing into the U.S. at legal ports of entry, in violation of both U.S. law and international treaty obligations.
Popular in the Community