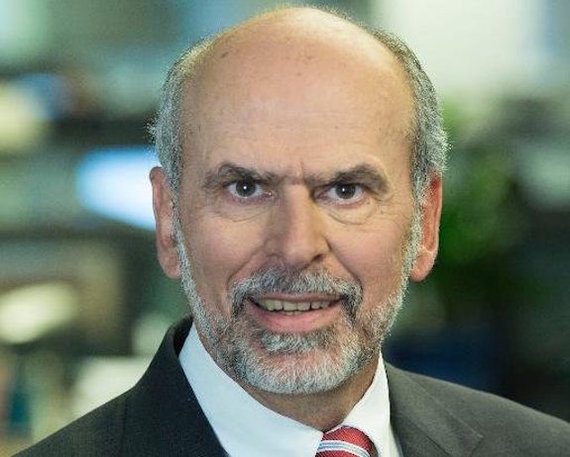 If Donald Trump becomes president, Congress will matter much more than it does now.
That's the observation of Gerald Seib, Washington, D.C., bureau chief for the Wall Street Journal. Seib shared that outlook April 14 at the University of Kansas.
"Donald Trump does not have an agenda. He has an attitude," Seib said of the real estate mogul, who's the frontrunner in the Republican race for the presidential nominee.
With Trump in charge, he added, "a lot of the policymaking would have to now happen in the Congress rather than at the White House. The Trump agenda is pretty skimpy and in some ways just totally unrealistic. So I think they would have to figure out how to act like adults in Congress for the first time in a long time -- get their act together and do the country's business in a more serious way."
Seib made those remarks during William Allen White Day, an annual awards and scholarship event hosted by KU's journalism school. The school bears the name of White, who was a renowned newspaper editor from Emporia, Kansas.
During his talk, Seib also weighed in on the 20 presidential debates held so far during this political season. In his journalism career, Seib has moderated four debates.
"This year's debates have been entertaining and sometimes raucous. And the more raucous, the better for the [TV] ratings," Seib said. "But have the debates done what they should to get beyond insults and sound bites into the substance of what's otherwise been a disturbingly substance-free campaign, one that's been more about attitude than actual agendas?"
Seib said journalists must rethink their role in presidential debates to ensure they're done right.
"I think debates continue to be highly important, because they're the way many voters get most of the information they know about the candidates," he said.
John Egan is editor in chief at LawnStarter, an Austin, Texas-based startup that helps people find, schedule, pay for and manage lawn care services. He is a graduate of the University of Kansas journalism school.
REAL LIFE. REAL NEWS. REAL VOICES.
Help us tell more of the stories that matter from voices that too often remain unheard.