DES MOINES, Iowa -- With Republican front-runner Donald Trump sucking up the oxygen on the campaign trail, GOP candidates at the bottom of the polls are gasping for air, struggling to attract voters and media attention.
As Rick Santorum addressed a handful of Iowans in a local market on Thursday morning, a man ordering his food turned around with a confused look on his face.
"Is Rick Santorum still running for president?" he muttered to the cashier, who looked blank. The man put his credit card back in his wallet. "Wow, that's certainly news to me."
The defending Iowa caucus winner seemed exhausted, with dark circles under his eyes, his signature sweater vest noticeably rumpled, as he made his final pitch to this crowd, urging them to ignore the polls and the media.
"I believe the numbers are being driven by the national polls and by the national media, not by what Iowans are saying," Santorum said. "So, do your job and vote for who you believe is best."
Santorum has given more than 700 speeches and town halls throughout the Hawkeye State, traveling to all 99 counties this cycle, yet he's been unable to recapture the magic of four years ago.
The GOP presidential hopeful was in 11th place in a recent Des Moines Register/Bloomberg Iowa poll. Even Ohio Gov. John Kasich is ahead of the former Pennsylvania senator, and Kasich has hardly campaigned in Iowa at all, focusing the majority of his time and resources thus far in New Hampshire.
Speaking to the crowd on Thursday, Santorum acknowledged his underdog status.
"Finishing third, fourth or fifth is much more important in this race than finishing first or second," he said to voters scattered across the café. "I'm not holding out, stopping for a brass ring and finishing first. Finishing first isn't as important as finishing strong and exceeding expectations."
The majority of the voters listening to the final pitch from the former senator seemed to still be undecided.
"I might consider John Kasich my number one," said Scott Flickinger of Des Moines.
Flickinger, who also is interested in former Arkansas Gov. Mike Huckabee, added that he might feel differently when the moment of truth is at hand.
"I could be swayed by a more popular candidate on caucus night," he said.
Donna Vorm of Johnston said she does not pay attention to the polls or the media when deciding whom she'll back on caucus night.
"This last week, I'm really leaning towards Rick Santorum," she said. "I know he's not high in the polls. Don't let the polls fool you. I think the numbers are really skewed. I'm a Christian, so I look at Christian values."
Later in the morning, Carly Fiorina addressed a crowd of about 30 voters in a coffee shop, making a last-ditch effort before the Iowa caucuses to bolster her campaign.
"Let me tell you something -- we are on the ballot in all 50 states, we have a fantastic ground game here in Iowa," Fiorina said to the crowd with conviction. "We have one in New Hampshire, we have one in all the early states. We have fantastic leadership teams in 25 states. We are going for the long haul. If you send me out of here with the wind at my back, I'm going to go all the way."
The former Hewlett-Packard CEO has faded from prominence in the GOP field despite having risen earlier in the polls after two strong debate performances. In the recent Bloomberg/Des Moines Register Iowa poll, Fiorina stood at just 2 percent support.
As Fiorina wrapped up her speech, she said she'd be happy to meet with voters, though she promised only to pose for pictures with voters who would caucus for her.
"Are you going to be caucusing for me?" she asked as a woman held up her iPhone for a photo.
"I think so," the woman replied, with a puzzled look on her face.
Voters appeared excited about the possibility of electing the first female president, although few seemed committed to the idea of caucusing for Fiorina.
Arnie Fischer of Ankeny said that while he likes Fiorina, he doesn't think she has a shot.
"I think I'll caucus for [Florida Sen. Marco] Rubio, because I don't want to waste my vote," he said.
Eight years ago, Huckabee won the Iowa caucuses and became a political superstar, but now the former Arkansas governor is trailing in the polls, campaigning constantly and traveling the state in relative obscurity.
Following Thursday's undercard debate, the last of the cycle, Huckabee admitted the constant media attention surrounding Trump has hurt his campaign.
"You give me as much helium in my balloon as you've given Donald Trump over the last year, I would be leading in the polls," Huckabee said to reporters. "So, I can't help how much attention my message is getting. All I can do is deliver it consistently."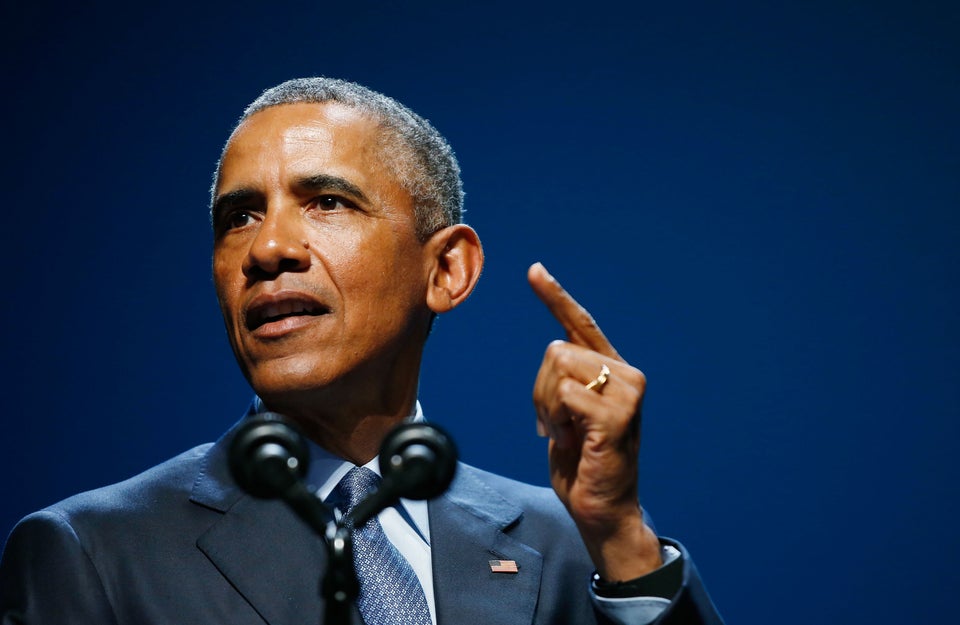 Election Guide For Kids
Popular in the Community