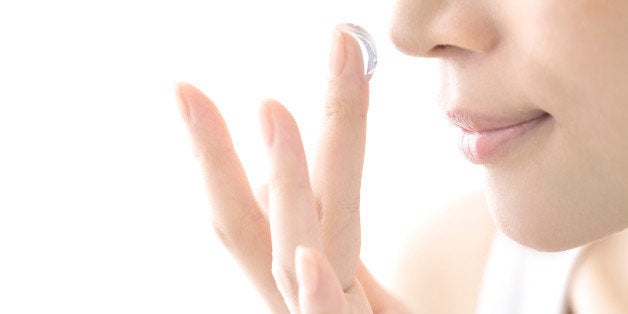 Spring marks the arrival of new beauty products at the department store and fresh marketing campaigns for some of the established products. I took a look at some of Big Beauty's current offerings and discovered that the beauty counters at my local department store had some surprises -- good and bad.
Lancôme Absolue Yeux Global Multi-Restorative Eye Concentrate ($125)
Lancôme's latest addition to its Absolue anti-aging range has just arrived at department stores. If you think that the world doesn't need another eye cream, think again, as the differentiator here is that Absolue Yeux Global is meant to be used in the "four key eye zones: the lower forehead, lower eyelid, upper cheekbone and temples." Or perhaps that's Lancôme's ruse to get us to use up more product. The key ingredient is Lancôme's signature hydroxypropyl tetrahydropyrantriol, otherwise called Pro-Xylane. Originally developed by Lancôme in 2006, it is a protein made from xylose, a sugar found abundantly in beech trees. This ingredient is supposed to stimulate the production of glycoaminoglycans (GAGs), the molecules responsible for defending the skin against water loss. All well and good, but since it is in most products in the Lancôme stable, there seems to be nothing new about Absolue Yeux Global Multi-Restorative Eye Concentrate other than a mere three botanical extracts and the requirement to apply it over half of your face.
Alternative to Lancôme Absolue Yeux Global Multi-Restorative Eye Concentrate:
Lumavera Anti-Aging Eye Cream ($80) turns Lancôme's formula on its head by cramming in as many botanicals as it possibly can. Lumavera addresses glycoaminoglycans by actually including it as one of the key ingredients. Although erring on the side of natural ingredients, there are some cutting-edge peptides and some silicone to give this eye cream that silky, department store, feel good factor. It's a great quality product that you can use on your temples as well if you so wish.
Philosophy Time In a Bottle ($74)
I should be more laid back, more philosophical, about Philosophy, but I have to admit that I find this brand frustrating. I like the playful names, but less so the claims that I find hard to back up. Philosophy Time In a Bottle is a prime example. It boasts "a breakthrough DNA renewal complex" and "a high-potency vitamin c8 activator." Where are they? There's ascorbyl palmitate and some ascorbic acid buried at the end of the ingredients list. Ho hum. The DNA renewal complex can only be the slew of botanical extracts such as tea, coffee, angelica and pomegranate. Nothing remarkable here. Then there are a ton of chemicals, including the stuff that makes Teflon non-stick. Really! It's called polytetrafluoroethylene, and is listed in Philosophy Time In a Bottle as PTFE.
Alternative to Philosophy Time In a Bottle:
Indie Lee Swiss Apple Facial Serum ($130) has a more plausible DNA renewer: plant stem cells. If plant stem cells come across other cells with damaged DNA, the stem cells trigger their death, causing new cells to form. Indie Lee's blissfully simple formula has plant stem cells, seaweed and hyaluronic acid. And apart from a preservative, there are no chemicals or toxins. You'll want to put this plumping and hydrating serum on your face, not on a frying pan.
Shiseido FUTURE SOLUTION LX Eye and Lip Contour Regenerating Cream ($130)
I used a lot of Shiseido in my early 40s until I faced up to the fact that nothing much was happening to my skin except breakouts. Now that I know better, when I look at something like FUTURE SOLUTION LX Eye and Lip Contour Regenerating Cream, I should not be surprised. This ghastly formula with petrolatum and mineral oil (both derived from petroleum) among the dominant ingredients is chock full of synthetic emollients, silicones and polymers. The most intriguing ingredient is piperidineropionic acid, a kind of proprietary amino acid that inhibits a protein that causes rough skin. If you are prepared to play hunt the decent active, there are a few botanicals at the end of a long, long list of chemicals. Even Jennifer Connelly, the new and lovely face of Shiseido, can't save this.
Alternative to Shiseido FUTURE SOLUTION LX Eye and Lip Contour Regenerating Cream:
I have no idea what in Shiseido's formula corresponds to the "innovative Form Support Veilm," but if you are after a firming eye and lip cream in a similar price range and with a formula where just about every ingredient earns its keep and more, try Your Best Face Correct ($150). It goes to work on fine lines, crepey skin and dark circles with peptides and powerful antioxidants. Best of all, you'll know that none of your hard-earned money is going to waste on dubious ingredients.
CLINIQUE Even Better Clinical Dark Spot Corrector ($50)
I think CLINIQUE is a department store brand that has done much to improve its offerings in recent years. To be sure, there are plenty of nasties. But at least most of the good stuff is near the top of the ingredient list. In this case, there is cucumber, rice bran, barley and wheat extracts. The dark spot treatment comes from botanicals such as mulberry, a natural source of the skin whitener arbutin. If you are prepared to overlook a fair bit of silicone and potential irritants such as propylene glycol and ammonium, you could do a lot worse -- although the dark spot faders are far from the most cutting-edge.
Alternative to CLINIQUE Even Better Clinical Dark Spot Corrector:
MAD Spot On Targeted Skin Brightening System ($42) is, for the price, such a good product with a sophisticated array of skin lighteners including lumiskin (a peptide that inhibits skin pigmentation), several forms of vitamin C, niacinamide and botanicals. MAD Spot On punches above its weight and is a great value. For the latest in dark spot correctors, look at E'shee Intensive Brightening Serum ($119 in the shop). The active is an unusual one called m-tranexamic acid, and it inhibits U- induced hyperpigmentation and melanocyte activity. It works best on localized areas of irregular melanin distribution -- such as a melasma patch or a dark spot -- rather than lightening the overall skin tone. The other key active is vitamin C, which behaves synergistically with the m-tranexamic acid.
Clarins Double Serum Complete Age Control Concentrate ($85)
I was at a dinner not so long ago and one of the guests -- a man, as it happens -- admitted (in a conspiratorial voice) to using Clarins Double Serum. He clearly wanted my opinion, and it was one of those Truth In Aging moments that I would rather avoid: judging (negatively) someone's beauty buys. Anyway, the thing about Clarins is that it isn't awful. There are plenty of good botanicals. But Clarins has never done much for me, and nature's bounty is always marred by some suspect ingredients that are mostly there because they are cheap. Clarins Double Serum's dominant ingredients are petroleum-derived mineral oil, there's pentylene and butylene glycol, PEGs and polymers, chemical fragrance and the preservative (and potential neurotoxin) phenoxyethanol before there is very much in the way of Clarins' famed botanical complex. Clarins gives a particular call-out to banana extract for firmness and fighting wrinkles. There isn't much in the way of studies to back this up, but there is some evidence that banana extract can assist with wound healing and is an anti-inflammatory. It's a pity that it's buried in the formula, but it has piqued my curiosity to look out for banana extract.
Alternative to Clarins Double Serum:
Osmotics Collagen Boosting Micro Peel has banana extract. This is step two of one of my favorite treatments, the Osmotics Micro Peel Resurfacing System ($86). Osmotics does not formulate for purists, but their products are typically very effective. Micro Peel says on the box that it visibly reduces lines and wrinkles, and it does. Banana oil is in Arcona The Eyes Have It ($35), a weekly nighttime eye treatment with collagen-building pentapeptides and a truly natural formula with no nasties.
Estee Lauder Revitalizing Supreme Global Anti-Aging Crème ($50)
Estee Lauder wouldn't be Estee Lauder without some spurious "technology" to tout. Here it is Intuigen Technology, which can somehow recognize your skin's personal needs. It is difficult to work out from the ingredients list how Estee Lauder pulls this off, but if you can get past all the silicones, then there are a few interesting ingredients. I particularly like antioxidant daffodil extract and ergothioneine. And there's whey protein, which is full of amino acids. For $50, it is a reasonable, if unremarkable, buy.
Alternative to Estee Lauder Revitalizing Supreme Global Anti-Aging Crème:
Snowberry Cellular Regeneration Night Cream ($104) has daffodil bulb extract and is absolutely packed with other fabulous (and some rare) botanical ingredients, plus there are no nasties. Skinfinite Platinum 30spf ($32.50 in the shop) is a sunscreen containing zinc oxide, red algae and antioxidant ergothioneine to protect against sun damage and free radicals.