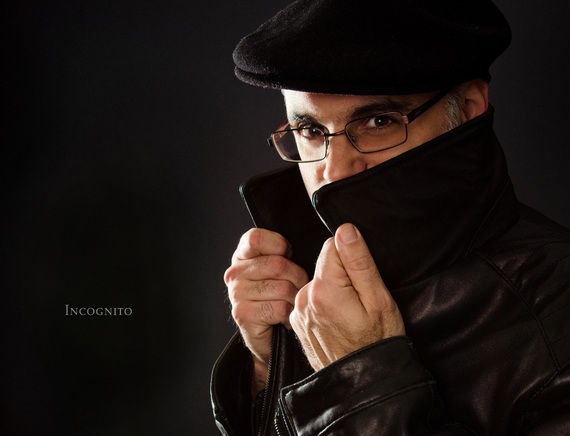 Photo: Normand Desjardins/Flickr
I don't like the limelight and I never have, but in business it is essential to have influence. Without influence your business goes under and your family starves. You fight to make a living everyday or die trying. So how do you make an impact on this world without having your name in lights?
Two words: Undercover Influence. There are three specific components that I have found to be essential to increasing my influence. It takes time, but the rewards and impact in your own life and business will be unmistakable.
No, that isn't a misspelled word. Anamchara is a beautiful old Gaelic word and literally means "friend of the soul."
It was originally used to describe someone who shared another's jail cell as an encouraging companion and to whom one confessed, sharing the most confidential aspects of his or her life.
I have a background in ministry and my jump to business was an extremely lonely one. My intentions were misunderstood by most of the ministry leaders I knew and I was completely unknown by anyone in the business world.
I felt very excited for the future of my business but unsure how I was going to connect, influence, and expand my now shrinking network of people. That is when I made an intentional choice to create an anamchara mastermind of men and women with the same heart but different skill sets than my own. These were friends whom I would pour my life into, and theirs into mine. We didn't always agree and most of us were just starting out, but this was a cohesive group of people ready to make sure that the others succeeded. I'll get back to them a bit later.
How many people in your life can you really say would "Walk over hot coals" for you? Those people who hear your life and business struggles, and instead of destroying you at your weakest point, build you up with their own skill set?
Every single one of us needs an anamchara in our lives. A person or mastermind of individuals that we can share the most confidential aspects of our life and business.
Ray Simpson defined an anamchara as "A soul friend who helps a person re-weave the scattered elements of his life into a new wholeness." This easily applies to our lives as entrepreneurs and business owners. Have you ever needed some help making the "scattered elements" of your life and business something whole and complete? Me too.
If you really want to be out of the limelight but still have major influence, you must learn the "Rule of Potential." This is one area that I struggled in at the beginning of my entrepreneurial journey.
When I first began my business I would freely give with no strings attached. I literally took hundreds of hours and poured into anyone who needed help with no expectation of anything in return. As I did this, I was exhausting my own dwindling resources, straining to keep up with the demand of my "free" offers, and completely devaluing my personal skill sets.
After too much time and way too many of my personal resources, I learned a huge lesson and applied a rule to my life.
There are two types of people in this world: sieves and kettles. A person who is a sieve can be poured into over and over without ever holding onto anything of value you share. They are a constant demand on your time and resources and are the fastest way to bankruptcy.
A person that is a kettle on the other hand will hold onto the value you pour into their lives and when their business heats up, they will begin to whistle about you and what you have shared.
The Rule of Potential: Pour your value into those with real potential but expect nothing in return.
A kettle naturally whistles once it heats up. People with potential are the same way. Once their business heats up, they can't help but share the value they learned and where they received that value.
Just because you share your skill set for free with select people doesn't mean that you should do that for everyone with potential. Otherwise you will find yourself sleeping under a bridge really quickly.
The next step as an "Undercover Influencer" is to become indispensable at what you do. Over the last several years I began creating an audio and branding team to help others tell unforgettable audio stories. It took me a long time to find the right people, create an infrastructure, and get everything in place.
What I wasn't doing during this time was creating a noticeable social media presence, email list, and marketing strategy. But this is where your anamchara come into play. Those people that you poured into over and over are now the same people that will whistle about what you create.
The friends from my anamchara mastermind bring in new income streams each month. Why? Because I focused on the execution of an idea while they focused on influence. Remember, I was intentional about us all having totally different skill sets. They have the social media presence, they have the limelight, they have the audience, and they have the need. What they don't have is the team, and infrastructure to help those in their audience. So guess who the kettle whistles about now that their businesses are heating up? You got it.
If you want to be an undercover influencer you have to be intentional about your anamchara, use the rule of potential, and become indispensable to the people who trust you. Enjoy the adventure and let me know how it goes!
Related
Popular in the Community