An Apple supplier is violating the company's standards for worker treatment in its Chinese factories, according to a new video report from the BBC.
The video, captured by an undercover reporter who got a job at a factory run by Pegatron, a Chinese manufacturer making Apple products, renews some longstanding safety and health concerns about the workers making Apple goods. The report raises issues similar to those in a New York Times investigation of Apple's Chinese suppliers nearly three years ago, which found that "[e]mployees work excessive overtime, in some cases seven days a week," and that some workers "say they stand so long that their legs swell until they can hardly walk."
After the Times report, Apple said it had hired an outside company to audit factories.
The BBC found several issues during its undercover reporting:
First, the undercover reporter has his ID confiscated after getting the job, according to the video. Workers are required to hold IDs in China: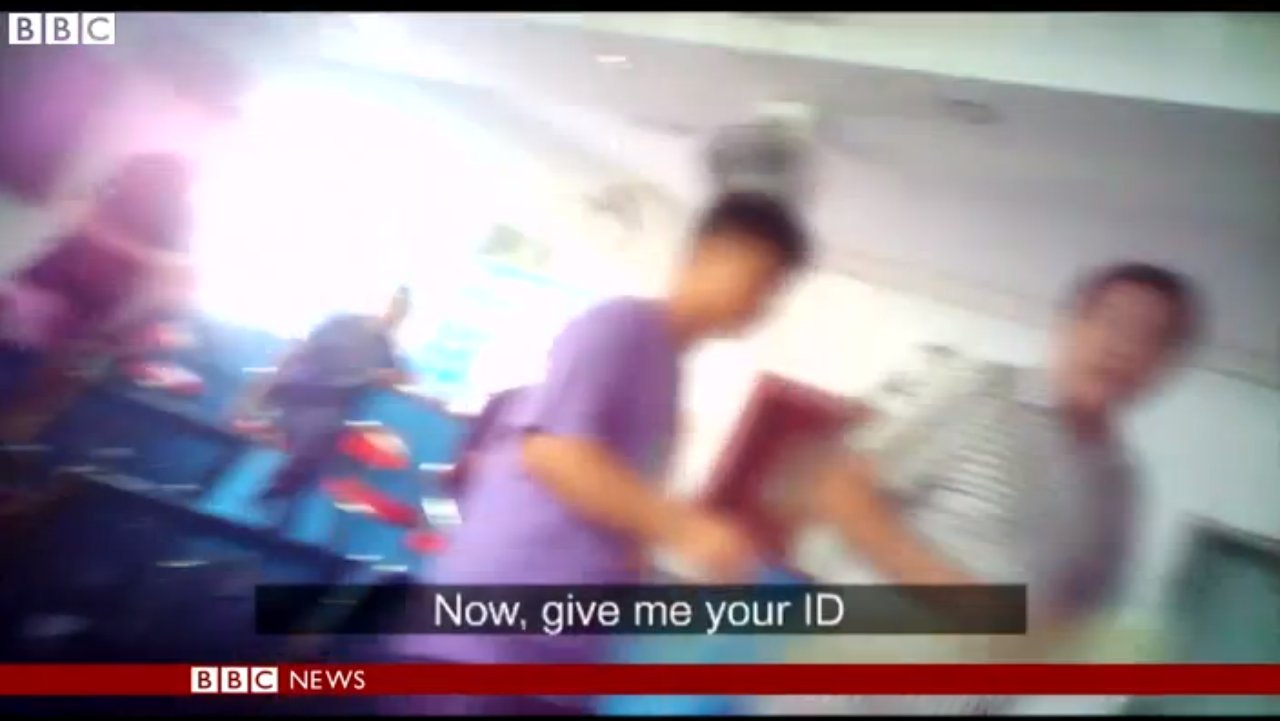 In a required health and safety examination, workers shout the answers, apparently making it difficult for anyone to fail, according to the video: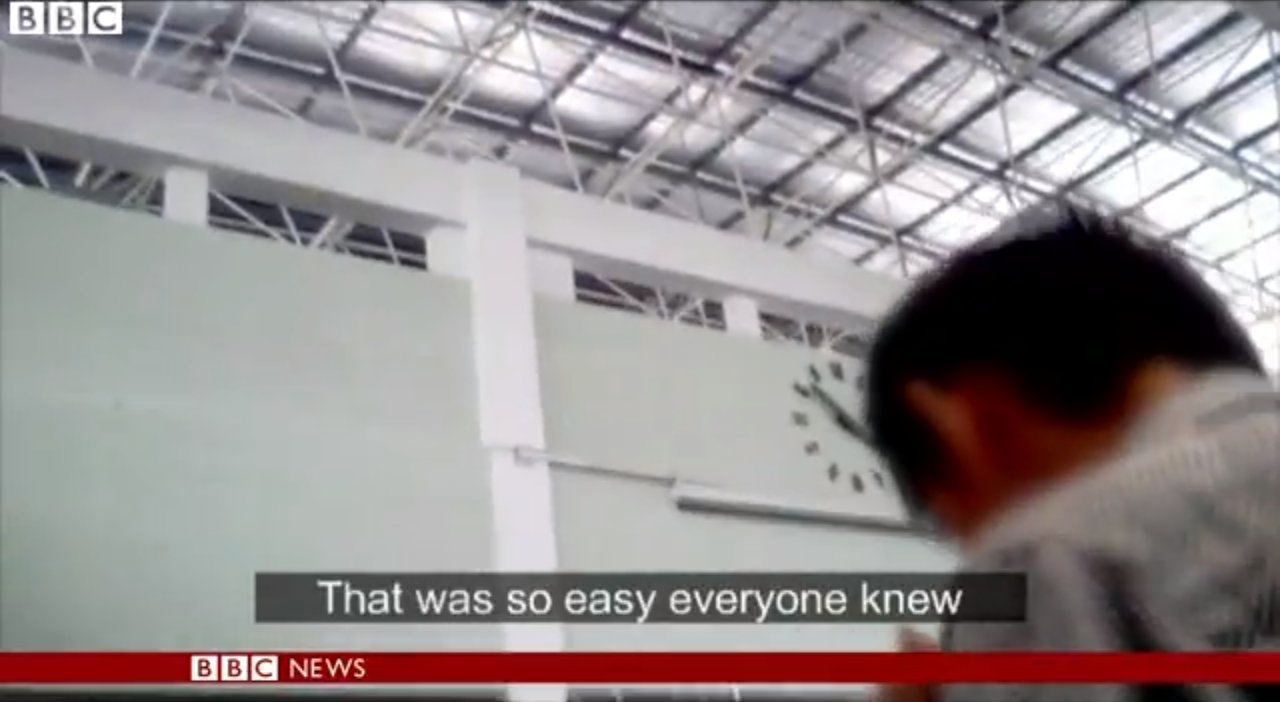 Workers are instructed to check boxes indicating that they will work standing up, and work nighttime shifts, according to the video. Shifts can run up to 16 hours at a time, and one undercover reporter -- the BBC did not say how many were sent in total -- said he had to work 18 days in a row after being denied time off, according to the video: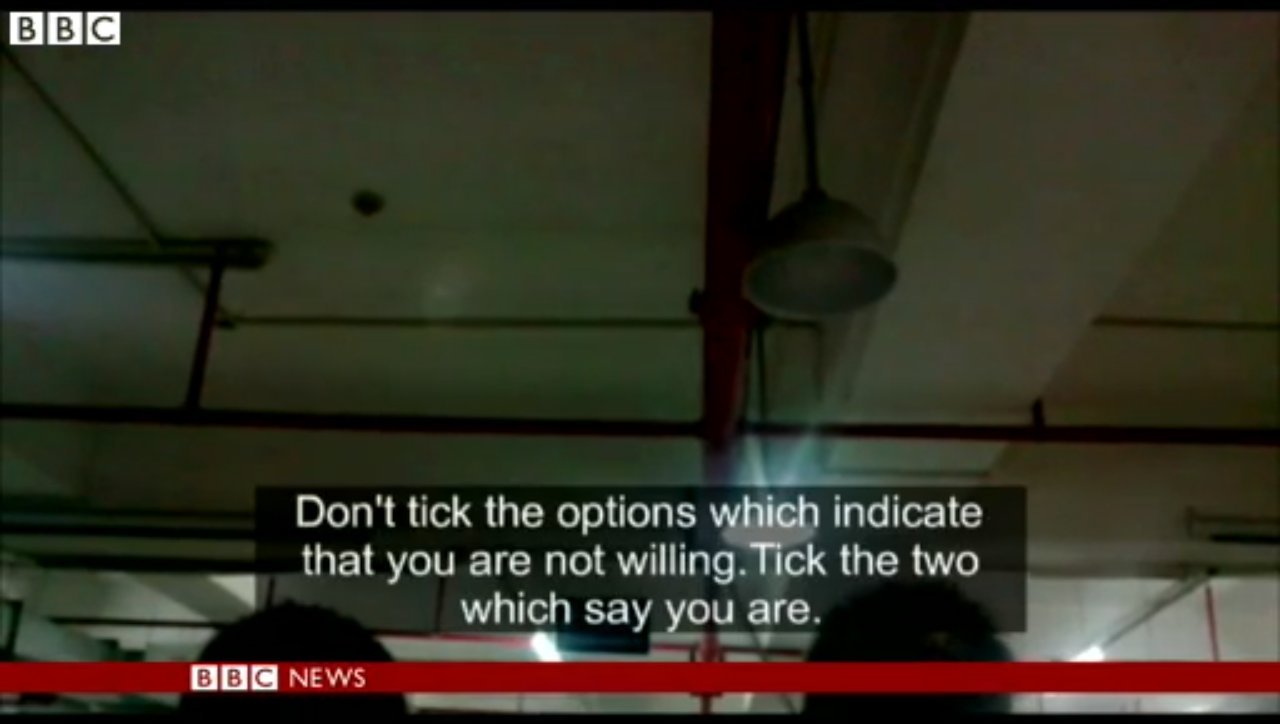 The BBC reporter said workers would sleep next to their equipment. Apple reportedly told the BBC that nap breaks are not unusual: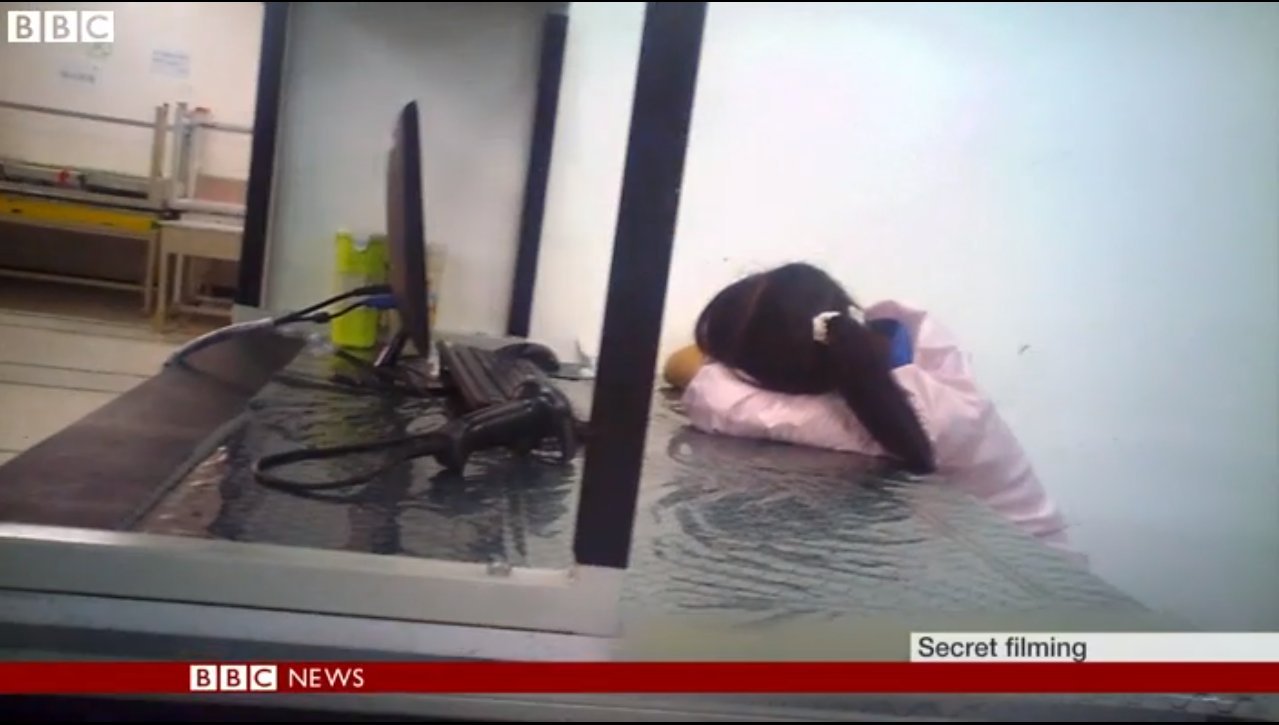 Pegatron spokeswoman Ming-Chun Tsai told The Huffington Post via email that "we are looking into the program's allegations fully."
Chris Gaither, a spokesman for Apple, referred HuffPost to a letter from Apple Senior Vice President of Operations Jeff Williams that has been published by several news organizations.
The letter is a lengthy rebuttal to the BBC's claims. For the most part, it focuses largely on issues raised in the BBC's report that are unrelated to factory conditions -- namely, allegations that Apple uses tin from dangerous, illegal mines in Indonesia that exploit child labor. Williams said he was "appalled" by conditions in Indonesia, but that the company wanted to "stay engaged and try to drive a collective solution."
In response to the video of the Pegatron factory, Williams said that Apple is committed to improving conditions, writing, "The reality is that we find violations in every audit we have ever performed, no matter how sophisticated the company we're auditing. We find problems, we drive improvement, and then we raise the bar."
Support HuffPost
The Stakes Have Never Been Higher
Related
Popular in the Community