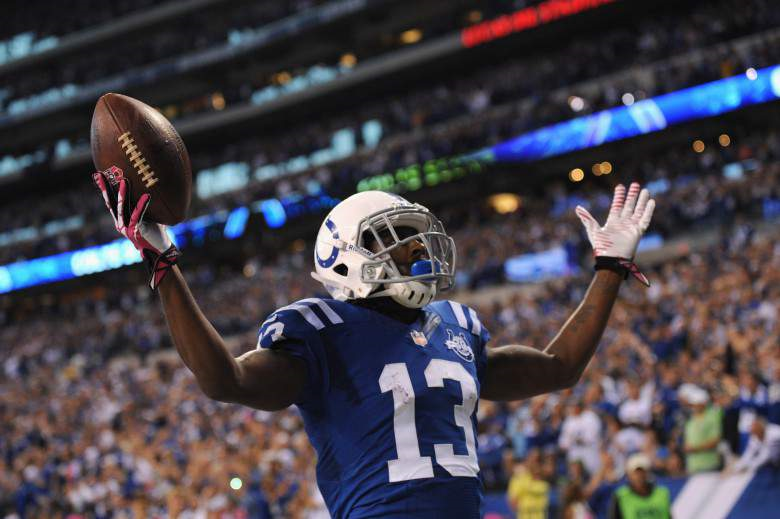 Indianapolis Colts Pro Bowl Wide Receiver T.Y. Hilton has seemingly always been an underdog. He was raised on the other side of Miami's version of Charles Dickens' "A Tale of Two Cities". There is a dramatic juxtaposition between the glitz and glamour of Miami Beach and Star Island and the economic marginalization of neighborhoods such as Overtown, Brownsville, and Liberty City that lay right across the bridge.
Hilton and other NFL stars who hail from the surrounding communities in the urban core of Miami like Amari Cooper, Teddy Bridgewater, Antonio Brown, and Devonta Freeman carry with them the hopes and dreams of many in neighborhoods that have found some football salvation in the midst of often challenging circumstances. No other area in the country produces more NFL players than this area of South Florida.
The grittiness of Miami's inner city is reflected in the toughness that Hilton plays with. He possesses a lethal combination of world class speed and uncanny football instincts that were honed from playing in the pressure cooker that is youth football in South Florida.
Hilton made it through that gauntlet mentally and physically prepared to compete at the highest level despite his slight build. He did not attend one of the powerhouse football high schools in Miami. Hilton went to Miami Springs High School at a time when Booker T. Washington, Miami Northwestern, and Miami Central were in the midst of dominating their respective divisions of Florida high school football and sending dozens of players to Division I college football programs.
Hilton garnered all-county honors in both football and basketball while at Miami Springs, but was overlooked by many high-major programs. In fairness, he was a part of a loaded senior crop of wide receivers coming out of Miami during his senior year of high school in 2008. For example, Miami Northwestern won the state and national championships that year and had three wide receivers (Tommy Streeter, Kendal Thompkins, and Aldarius Johnson) sign with the University of Miami.
Hilton chose to continue his career at a fledgling Florida International University (FIU) program that had gone 0-12 and 1-11 in the previous two seasons. Hilton was recruited to FIU by then Head Coach Mario Cristobal along with some other talented players who would go on to have professional careers including Jonathan Cyprien, Tourek Williams, and Anthony Gaitor.
The first time that he touched the football in college, he scored a touchdown on a punt return against the University of Kansas. This speaks to an inner confidence that Hilton has in his ability to excel at any level. He appeared externally as an underdog, but had the mentality of the top dog.
Hilton would go on to lead the Panthers to 5 wins in his first year and a bowl win in another in route to becoming FIU's all-time leader in career receptions, career receiving yards, career receiving touchdowns, single-season receptions, single-season receiving yards, single-game receptions, and single-game receiving yards.
Despite his prolific FIU career, Hilton's exploits were largely overlooked in the national media with the exception of his scorching of Louisville on ESPN where Hilton racked up 201 receiving yards in a 24-17 FIU victory. Hilton had exceptional ability, but did not have access to big enough platform to put it on display. He was one of the best college football players in the country while at FIU, but didn't get the respect that he deserved.
Hilton was an underdog again when he entered the National Football League (NFL). 12 wide receivers were taken before him in the 2012 NFL Draft. He was considered to be too small (5'9, 180lbs) by some and untested by major competition by others. He had a stellar rookie year as a receiver and a punt returner while being tutored by future Hall of Famer Reggie Wayne.
Since then he has produced four straight 1,000 yard receiving seasons teaming with Andrew Luck to make up one of the league's most dynamic duos. Hilton is on a Hall of Fame-Like pace, according to Colts.com writer Kevin Bowen. Bowen highlighted the fact that Hilton's 5,861 career receiving yards through five years is the ninth most in NFL history for any player during the same amount of years.
Even after leading the NFL in receiving yards last season, Hilton was left off of the NFL All Pro 1st and 2nd team and is rarely mentioned in discussions about the NFL's best wideout. He was ranked #61 in a ranking of the top 100 players in the league as voted by the players. This modest ranking suggests that he is still an underdog. If NFL teams continue to underestimate Hilton, they will do it at their own peril. As the rapper "50 Cent" once stated, "hate or love it, the underdog is on top".
Hilton's story resonates beyond the football field. It should serve as an inspiration to anyone who may have been overlooked or had their talent underestimated. If you have been slighted or marginalized in your career journey then you can probably identify with some aspect of Hilton's journey. He didn't go to programs that were well established prior to playing in the NFL, he helped to blaze trails that weren't previously there.
His performance indicates that he always believed in his ability, whether he was playing at Gwen Cherry Park in Miami's Liberty City or on the NFL stage where he electrifies audiences. In spite of significant odds, Hilton has willed himself to the top of NFL wide receivers. Where he goes from here will depend on his ability to maintain the hunger of an underdog and the inner confidence of the superstar that he has become.
Marcus Bright, Ph.D. is a Scholar and Activist
Calling all HuffPost superfans!
Sign up for membership to become a founding member and help shape HuffPost's next chapter
This post was published on the now-closed HuffPost Contributor platform. Contributors control their own work and posted freely to our site. If you need to flag this entry as abusive,
send us an email
.