Michelin Quality Food Without the $500 Meal Ticket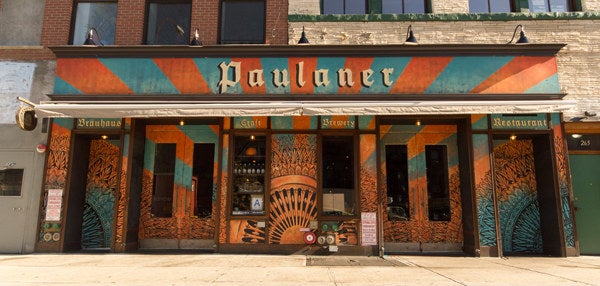 On the Lower East Side sits Paulaner Brewery. I've been here many times; always for beer, and never for food. That is, until recently, when I decided it might not be a great idea to drink a full liter of beer on an empty stomach. I looked at the menu and scoffed. $15 for a brat?
I handed the menu back to the server and continued drinking my beer, and then I drank more beer, and maybe a little more beer after that, and then suddenly, $15 for a brat didn't seem so bad. When it arrived, I scoffed again. A single brat, no bun, no sauerkraut. This better be the best damn hot dog I've ever had, I thought.
And it was. The Paulaner brat, with a dark beer infusion, was tight and crisp on the outside, and stuffed with a succulent and melting cheddar on the inside. I savored each piece and spent twenty minutes slowly eating—I wanted it to last for as long as it could.
Between each bite, I chatted with the manager (practicing my sehr gut German). We talked about the Berlin art scene, Angela Merkel, the immigrant crisis, and what would later turn out to be an unfortunately successful Brexit vote. He gave me a free beer. I ordered more food. Natural course of things, right?
Finally, out came one of the best desserts I have ever had in my life. A simpleApfelstrudel with a homemade vanilla bean sauce. The strudel was impressive: organic apples straight from the farmers market, a flaky dough that melted with each bite. But it was the sauce that, when put to my lips, caused me to drop my head as if I were praying. Praying to sauce gods. A burst of roasted vanilla juxtaposed with a hint bourbon after-thought. Did I eat this like the brat? Nope. It was gone in under five minutes.
I asked, how is this so good? Well, below the stairs in the kitchen, Michelin-trained superstar, Daniel Kill, perfects his artwork. Hailing from the Vaterland, the Bavarian chef combines simple and authentic German dishes with extraordinary flavor.
Unassuming. Without pretention. That is Daniel Kill. And that is the Paulaner Brewery dining experience.
Go, please, and do me a favor: order the Elderflower mousse. I missed out on that and regret it. I have no doubt it will be exquisite.
And if you're wondering about the beer? I had two and a half liters. Wunderbar.
Calling all HuffPost superfans!
Sign up for membership to become a founding member and help shape HuffPost's next chapter
This post was published on the now-closed HuffPost Contributor platform. Contributors control their own work and posted freely to our site. If you need to flag this entry as abusive,
send us an email
.