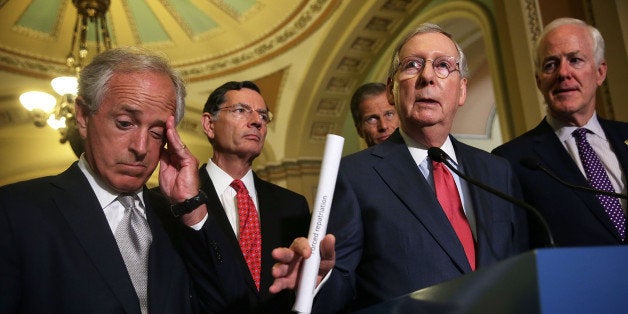 The third branch of our democratic government -- the federal judiciary -- cannot function effectively and efficiently without a full complement of judges. Unfortunately, there are judicial vacancies in federal courthouses across the nation -- resulting in unacceptable delays and compromising access to justice for millions of Americans. Today, there are dozens of highly qualified nominees prepared to fill those spots and to administer justice promptly and fairly in our federal courts. But Senate Republicans have obstructed and delayed at every turn, undermining our judiciary and ultimately our democracy.

Just how bad is it? Since the beginning of the year, the number of vacancies deemed "judicial emergencies" by the nonpartisan Administrative Office of the U.S. Courts has more than doubled. And how have Republicans responded? In the last seven months, the Republican-controlled Senate has allowed confirmation votes for just five judicial nominees. This is not an acceptable pace by any measure, and it does not have to be this way. At this same point in President Bush's second term, after the Democrats regained control of the Senate and I became chairman of the Judiciary Committee, we confirmed 25 judges. That is five times as many judges confirmed under a Democratic majority with a Republican president than today's Senate Republican majority with a Democratic president.
The American people should demand that the Senate act. Currently, there are 14 judicial nominees pending on the Senate floor and simply waiting for an up-or-down vote. These nominees are eminently qualified and deserve better treatment from Senate Republicans. Several of them have Republican support, yet they are being blocked from consideration by Majority Leader McConnell.

Take, for example, Judge Luis Felipe Restrepo. Just two years ago, the Senate unanimously confirmed Judge Restrepo to serve on the district court in Pennsylvania. He is now awaiting Senate confirmation to fill a judicial emergency vacancy on the U.S. Court of Appeals for the Third Circuit. He has the strong support of both his home state Senators, including Republican Senator Pat Toomey. Senator Toomey has described Judge Restrepo's life story as "an American Dream story" and he recounted how Judge Restrepo emigrated from Medellín, Colombia, and rose to the very top of his profession here in America by "virtue of his hard work, his intellect, his integrity." Judge Restrepo also stands to make history. If confirmed, he will be the first Hispanic judge from Pennsylvania to ever serve on the Third Circuit and only the second Hispanic judge to serve on that court. This is hardly a controversial nominee, and yet the Republican majority refuses to schedule a confirmation vote for Judge Restrepo.

There are also several qualified nominees being blocked from their appointment to the U.S. Court of Federal Claims, a court commonly referred to as the "People's Court" because it allows Americans to seek prompt justice against their government. Right now there are eight active judges on the CFC appointed by President Bush and only three active judges appointed by President Obama. The five current nominees waiting for a confirmation vote are, like Judge Restrepo, highly qualified and entirely uncontroversial. They were all nominated more than a year ago, and were approved unanimously by the Judiciary Committee twice. So it is clear that there are no substantive concerns about their qualifications or ability to serve with integrity. Instead, one Republican Senator is blocking all of these nominees from being confirmed based on arguments that have nothing to do with their merits or qualifications. One of the nominees, Armando Bonilla, would be the first Hispanic judge to serve on the Court. He has served his entire laudable career - now spanning two decades - as an attorney for the Department of Justice. Another nominee, Jeri Somers, retired with the rank of Lieutenant Colonel in the United States Air Force. She spent over two decades serving first as a Judge Advocate General and then as a Military Judge in the United States Air Force and the District of Columbia's Air National Guard. In 2007, she became a Board Judge with the U.S. Civilian Board of Contract Appeals and currently serves as its Vice Chair. These are exemplary nominees who deserve to be considered on their own merit, as do the many district court judges pending on the Senate floor.

The unfair and disparate treatment of judicial nominees by this Senate is clear. During the last two years of the Bush administration, Democrats confirmed 68 judicial nominees. So far, Republicans have confirmed five. The current Chairman of the Senate Judiciary Committee predicted that Republicans will shut down the judicial confirmation process a year from now. That leaves little time for the American people to demand confirmation votes for President Obama's judicial nominees.
Whether it is blocking highly qualified nominees from filling critical vacancies, proposing to strip courts of jurisdiction, or suggesting that we end life tenure for Supreme Court justices, I fear that Senate Republicans are politicizing our judiciary and undermining our democracy. Their actions inject more politics into our justice system, precisely when less politics is essential to the continued vitality and integrity of this independent branch of government. We should demand better.
REAL LIFE. REAL NEWS. REAL VOICES.
Help us tell more of the stories that matter from voices that too often remain unheard.