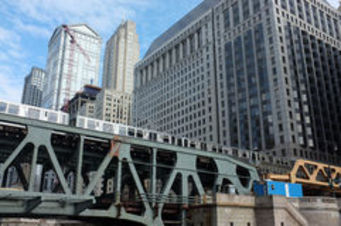 I sat on a Chicago L cart feeling sad as the sun shined in from the windows on a hot August summer day after a visit to my mother's house near the Kedzie-Homan Blue line stop. On the train, I sat near two college aged males pre-gaming, sharing shots of dark brown substances, chatting verbosely with muffled speech I couldn't decipher. As the train glides further across the winding tracks and comes to a halt at the Western stop, a young woman wearing a stench, visibly unkempt, steps on the train. She proceeds to ask the two young college students and me for money. While I watched our three worlds collide, this woman, myself, and the two college aged males, I began to reflect on how Chicago's L serves as a meeting ground for encounters with people who would not normally cross paths: the poor, the rich, the wanderer, the tourist, the Cubs or White Sox fan, the hardworking blue collard worker, and the inner-city high school student traveling miles away from home to get to school. It carts passengers through the boundaries of traditionally racially and income segregated Chicago neighborhoods.

As a child living on the Westside of Chicago, I sometimes rode the L or bus to escape life on the other side of the tracks. I lived in a house with my grandparents, mother, and cousins near the Green Line Cicero stop, located in Chicago's Austin Neighborhood, the location of the old Brachs Candy Factory. My Austin Neighborhood was a lower income inner city community often interrupted with gun violence and drugs where residents have a median income of 31,460 and high crime rate with 184 reports of violent crime between July 14, 2015 and August 17, 2015. Friends and I would seek solace in neighboring communities, especially in a suburb located at the end of the Green Line Oak Park, a place with a median income of $77,760 and calm demeanor where the worry of gunshots ringing or drug trafficking in broad daylight were temporary memories awaiting us upon our return. And although these different communities were accessible through the L, for many of my friends, these were the good parts of Chicago, enjoyed from a distance, a place of privilege and peace - a life that was not meant or even feasible for us in our home communities.

As an adult in my early twenties, the L was my transport through discovering the city, exploring new parts of Chicago I did not experience in my childhood. As an adult, I moved to Chicago's Andersonville neighborhood located on the L's Red Line, a train line spanning from Chicago's Southside 95th station, a station that has the highest violent crime rate, to the Northside Howard St station. The Red Line's Argyle stop where I lived was surrounded by Vietnamese Pho restaurants and blocks away from the historic jazz club The Green Mill where I walked within the same walls that Al Capone affiliates once tapped along to melodic improvisational jazz sets. And as an aspiring musician and DJ, I rode the Blue Line to work at Guess Hookah in West town and to Wicker Park's Damen Avenue to play various open mics, open decks at the old Lava Lounge, and to hear a wide range of musicians and electronic music DJs. And although my new neighborhood was an L train away from my roots in the Austin Community, I felt cities away, and miles away from some of the issues that plagued my community as a kid.
Years later, I returned to the inner city, living in the Garfield Park neighborhood near the Garfield Park Conservatory stop on the Green line when I was pregnant with my now 8 year old daughter. At this time, with the prospects of being a single mother, I rode the Green Line to my close to minimum wage telemarketing job, staring at the prospects of poverty in the face, wanting my daughter not to experience some of the hardship I experienced as a kid. Rides home from work were often lonely, my head filled with depressing thoughts. I felt surrounded by so much opportunity but sadly out of reach in my soon to be role of a single mom who hadn't finished college.
And as I sat on the train this past August, having visited my mother's apartment near the Homan-Kedzie stop, 6 years after I completed my bachelor's and under my belt the accomplishment of providing a safe neighborhood for my daughter, I felt sad. I sat appreciating the diversity on the train while struggling with the notion that the train always stops, and the final stop of a passenger often separates; it often signals the difference between high or low income, quality of education, access to fresh produce grocery stores, quality of life and life expectancy.
Sitting there, I knew that somewhere on the train sat a poor inner city dreamer glimpsing into aspirations outside of the invisible and visible obstacles waiting for them at their final stop. On a train car, a mother traveled to safe havens outside of her community to keep her children out of harm's way, hoping her children don't become one of more than 1990 shooting victims in 2015.
I sat on the train dreaming of a day I could return to Chicago permanently, being able to afford to provide the safe environment I have been able to provide for my daughter in Champaign, Illinois. I sat dreaming of a day where access to Chicago's resources were as equally reachable as the diverse experiences waiting at the stops along the elevated tracks winding above the city streets. And I sat pessimistically grasping that until then, my rides on the L will continue to be as an observer and visitor because my final stop carries me miles away from the city where my heart will always be--miles away from home.
REAL LIFE. REAL NEWS. REAL VOICES.
Help us tell more of the stories that matter from voices that too often remain unheard.