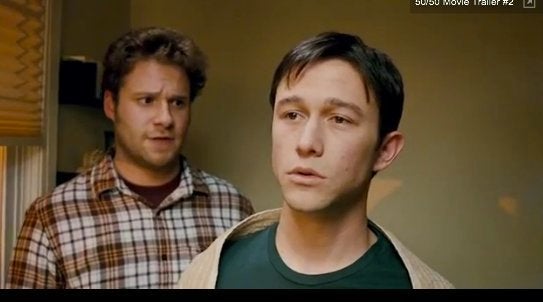 If you're like me, you've seen all the movies nominated for an Academy Award this weekend. Some of them are great. I've been very vocal about my love for The Artist. I also think The Descendants is a great movie and I totally geeked out over the 3D Hugo.
But there were some fantastic movies that came out last year that didn't get any Academy Award nominations. Here are five that are all available on DVD or streaming online and totally worth checking out:
50/50 -- This movie was always going to be a tough sell. A buddy comedy starring Seth Rogan and Joseph Gordon-Levitt in which Gordon-Levitt's character is diagnosed with cancer. The cancer thing scared Rogan fans away and made it hard to market the movie as a comedy. But seriously it is funny, but also heartfelt and honest with some great performances, including stand-outs from Anjelica Huston as Gordon-Levitt's overbearing mother and a super-charming and awkward Anna Kendrick as a young therapist in way over her head. Directed by Jonathan Levine (The Wackness), the original screenplay written by Rogan's real-life friend Will Reiser, who really was diagnosed with cancer and went through it with Seth, was nominated for a Golden Globe, but didn't make the cut for the Academy.
Drive -- This movie is a bit of a cheat because it did receive an Oscar nomination for Best Sound Editing. But since no one cares about that category except for sound editors I thought I would include it. It is a super-stylized noir crime thriller/romance starring Ryan Gosling as an unnamed Hollywood stunt driver/getaway driver. The movie made a splash when it premiered at Cannes last year. It didn't really catch on with American movie-goers, either because of it's weird pacing or it's abrupt shift from romantic drama to uber-violent crime spree (there is a scene in an elevator that you will never forget). Directed by Dutch auteur Nicolas Winding Refn (don't ask me to pronounce it), the film also features performances by Carey Mulligan, Mad Men's Christina Hendricks, Breaking Bad's Bryan Cranston, and an intense Oscar-worthy performance by Albert Brooks (this is the only real Oscar snub I'm mentioning).
Jane Eyre -- You've probably heard a lot about German / Irish actor Michael Fassbender lately. Mostly I'm sure about his enormous penis, which is on prominent display in his Golden Globe-nominated performance in Shame. But before that he was very memorable as a young Magneto in X-Men First Class, and before that he turned in an impressive and sexy performance as the cold and distant Rochester to Mia Wasikowska's Jane Eyre. Directed with moody gothic chilliness by Cary Fukunaga, this adaptation never feels boring or austere. This is technically another cheat because it did get an Oscar nomination for best Costume Design, but it is much better than just a well-costumed period drama.
Weekend (available for instant view on Netflix) -- This is an ultra-low-budget British film about two guys (Tom Cullen and Chris New) who meet and have a fling over a weekend. What starts out as a one-night stand, turns out to be something that will forever change the lives of these two characters. Written and directed by Andrew Haigh, this movie is probably one of the most honest and unapologetic looks at modern relationships -- gay or straight -- that will be represented on screen for a while.
Win Win -- This is one of the most charming movies of last year, and it will leaving just feeling happy, and what's so bad about that? Written and directed by Tom McCarthy (The Station Agent), the movie stars Paul Giamatti as a lawyer and high school wrestling coach who agrees to be the guardian for an elderly client of his. He takes the money from the state and puts the client in a nursing home. When the old man's grandson shows up on his doorstep, he is taken in by Giamatti and his wife played by The Office's Amy Ryan. That the boy turns out to be a fantastic wrestler, is a bonus (especially for Giamatti's hilarious best friends played by Bobby Cannavale and Jeffrey Tambor), but as you can imagine, things get complicated pretty quickly.
Anyway, I highly recommend all of these movies. Leave a message in the comments if there are other movies from last year that you don't think should be overlooked.
REAL LIFE. REAL NEWS. REAL VOICES.
Help us tell more of the stories that matter from voices that too often remain unheard.