Like many other teachers, I've always loved the simplicity of Bloom's Taxonomy. It's effective, of course, as a tool to plan and scaffold student learning, gradually drawing students into deeper learning, moving them from passive consumers of information to active creators of their own learning.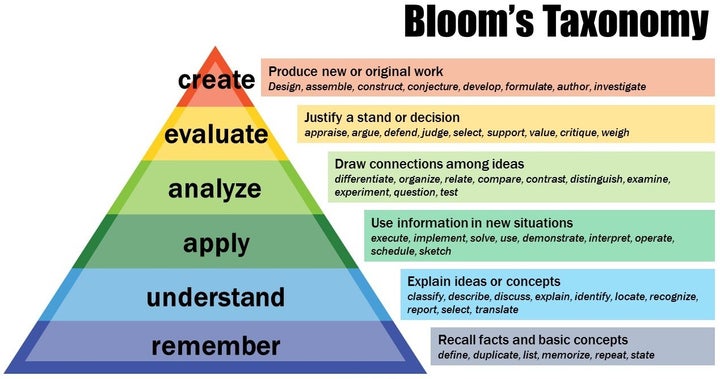 It can also be a helpful framework for educators as they consider how they might learn about getting involved in education policy. The Every Student Succeeds Act provides an excellent opportunity for teachers to get involved. Policymakers are ready to hear from stakeholders, like teachers and parents.
1. You should work to understand the law and the opportunities for change.
There are some great resources to help practicing educators understand exactly what the legislation says:
ESSA for Educators includes digestible information in a concise format to equip educators to understand specific issues addressed by the law.
Understanding ESSA provides an opportunity to see up-to-date information about what's happening with ESSA implementation in your state.
2. Take time to analyze how the legislation applies to your practice and context.
Before you ask HOW can get involved, make sure you clarify WHY you want to be involved, as specifically as possible.
What are the most pressing education issues in your district or state? Are teacher shortages a huge problem? School culture? Equitable education for English language learners?
Hone in on that issue, and learn as much as you can about it. What are the root causes of the issue in your local context, and what opportunities does ESSA present to address those issues? You may need to circle back to some of the resources provided above, or reach out to district leaders to discuss exactly how you might work together.
3. You're the expert! Investigate opportunities to share your expertise with policymakers and advocate for students.
Currently, most state education agencies (SEAs) have an email address you can use to submit ideas about implementation or a survey you can complete (find out more here).
Most states have already created and convened work groups and advisory committees, but some are still holding listening tours and public forums. You can check your state's activity here.
All states must submit draft plans to the U.S. Department of Education by early 2017, and you should plan to comment on that draft when it's released. To increase the impact of your comments, craft them into an op-ed and reach out to your local newspaper to publish it. As a teacher, you are an expert in your field and on what should happen in the classroom, so don't be afraid to let your voice be heard!
For most of us, there isn't an easy path to having someone at the state capitol or SEA sit down and listen to you, and then translate your expertise into legislation or regulation. But you didn't become an educator or advocate because it was easy, and the challenges you've faced in the classroom have done nothing if not prepared you for this sort of work.
Bloom's taxonomy reminds us that creation is one of the highest orders of thinking, and that is exactly what educators have to do here. It's no secret that many teachers want to have a bigger say in decision-making at the school, district, and state level.
The next few months present a huge opportunity to do that, but you will have to create your own path.
Are you an educator with a story about how you've been engaged in ESSA implementation? Share it here.
Popular in the Community