I've photographed, surveyed, and filmed nearly a thousand art exhibitions in the past few years. Never until now, has there been an exhibition more interesting than Karl Haendel's installation at Night Gallery called "Unwinding Unboxing, Unbending Uncocking." Not only are the colored walls vibrant within the space, but there are also intensely claustrophobic paintings strategically placed throughout. The geometry of the walls and juxtapositions of the paintings seemed to have been carefully planned from every vantage point of the room for any architectural photographer to get an interesting image.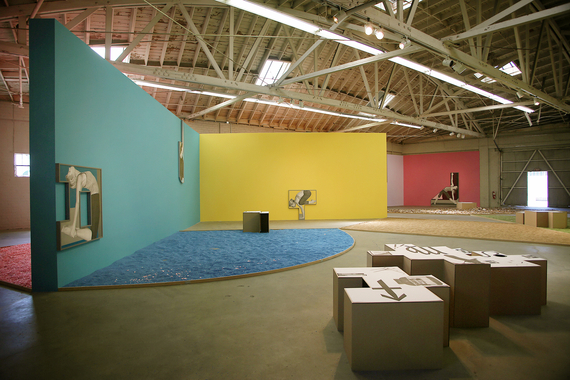 Wide view of Unwinding Unboxing, Unbending Uncocking exhibition. Photo by EMS.

The most arresting challenge of the room is navigating around the floors. There are carefully planned demarcations of real estate surrounding all the walls that one has to carefully plan to interact with, to get better views of paintings and to enjoy the space from the exhibitions four corners. Haendel challenges the viewer to plan ingress and egress strategies, unless one wants to clumsily walk across the myriads of terrain or lose patience and skip or jump across from one Euclidean space to another.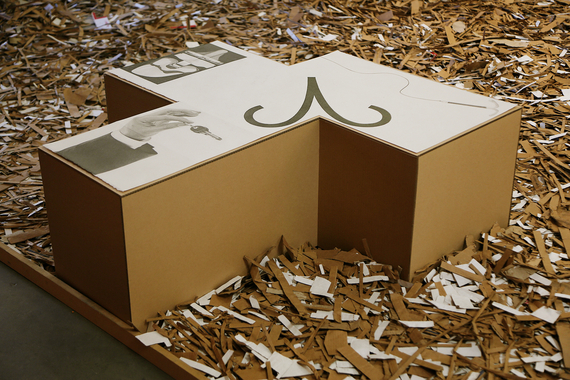 Aries IUD, 2014. Graphite on paper. Photo by EMS.

Through navigating vertices or intersections of oblique angles, the viewer within Night Gallery is also subjected to differing color temperatures due to the walls being painted yellow, pink, lavender, orange and so forth. The experience here is lush with daylight filling the room from its overhead windows, to the warm gallery spotlights, to the reflections off the candy colored walls.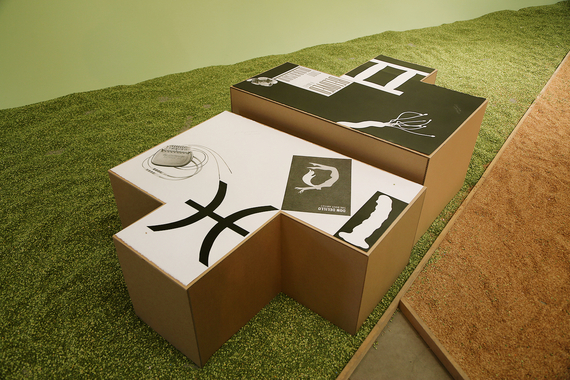 (foreground) Leo Hole, Earbud Buttplug (binky), 2014. (background) Gemini Germ, Bullet beloved, 2014. Photo by EMS.
In the context of the exhibition, Haendel references a story based on Robert Antoni's "Divina Trance" (1991). Haendel says, "Here we enter Unwinding Unboxing, Unbending Uncocking. "Un" is the common thread, connecting the boxes, the bends, the cocks and the wind. These two letters, which are the same shape bent in opposite directions, form the beating heart of the exhibition where contradictory ideas pulse simultaneously. The work is built upon fundamental questions surrounding the human body and the development of our identities; is nature tempered by nurture or vice versa? Does free will play any role at all in the filter between an interior sense of self and exterior consumption? Do cultural, commercial and social constructs close down on us or do we nestle comfortably into them?"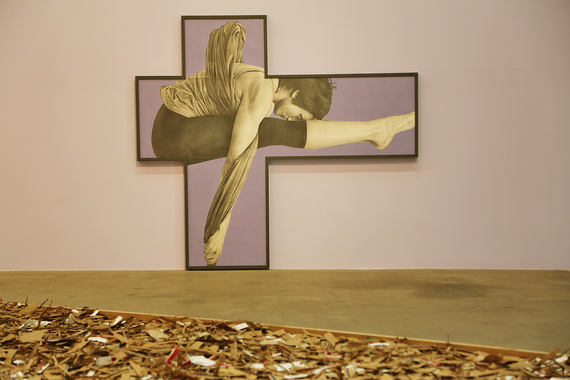 Babur #2, 2014. Pencil and enamel on paper with shaped frame. Photo by EMS.

Haendel then uses the arbitrariness of personal identity with yoga ideology and astrology. This imagery is displayed in his figurative drawing of humans in yoga poses in tightly geometric shaped frames. Astrology symbols are also prominent in the pencil and enamel on paper works.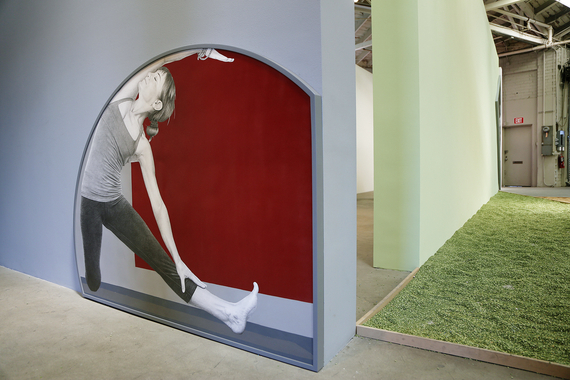 Shaheen, 2014. Pencil and enamel on paper with shaped frame. Photo by EMS.

Overall, Karl Haendel's installation at Night Gallery is one to be applauded for its use of color, space, and experience. Much thought was put into this install, like a director plotting camera and acting direction in this artful mise-en-scène. One may feel like walking onto a Jacques Tati set. However, the experience of the viewer in this singular exhibition will be one seared in the mind as one to definitely remember.
This article is part of an ongoing photojournalism survey of art exhibition openings titled EMS N(art)rative. Through my lens I document a photographic essay or visual "N(art)rative" that captures the happenings, personalities, collectors, gallerists, artists and the art itself; all elements that form the richly varied and textured fabric of the SoCal art world. This reconnaissance offers a unique view for serious art world players to obtain news and information on the current pulse of what's in the now, yet capturing timeless indelible images for posterity and legacy. Here is EMS N(art)rative Eighteen.
Calling all HuffPost superfans!
Sign up for membership to become a founding member and help shape HuffPost's next chapter