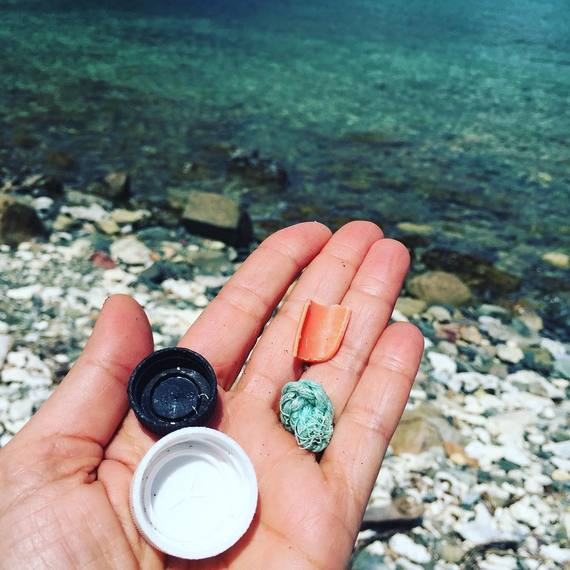 PHOTO VIA @PLASTICPOLLUTES
As people become more mindful of society's environmental impact one issue ranks top of mind: plastic. Plastic is everywhere and it never biodegrades, it just gets smaller. So regardless of how big a plastic product is to begin with, its effects are nearly equal once it ends up in the ocean. Non-profit organizations like Plastics Pollution Coalition and 5 Gyres are working to address ocean-bound plastic pollution, offering alternatives and raising awareness.
Recycled plastics are dwarfed in number due to the way society currently manufactures and consumes plastic products. We wear plastic fibers, we drink through plastic straws, and we even wash our face with tiny plastic beads. Of course, recycling is a critical process meant for plastic water bottles and bags, but significant amounts of these single-use plastics end up headed for our waterways. Recycling is not meant for face wash and plastic straws in happy hour cocktails, causing even greater water pollution. While these plastics go unnoticed amongst the flood of larger products, they are within the consumer's reach to address with their purchasing power every day. That is why the conversation needs to start around everyday habits.
Plastics Pollution Coalition (PPC) is one organization working to demonstrate the power of collective consumer action. Joining forces with the leading ocean health organizations around the world, PPC has built an interconnected network of advocates to address plastic pollution. By arming schools, event planners, and even towns with the tools they need to reduce and remove plastics from their communities, PPC is placing responsibility in their hands.
Daily culprits of plastic pollution are small products like plastic straws, coffee cup lids, and microbeads, each of which can be eliminated by opting for plastic-free alternatives. Plastic straws can be swapped for bamboo, glass, or metal, and microbeads aren't found in every face wash, it simply requires a quick label check. Consumers can also make conscious decisions when shopping for clothing. Recent research has outlined the impact plastic fibers have on the ocean, with a single wash of nylon socks leaving behind 136,000 plastic fibers. By opting for sustainable threads, each load of laundry can positively affect ocean and environmental health. While small, when taken together these positive and attainable actions have the ability to drive change.
Our plastics pollution problem is growing so large and so rapidly that we cannot rely on our society celebrities or policy leaders to be able to address this challenge on their own. In order to effectively shift culture and reduce plastic pollution there must be community engagement.
When organizations like PPC create pathways for change on the community level, issues are personalized and become more impactful through individual ownership over change. There are a growing list of examples of individuals driving change through community. From the sisters in Bali who created a movement to ban plastic bags to the micro-brewery in Florida who developed edible 6-pack rings, community engagement is making an impact.
This post is part of a series produced by The Huffington Post in partnership with Ocean Unite, an initiative to unite and activate powerful voices for ocean-conservation action. The series is being produced to coincide with World Ocean Day (June 8), as part of HuffPost's "What's Working" initiative, putting a spotlight on initiatives around the world that are solutions oriented. To read all the posts in the series, read here. Follow the conversation on Twitter with the hashtag #MakeASplash.
Calling all HuffPost superfans!
Sign up for membership to become a founding member and help shape HuffPost's next chapter