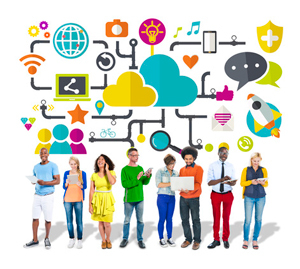 People—from all points of view—may complain about social media, but no one questions its influence. Thus, it surely deserves the same degree of research, testing, and analysis that has been applied to more conventional forms of marketing communication. With the recent launch of Hootsuite's social media analytics, such considerations have entered the mainstream.
By way of example, social media has become transformative within the fields of art and fashion, consumer products, and politics. In the first two settings, social media builds an audience of millions. In the third—especially during a presidential campaign—a community of equal if not greater numbers is energized to take action...and to vote.
According to this study, which includes an overview about the size of the respective audiences for several online outlets and brands, social networks earned (as of 2015) an estimated $8.3 billion from advertising.
As such, 53 percent of customers expect a brand to respond to their tweets in less than an hour. Make that 72 percent of customers, if the tweet is a complaint.
No doubt, there's a whole new landscape of interaction between companies and consumers, and political campaigns and their respective voters and volunteers. Take, for instance, these findings about the proliferation of political applications for various devices: As noted, social media is now a vital tool for mobilizing and registering voters, a means of getting even the most disenchanted men and women to the polls.
Perhaps it has been during the current presidential campaign season that social media has morphed from largely an organizational tool—a way to get people to attend meetings or rallies—to a platform for immediate responses to a politician's positions and statements.
Pivoting back to world of fashion, as this infographic about the power of Instagram illustrates, the phenomenon of Fashion Week resonates tremendously within this medium; yielding engagement among 44 million unique accounts, and more than 360 million forms of interaction. Put a different way, what was once a trade show—in New York, Paris and Milan—is now a multimillion-dollar online industry.
Lest we forget, there's the large sub-genre of online business reviews. As this article indicates, the healthcare professions are certainly not immune.
"Good data make social media a powerhouse of form and function. We can see this evolution in a range of disciplines, from how major clothiers interact with buyers to the way social media provides up-to-the-minute polling data and information about this or that candidate's stand on trade, and foreign and domestic policy."
Popular in the Community