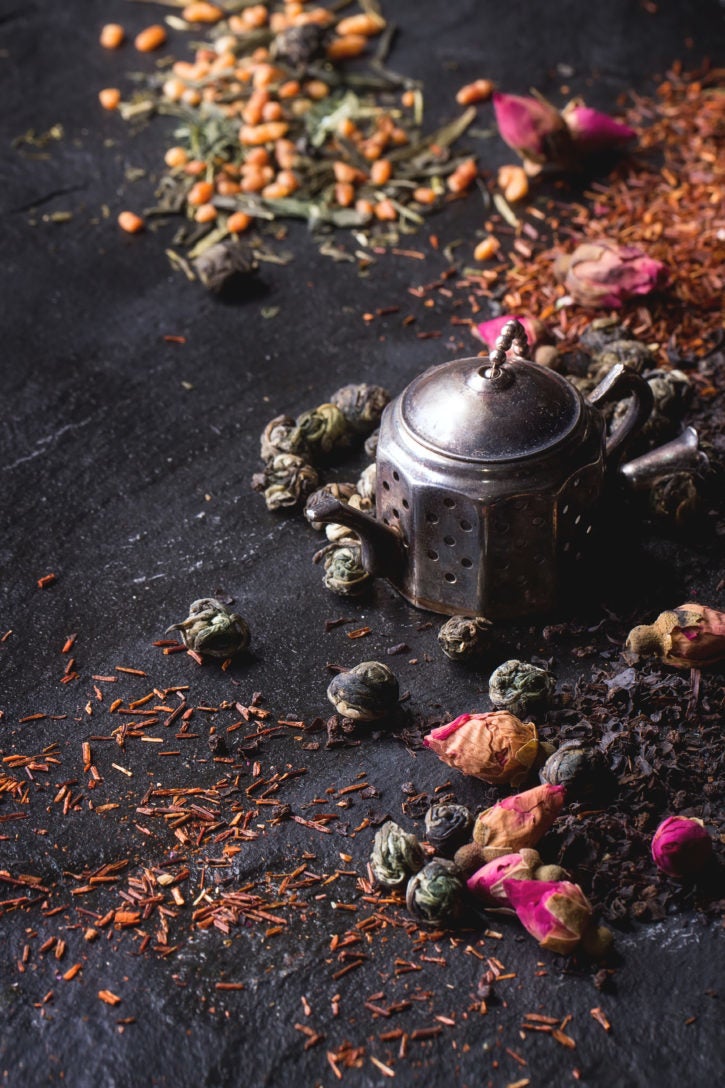 There are more varieties of tea in China than there are of wine grapes in France, each with their own distinct flavor. Whether you prefer black, green, oolong, white, or matcha tea, all teas come from the same plant – Camellia sinensis. The difference in flavor, color, and caffeine levels comes with the time the leaves are harvested. Let's take a look at the different varieties.
VARIETIES OF TEA
Black Teas are by far the most common teas enjoyed in Europe and North America. Withered tea leaves are rolled and given time to oxidize to darken the leaves and develop the flavor and color. When the leaves reach the right oxidation level, they are dried to seal in the flavor. This provides for a hearty cup of tea with deep flavors. Black tea has about half the caffeine as a cup of coffee.
While green tea has been most popular in China and Japan, it is quickly gaining popularity in America. That's because it is high in antioxidants and has wonderful health benefits. Immediately after harvest, the tea leaves are heated to stop the oxidation process; this also preserves the tea leaves green color. This also preserves the tea's natural antioxidants and amino acids. After heating, the leaves are rolled and fired, resulting in a tea with grassy notes. Green tea has only about a quarter of the caffeine as a cup of coffee.
Matcha powder is quickly gaining popularity in America. It is ground from Japanese green tea leaves and is has been used for centuries in traditional Japanese tea ceremonies. Matcha leaves are grown in the shade and ground into a fine powder. Unlike most varieties of teas that are steeped, matcha powder is whisked into hot water to create a frothy green tea. Matcha has about the same amount of caffeine as black tea.
Oolong is a smoother more delicate tea than black tea. The leaves are dried and quickly oxidized in direct sunlight. This process continues until the leaves give off a subtle fragrance of fresh fruit, like apples or peaches. Oolong's caffeine level falls in between that of black tea and green tea.
White tea is the least processed of all varieties of tea as it comes from the tea buds. The buds are not rolled or oxidized like the other varieties, instead they are dried. This provides a subtle tea with sweet notes. White teas have even less caffeine than green teas.
Surprisingly, herbal teas are not officially teas. They do not come from the Camellia sinensis plant like the other varieties of tea. Instead they come from a blend of herbs, like mint and chamomile. Either on their own or blended with leaves, fruit, bark, roots, seeds, or flowers, herbal teas come in a large variety to suit every taste. Herbal Teas are naturally caffeine-free.
Now that you have an understanding of the different varieties of tea and how they are processed; are you ready to enjoy them all? Be sure to get your Perfectly Steeped Tea guide so you know the proper times and temperatures for steeping. Then, enjoy a nice warm (or ice cold) cup of tea!
Be sure to stop by Tea Cottage Mysteries to learn more about tea and find great recipes for afternoon tea!
Calling all HuffPost superfans!
Sign up for membership to become a founding member and help shape HuffPost's next chapter
This post was published on the now-closed HuffPost Contributor platform. Contributors control their own work and posted freely to our site. If you need to flag this entry as abusive,
send us an email
.