It is easy to distance oneself from the the Israeli occupation of Palestine and the resistance to it on the grounds that it is too complicated to fully grasp. But the fact that Israel is the largest recipient of aid from the US should drive every American to ask where their tax dollars are going and what they are being used for. Simply relying on the media sound bites of the day provides a very skewed and incomplete picture. There are resources that we can go to for more balanced reporting. And there are scholar-activists like Noura Erakat who provide a nuanced understanding of how we have got to where we are now, the ways in which we all are complicit and what our ethical responses might be.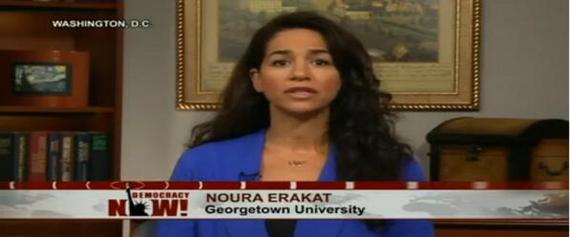 Noura earned her J.D. and undergraduate degrees from the University of California at Berkeley (Phi Beta Kappa) and a LLM in National Security from Georgetown University Law Center (Distinction & Dean's List). She also completed the Abraham L. Freedman Teaching Fellowship at Temple University, Beasley School of Law and has taught international human rights law in the Middle East at Georgetown University since Spring 2009. Since Fall 2014, she has been an Assistant Professor at George Mason University.
She is accustomed to making her knowledge accessible to general audiences, having been a speaker at numerous conferences and meetings as well a commentator on news shows and networks including MSNBC, NPR, PBS, BBC, Al-Jazeera and Fox. In addition to her scholarly publications, her work has been seen in the New York Times, the LA Review of Books, The Nation, The Hill, Huffington Post and other publications including Jadaliyya, which she co-edits.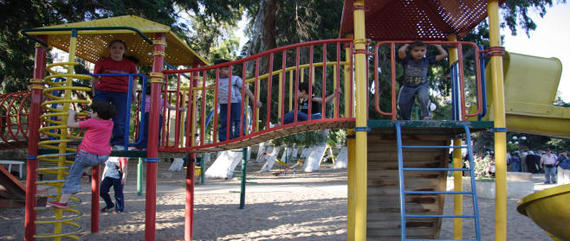 One of three playgrounds created by the Middle East Children's Alliance in West Bank villages in 2013. Learn more at https://www.mecaforpeace.org/meca-projects
The three talks by Noura Erakat in Honolulu are generously funded by Hawai'i Friends of Sabeel and the Muslim Association of Hawai'i. The events are co-sponsored by the Hawai'i Coalition for Justice in Palestine, MANA; Jewish Voice for Peace-Hawai'i; World Can't Wait; Revolution Books; St. Clement's Episcopal Church; Food (+); Hawai'i Institute for Human Rights; Hawai'i Faculty for Justice in Palestine (H-FJP); the UHM School of Hawaiian Knowledge; the UHM Center for Biographical Research; the UHM Departments of American Studies, Anthropology, English, Ethnic Studies, Political Science, and Women's Studies; and Chaminade University's History Department.
Fri., Nov. 28, at Calvary by the Sea, following an introduction by Jon Osorio, Noura Erakat will deliver a talk entitled "Spotlight on Gaza: Contexts and Ethical Responses."
6-7:30 p.m. at 5339 Kalanianaole Hwy, Honolulu, HI 96821
Sun., Nov. 30, at St. Andrew's Cathedral, "Spotlight on Gaza: Contexts and Ethical Responses."
1-2:30 p.m. at the corner of S. Beretania St. at Alakea/Queen Emma
Mon. Dec. 1, Panel, Pūpū and Performances. Noura will speak on "The Legal Anatomy of Israeli Settler-Colonialism" at the University of Hawaii, Mānoa Kamakakūokalani Center for Hawaiian Studies Halau, 5-8 p.m.
Andre Perez and 'Ilima Long of Movement for Aloha No ka ʻĀina (MANA) will be in conversation with her and audience members about connections and differences that characterize settler colonialism and occupation in Palestine and Hawai'i.

Attendees may park for $6 in the structure right next to the Center on 2645 Dole St.
Spots in the Center's parking lot require the $6 ticket too. Street parking is free, though not readily available.
Related
Popular in the Community