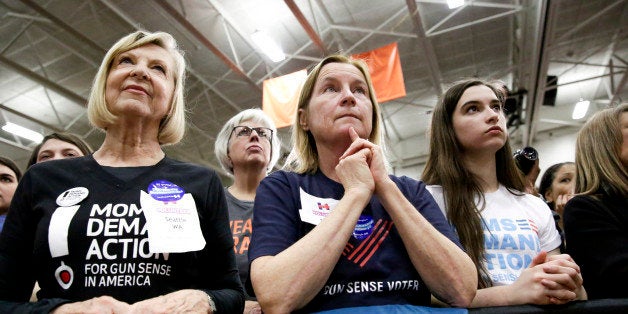 It's Women's History Month, the perfect time to reflect on the sacrifices of the countless women who came before us, celebrate the triumphs and achievements we've had, and recognize what we need to do to continue down the path to progress. What a year this could be for women. Over the last few months, newspapers, political pundits and the Internet have been loudly proclaiming that 2016 may be a historic year for women. With the first viable woman candidate for president, they say our country has finally reached gender equity in politics. We've entered a new era, and our country finally understands the importance of electing women.
Unfortunately, that's not the reality we live in. America isn't there yet.
That's not to discount this momentous occasion in women's history. Hillary Clinton is a great example of what we are all looking for in our leaders. She's a Democrat, with a long history of fighting for women's rights, civil liberties, fair labor practices, healthcare, education and more. We should all be proud she may soon lead our country. It's a huge deal.
However, even if next January the country watches as President Hillary Clinton is sworn into office, we need to recognize that women still have a long way to go. Despite making up more than 50 percent of the population, women are still extremely underrepresented in elected office. There are 435 members of the U.S. House of Representatives, but only 84 are women. In the Senate? Of its 100 members, only 20 are women. Governors? Only six women currently hold the position out of 50 states. The list goes on and on. Working towards equal representation in elected office must be one of our country's chief priorities.
Women have already been actively working on this issue for decades. Since the 1970s, a number of laudable, dedicated organizations have taken on the fight to increase the number of women in elected offices. Their collective efforts have slowly made headway: 20 years ago women made up 11 percent (59 seats out of 535) of the U.S. Congress compared to 19.4 percent (104 seats) today. However, at this rate it will be another 75 years before women make up 50 percent of the House of Representatives and Senate. Without a doubt, progress has been achieved, but it's not enough and the clock is ticking.
At Emerge America we are tackling this problem head on and getting results. Since 2002, we've been providing aspiring female leaders with cutting-edge tools and training to run for elected office and elevate themselves in our political system. Our unique program recruits exceptional Democratic women and puts them through an intensive 70-hour training program that teaches them real-world skills like public speaking, fundraising, media relations, campaign strategy and ethical leadership. We operate in 16 states across the country and provide our program members with the inspiration, tools and support system to help them realize their leadership potential in the political arena.
Our effective programs have a proven track record. Since we opened our first state office, we've equipped more than 2,000 women with the skills needed to bring change to their communities. More than half our alumnae have gone on to run for political office or been appointed to local boards or commissions, and of those who have gone on to run for an elected position, 70 percent have won. Our commitment to diversity also means that the women we train come from a multitude of different backgrounds and all walks of life. In fact, 34 percent of our program's graduates are women of color.
At Emerge, we understand that our country can't afford to wait any longer for the unique perspectives and talents that women will bring to our legislatures. It's a proven fact that women in elected office overwhelmingly support and push forward democratic principles like equality and fairness. Studies have also shown that when there are more women in our governing bodies, it also makes a substantial difference in the type of policies that get passed. What's more, researchers have found legislatures that have more women members put forward more progressive policies on issues like healthcare, the economy, criminal justice, the environment and comprehensive support for families and individuals.
The women we are training today at Emerge America will go on to become the mayors, commissioners, congresswomen and senators of tomorrow. We couldn't think of a better way to honor women's history during March and on every other day of the year.
Andrea Dew Steele is President and Founder of Emerge America, the premier training program for Democratic women. Emerge America is changing the face of American politics by identifying, training and encouraging women to run for office, get elected and to seek higher office. Our intensive, cohort-based seven-month training program is unique. As the number of elected Democratic women remains flat or even declines, the need for our work is growing across the country. We currently work in 16 states: Arizona, California, Colorado, Kentucky, Maine, Maryland, Massachusetts, Michigan, Nevada, New Jersey, New Mexico, Oregon, Pennsylvania, Vermont, Virginia, and Wisconsin. Emerge America's role is to serve the states where we work, open new state programs and build capacity to train more women in each of our current states. We are working to open new states in the next two years to offer our programming to more women in more locations.
REAL LIFE. REAL NEWS. REAL VOICES.
Help us tell more of the stories that matter from voices that too often remain unheard.