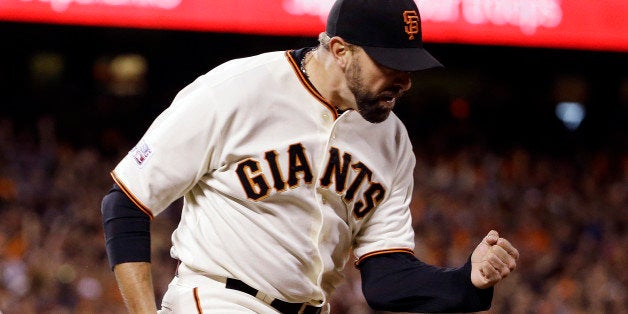 Suppose I knew ahead of time that the Giants were going to win the World Series this year. Suppose God came to me in a dream and said, "Jeremy, here's what's going to happen. The Giants will win the Wild Card game. You'll go on to win the Division Series against the Nationals in four games, and then you'll win the NL Championship Series against the Cardinals in five games. Then you'll play the Kansas City Royals in the World Series, and it will take seven games, but the Giants will win. And Jeremy, you will be the winning pitcher in Game 7!"
I wish! If God had done that, I would have walked out on that mound without a care in the world. I wouldn't have feared any of the teams we faced. I wouldn't have feared any of the batters I faced. I wouldn't have feared any situation. I wouldn't have been nervous. I would not have doubted. I wouldn't have felt the slightest need to take control. I would have already known the outcome! And I would have just let it happen.
Obviously, it wasn't like that at all. But in life, it kind of is!
Think about it. Jesus died for us, and in shedding His blood for us, saved us. Then He resurrected, giving us the promise of eternal life. So Jesus says, "I've already won. It's finished. You are a part of me now. You are a part of my kingdom, and a part of my family. We are nothing but love and grace. That's who we are!"
Even with victory declared, the story still has to play out. There are people out there that don't yet understand. As soon as they accept Jesus and become adopted into His family, they will share in the victory.
But we share in the victory now. Because Jesus has won, we have won. We can play the game of life, joyful and worry-free, knowing that we have already won.
I still get weak at times. Sometimes I get fearful, or nervous, or doubtful. I still try to control other people. I get weak sometimes because I am still a man of flesh. But the more I understand that Jesus has won, the calmer I become. I don't have to get angry at someone if they don't agree with me when I talk about Jesus. I don't have to try to control people who are angry or upset. That is not my play. My play is love. A lot of people have been wounded by the church, and when they express their anger and hurt to me, my play is to love on them. I share the truth. I tell them that Jesus loves them. But I'm not worried about how they might react to that truth. They can get mad; that's okay. I can just love. Love has already won.
Jeremy Affeldt is a pitcher for the three-time World Champion San Francisco Giants, the founder of Generation Alive and the author of "To Stir A Movement, Life, Justice and Major League Baseball." Follow him on Twitter @JeremyAffeldt and @GenerationAlive
.
Related
Popular in the Community