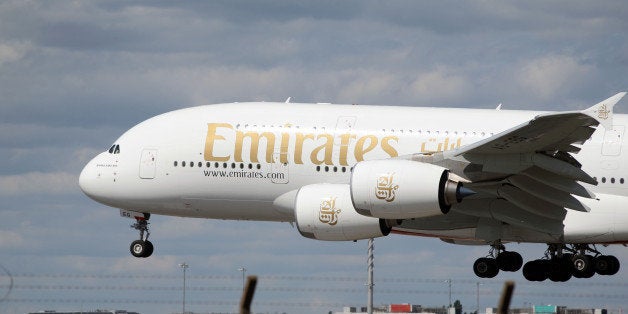 The news earlier this month that Hungary was likely to offer Emirates the ability to fly from Budapest to the United States -- called "Fifth Freedom" rights in the aviation industry -- is just the latest in the Gulf carrier's unprecedented growth in the U.S. market, and further evidence of expansion built on the benefit of massive government subsidies. As has been amply demonstrated, these subsidies and unfair benefits -- totaling $6.8 billion for Emirates since 2004 -- violate the Open Skies agreement that give the Dubai-based airline unlimited access to the U.S. market, damaging U.S. carriers, their employees, the communities they serve, and their European partners.
You may think, "What's the big deal?" The big deal is that this move doesn't make business sense for Emirates for several reasons. Budapest ranked #22 in European destinations, about 1/15 the size of the biggest market, London. The former Hungarian flag carrier Malév, which collapsed in 2012, stopped its nonstop flight to New York in 2008. Delta Air Lines flew that route in the summer from 2005 to 2011, and American flew it for only seven months in 2011. The fact that no traditional airline has operated the route with financial success is precisely what causes airline experts to wonder about Emirates' interest in the route.
To understand this issue, you need to know a little about the rules that govern international aviation. Unlike the deregulated domestic markets of the U.S., Canada, or the European Union, international flying is controlled country-to-country, or bilaterally, with agreements that are similar to treaties. These bilaterals have been around since 1944, when nations of the world agreed to a set of principles to govern global flying called "freedoms of the air." The Fifth Freedom principle enables airlines to carry passengers between two foreign countries, provided that the flight begins in or continues on to the carrier's home country. Technically, Emirates could operate a Dubai-Budapest-U.S. service.
Seventy years ago, airplane range was limited, fuel stops were needed, and airlines could not economically operate a long route without the right to carry "local" customers between countries. But as smaller, long range wide-bodies like 767s took to the sky, most carriers began reducing the number of Fifth Freedom flights. By contrast, Emirates is increasing the number of these flights.
The proposed Budapest route would be the second time Emirates' has exploited Fifth Freedom rights. In 2013 they began flying nonstop from Milan to New York (a market about twice as large as Budapest). Since they fly three times daily nonstop from New York to Dubai, it's pretty clear they don't need to land in Italy for gas. A recent study from GRA, respected economic consultants, simulated Emirates' economic performance on routes to and from the U.S. and concluded that New York-Milan was among their many unprofitable routes. GRA found that 19 of the 23 routes Gulf carriers operate from the U.S. were estimated to lose money, and more than half had profit margins under 20 percent.
From the Hungarian perspective, the route makes sense. There's no nonstop flight to the U.S. today, no local long-haul airline exists, so why not invite Emirates to the market, likely to foster business and tourism?
But for U.S. airlines, this will divert U.S.-Hungary traffic that today connects in the hubs of their joint-venture partners: Delta with Air France and KLM via Paris and Amsterdam; American with British Airways and Iberia via London and Madrid; and United with four Lufthansa Group carriers (Lufthansa, Swiss, Austrian, and Brussels Airlines). Because airlines are interdependent networks, steady erosion of connecting traffic threatens the viability of the transatlantic services to the European connecting hubs, like Chicago-Frankfurt. In return, threats to those long-haul flights jeopardizes U.S. domestic service, because more than half of all passengers on a typical American, Delta, or United overseas flight make a connection to or from a domestic airport. As I've written before, we're all in this together.
The bottom line is that if it weren't for the billions of dollars in subsidies that Emirates has received from its government sponsor, the airline wouldn't even be able to consider an unprofitable, unsustainable route such as Budapest to the U.S.
Just over a year has passed since American Airlines, Delta Air Lines, and United Airlines and seven aviation trade unions asked the Obama Administration to intervene in this trade dispute and restore market-based competition. In these 12 months, opponents have lobbed false rhetoric and misinformation every chance they can get. Emirates' exploitation of Fifth Freedom rights paired with the Gulf carriers' disregard for Open Skies agreements are only the beginning. It's time for the federal government to intervene and restore a level playing field, free of market-distorting government subsidies. It's time for a decision.
Popular in the Community